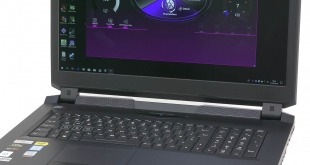 Last updated on April 8th, 2019 at 02:02 pm
PC Specialist has delivered a laptop named Octane VI RTX that combines a desktop Core i9-9900K CPU with a full-on RTX 2080 Max-P graphics chip. This is a beast of a desktop replacement system with a 17.3-inch G-Sync screen that is clearly targeted at the professional market, but we have no doubt that gamers will also be paying attention.
Can it play Crysis? Probably (we don't actually test with Crysis), but can it play Far Cry 5? Heck yes, and it plays it FAST!
Watch the video via our VIMEO Channel (Below) or over on YouTube at 1080p HERE
Key features:
Intel Core S-Series CPU
GeForce RTX 2060/2070/2080
144Hz FHD Panel (1,920×1,080), 72% NTSC, Nvidia G-Sync
Thunderbolt 3 (via USB 3.1)
RGB Backlit Keyboard
Sound BlasterX Pro-Gaming 360˚
SuperSpeed USB 3.1 Gen 2
Premium Onkyo Speakers
Fingerprint Scanner
HDMI Output Connection
Display Port Connection