The Alienware 13 R3 has been upgraded from an Intel Skylake CPU to a 7th Generation Kaby Lake which seems like the oldest of old news in July 2017. If we were here to discuss the Intel Core i7-7700HQ CPU it would be an incredibly brief review along the lines of 'Nice CPU, seen it before. Thanks.'
There is a far more significant story in the OLED screen, which is one of the options that is available for this 13.3-inch laptop. The base model of Alienware 13 R3 comes with a 1,366×768 TN panel that has a brightness of 200 nits. Other parts of the specification of that model include a Core i5 CPU, 8GB of RAM and GTX 1050 graphics, which sounds fairly uninspiring. Other models in the range offer you a Full HD 1,920×1,080 panel with IPS technology and a brightness of 300 nits, powered either by the same Core i5 and GTX 1050 or a more beefy combo of Core i7 and GTX 1050 Ti. Truth be told we didn't feel much excitement about either of those models.
Thankfully the review sample we were sent by Alienware is the Big Kahuna with the OLED screen and a mighty QHD resolution of 2,560×1,440 which is a heck of a lot of pixels packed into a 13.3-inch screen. The screen brightness is 400 nits and it has touch control.
Rounding up the specification we have GTX 1060 graphics and an increase to 16GB RAM so it is fair to say the appeal of this particular Alienware 13 R3 stands or falls on the OLED screen (Spoiler alert – it looks amazing).
Watch the video via our VIMEO Channel (Below) or over on YouTube at 2160p HERE
Alienware 13 R3 Specification:
CPU: Intel Core i7-7700HQ (2.8GHz-3.8GHz)
Display: 13.3-inch 2,560×1,440 OLED with touch control
System Memory: 16GB DDR4-2400MHz SO-DIMM
Chipset: Intel HM175 Express Chipset
Graphics: Nvidia GeForce GTX 1060 GDDR5 6GB
Storage: 256GB Toshiba XG3 NVMe
I/O Ports:
1x HDMI 2.0
1x Mini-DisplayPort 1.2
2x USB 3.0 (Type-A)
1x USB 3.0 (Type-C)
1x Thunderbolt 3 (Type-C)
2x Headset Jacks
1x Alienware Graphics Amplifier Port
1x DC Jack
Realtek audio
Wireless LAN: Killer 1435 2×2 (802.11ac, a/b/g/n compatible)
Bluetooth: Bluetooth V4.1
HD Webcam
Noble Lock Port
Battery: Li Ion 76Wh
Power Adapter: 180W
Dimensions: 330mm (W) x 269mm (D) x 24mm (H)
Weight: 2.6kg
OS: Windows 10 Home
We make a number of points in our video about the look and feel of the Alienware 13 R3 because the truth of the matter is that it is a bit of an oddball. The screen is small however the laptop is neither thin or light and the fact you can fold the screen back 180 degrees is an interesting idea.
During the video we suffered a minor annoyance as the screen brightness often dims to save power. It was frustrating that we couldn't find the appropriate setting in the power profile or screen settings, and the explanation is that we were looking in the wrong place. Alienware includes Tobii Aware eye tracking software which is used in a small handful of games to allow you to aim your weapon at enemies simply by looking at them. The Tobii software also detects when you are sat in front of the laptop so if you turn the laptop to face a camera and then sit next to the laptop the screen goes dark. It's not a problem folks, it's a feature.
At first glance the sample laptop we were sent by Alienware is the fully pimped version, however that isn't quite accurate as you can increase the RAM to 32GB and plump for a 1TB SSD which would take the total price up to £2,500. That's a lot of money for a laptop that contains the same hardware as a Gigabyte Aero 15 or Razer Blade, so the burning question is what we think about that OLED screen.
As you will have seen in our video we found the OLED technology looks amazing. The colours are remarkable and make an IPS panel look quite pedestrian, which is quite an achievement. The 400 nit brightness is certainly bright but doesn't describe the way the individual pixels act as light sources with an amazing graduation between colours that is utterly seamless.
If you have ever seen an overly compressed photo of the sky where there is noticeable banding as the picture changes from one shade of blue to the next, then all we can say is that the OLED screen on the Alienware 13 R3 is the exact opposite. While we may not have massively impressed by the laptop as a whole, we liked the LED keyboard, loved the illuminated touch pad and were blown away by the OLED screen.
Testing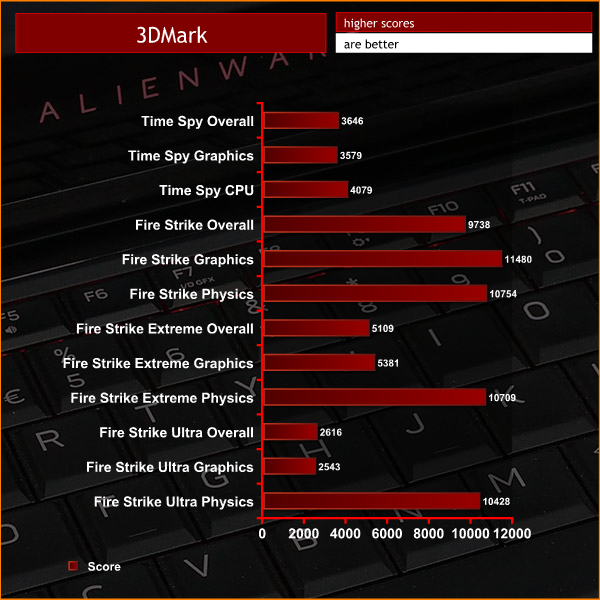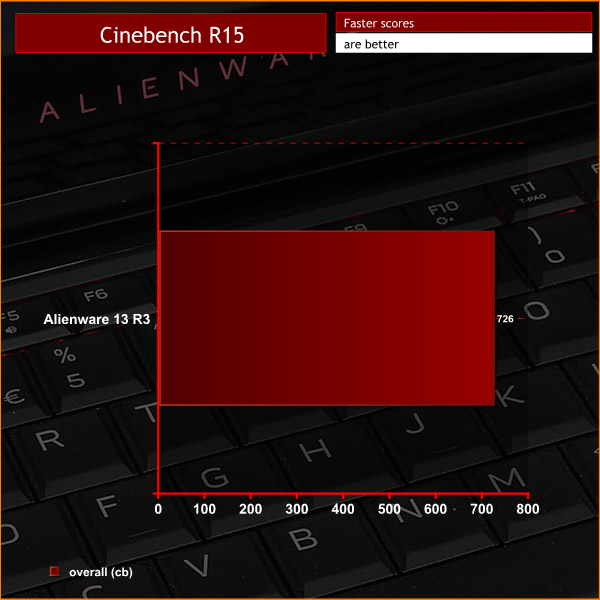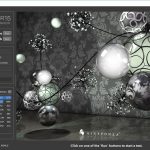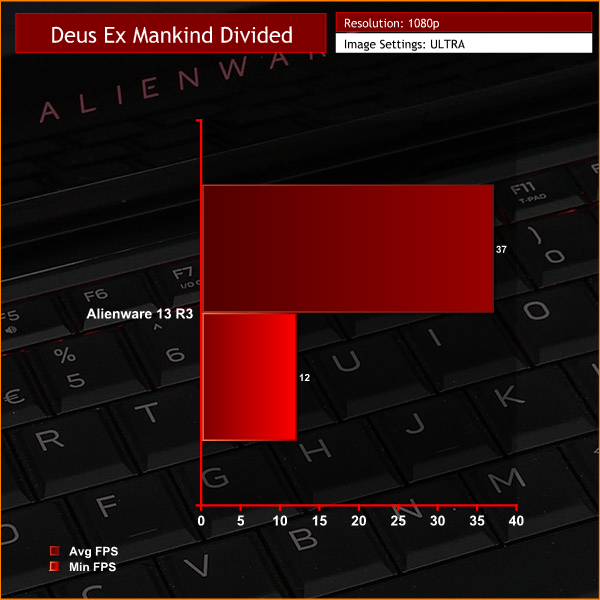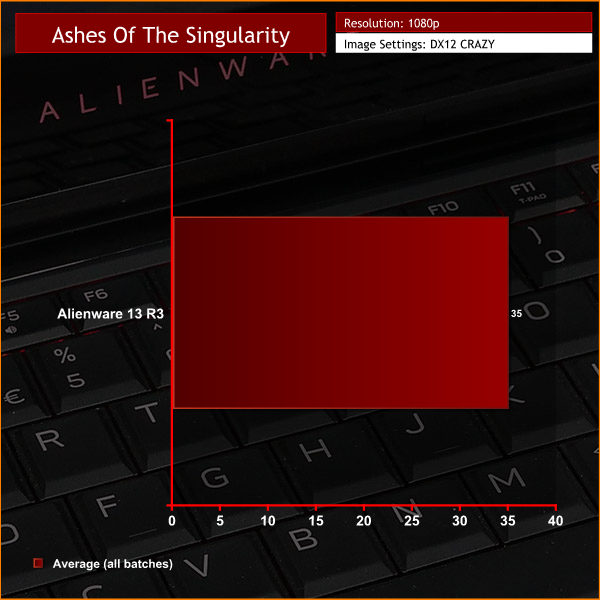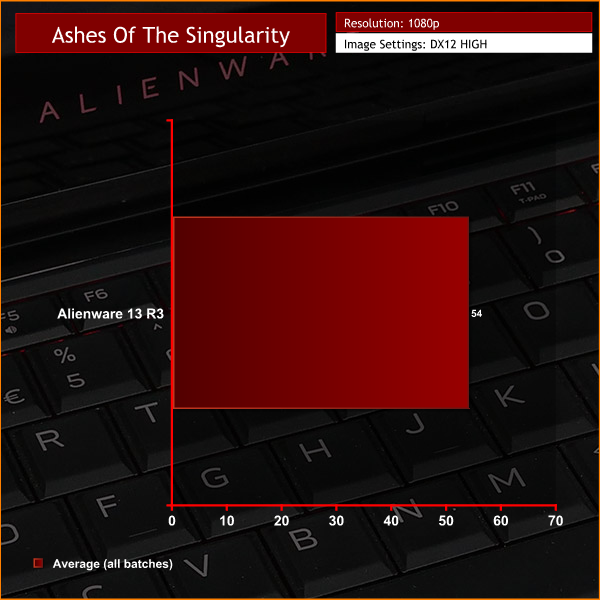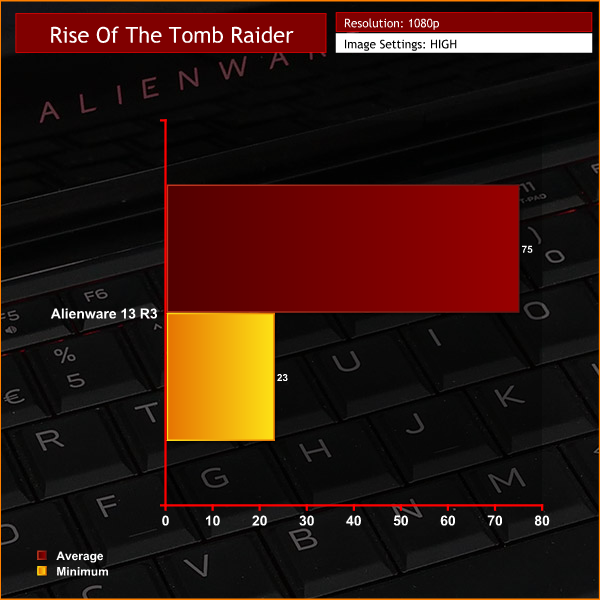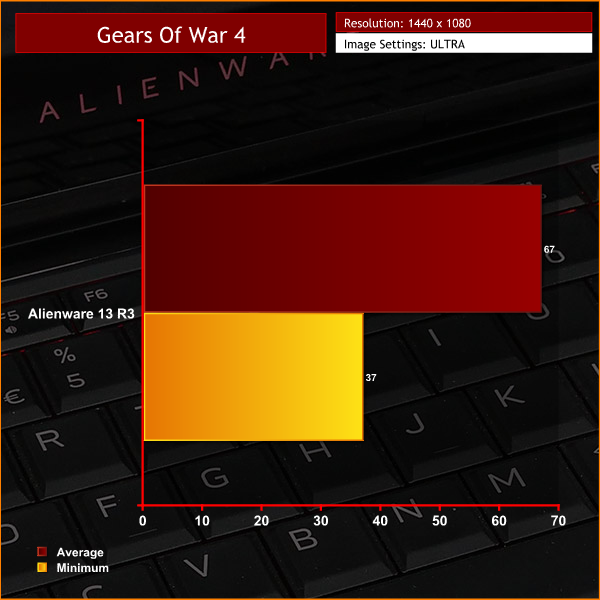 We are starting to get a bit jaded about the combination of Core i7 and GTX 1060 as we have seen it so often but the fact is that it works very well. Alienware has given the graphics a tough job as the QHD screen has 78 percent more pixels than a Full HD panel and it would doubtless help if this laptop packed a GTX 1070 GPU.
Mind you that would be a lot of hardware to control inside a relatively small chassis so we should probably be grateful that Alienware stuck with the GTX 1060. This makes it pretty much essential for you to play your games at 1080p and adjust image quality to keep the frame rate sufficiently high.
Cooling Performance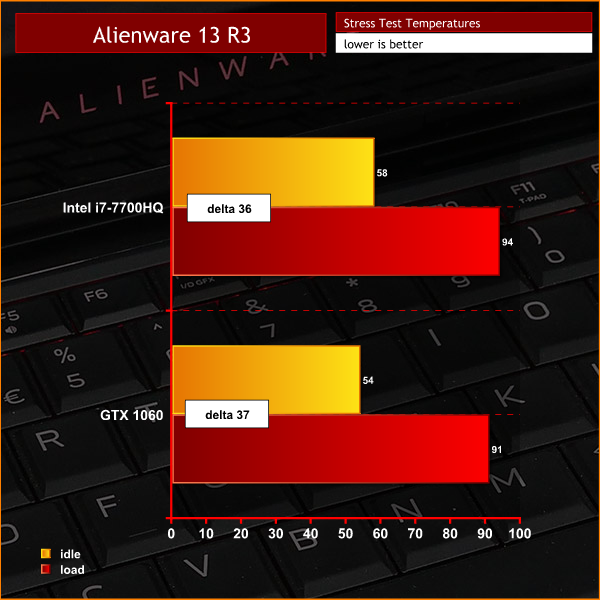 We couldn't dismantle the chassis far enough to reveal the cooling system so we have to assume the unconventional cooling module projecting from the rear of the chassis uses conventional heatpipes. However Alienware has done the job it is clear they have put the emphasis on low noise as both CPU and GPU run into the 90s degrees C under synthetic stress test loads. Under more normal circumstances such as 3D Mark you can expect the CPU and GPU to top out at 80 degrees C which is perfectly acceptable.
Acoustics performance
The cooling fans ramp up rather slowly under load without any nasty bursts of noise. This is a fairly quiet laptop that performs well and it is clear that Alienware has engineered the fans curves to make the 13 R3 as civilised as possible.
Battery life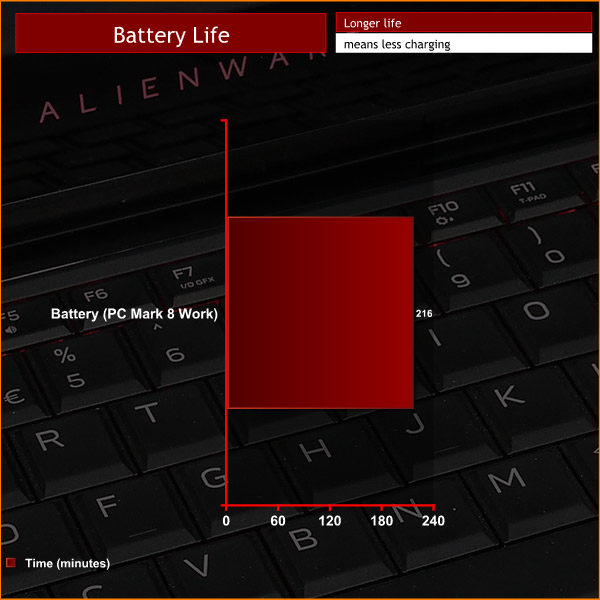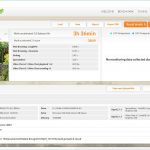 The Alienware has decent battery life and looped PC Mark 8 for 3 hours 36 minutes which is the identical time to the Gigabyte Aero 15. This is good news as it translates to seven hours or more in daily use. The downside is that Alienware has constructed the chassis in such a way that if the battery requires replacement it would involve a full strip down of the laptop.
Closing Thoughts
If we had been sent the most basic version of the Alienware 13 R3 with Core i5, GTX 1050 graphics and low resolution TN panel we are quite sure there would have been a wailing and gnashing of teeth in the KitGuru office.
In all probability things wouldn't have been much better with the Full HD resolution IPS panel as as the basic laptop is nothing special, and we say that knowing full well that Alienware has quite the reputation. It doesn't feel right criticising Alienware in such a sweeping way but the size and weight of the 13 R3 present a real problem.
The 13 R3 has a small 13.3-inch screen however the laptop itself is fairly chunky and heavy. Added to that, the cooling module that projects from the rear of the chassis means you need a bag or cover that is more appropriate to a 14-inch (or larger) laptop. In other words if you buy an Alienware 13 R3 you have to endure the limitations of a small 13.3-inch screen without the benefits you might expect from a slender, light and compact laptop. This makes little sense and while we acknowledge the tweaks and extras that Alienware has added, such as the illuminated touchpad and various pieces of software they do not make a fundamental difference.
By contrast the OLED screen is absolutely amazing. We don't much fancy the touch control aspect of the screen as the amazingly shiny coating is a magnet for fingerprints, but OLED technology is an absolute wonder. The Alienware 13 R3 has given us a taste of the future and we now want to see a larger version of this panel on a better laptop such as Razer Blade. Or perhaps we will get lucky and Gigabyte will update the Aero 15 with an OLED screen, which really would be something to see.
Discuss on our Facebook page, over HERE.
Buy from Dell direct Price £1,849 inc VAT (review specification) HERE
Pros:
Fabulous OLED screen.
Illuminated touch pad.
Cooling fans are fairly quiet.
All day battery life.
Cons:
Surprisingly heavy at 2.6kg.
The cooling module makes it rather bulky.
Touch control on this shiny OLED screen causes messy fingerprints.
The price is high for a laptop with 256GB SSD.
KitGuru says: The OLED screen on this Alienware 13 R3 laptop is fabulous.
Be sure to check out our sponsors store EKWB here