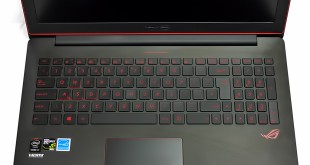 Overclockers UK has exclusive dibs on a one-off consignment of 168 Asus Republic Of Gamers G501JW laptops. These are thin and light 15.6-inch models which are built using an aluminium chassis and measure a mere 21mm thick with a weight just under 2.3kg. From a styling point of view we have the traditional ROG black and red colour scheme, and there's a black backpack thrown in to sweeten the deal.
Asus ROG G501JW Specification:
Processor: Intel Core i7-4720HQ Processor, 2.6 GHz (6M Cache, up to 3.6 GHz)
Operating System: Windows 8.1 (64-bit)
DIMM Memory: 16GB DRAM DDR3
Storage: PCIEx4 512GB M.2 SSD
Display: 15.6" LED Back-lit 300nits QFHD 3840×2160
External video display modes: HDMI 1.4, Displayport 1.1A
Video Graphics: NVIDIA GeForce GTX960M 4GB
IGPU: Intel HD Graphics 4600
Video Camera: HD web camera
Wireless: 802.11ac+Bluetooth 4.0 (Dual band)
USB Port: 3x USB 3.0
Interface: 1x Headphone-out & Audio-in Combo Jack
1x mini Display Port
Bang & Olufsen ICEpower Sonic Master
Weight: 1.78 kg (Without Battery) 2.27kg (with 6 cell battery)
Dimension: 383mm (W) x 255mm (D) x 20.6-21.3mm (H)
AC Adapter: 120W AC Adapter
Battery: 96WHrs, 3S2P, 6-cell Li-ion Polymer Battery Pack
LCD Cover Colour & Decoration: Aluminium, Black vertical hairline anodized.
Top Case Colour & Decoration: Aluminium, Black sand-blasting anodized
Keyboard Type: Illuminated Chiclet Keyboard
Keyboard Specification: ASUS 348mm keyboard with 19mm full size key pitch, integrated Numeric keypad
The main hardware features are an Intel Core i7-4720HQ which Turbos to 3.5GHz and has a standard Intel laptop CPU TDP rating of 47W. Backing up the CPU we have 16GB DDR3 RAM (8GB on board plus 8GB SODIMM) and a 512GB M.2 SSD which is a new Samsung model SM951 with PCIe 3.0 x4 controller.
Gamers will want to concentrate on the graphics and here we have a mixed message as the GPU is an Nvidia GeForce GTX960M 4GB, however the 15.6-inch screen is a 4K panel and that's a lot of pixels to push.
We know that ideally you use a GTX980 for 4K duties, although you might get away with GTX970M. Everything we know about graphics tells us that GTX960M isn't going to be up to this particular task. Balanced against that, Asus should be able to cool a GTX960M and Core i7 in a slender chassis without too much trouble, provided they choose a decent cooling system.
Ports and connectors are arranged sensibly with power jack, HDMI, mini DisplayPort and one USB 3.0 port on the left hand side. On the right we have the headset jack, SD card reader, and two more USB 3.0 ports. Look at the front edge and you'll find activity LEDs for power and drive activity.
You will have noted there is no Ethernet port however you are not forced to rely on the 802.11ac Wi-Fi as Asus has included a USB-to-Ethernet adapter in the package. That piece of hardware is sure to come in handy while the Mini DP-to-VGA adapter that is also included will surely only be relevant if you wish to hook up an elderly projector.
Opening the chassis to check the layout of the components is quite easy once you remove the ten tiny Torx screws and identify the two screws hidden under the rear rubber feet. As you can see in our photos there is a pair of hefty flattened heatpipes running across the rear of the chassis that link the CPU and GPU with two heatsink/fan assemblies. It is easy to identify the M.2 SSD, DDR3 and the Wi-Fi card. The front of the chassis is dominated by the huge battery, and either side of the battery we see the stereo speakers.
When we started the Asus for the first time it paused for a significant time while the various pieces of software checked back to base for updates. Unfortunately this became a regular occurrence and we quickly tired of the wait, but once we had uninstalled McAfee Live Safe and told Asus WebStorage and Asus Update to stop annoying us things improved and we were able to appreciate the snap and response of the Samsung SSD.
Testing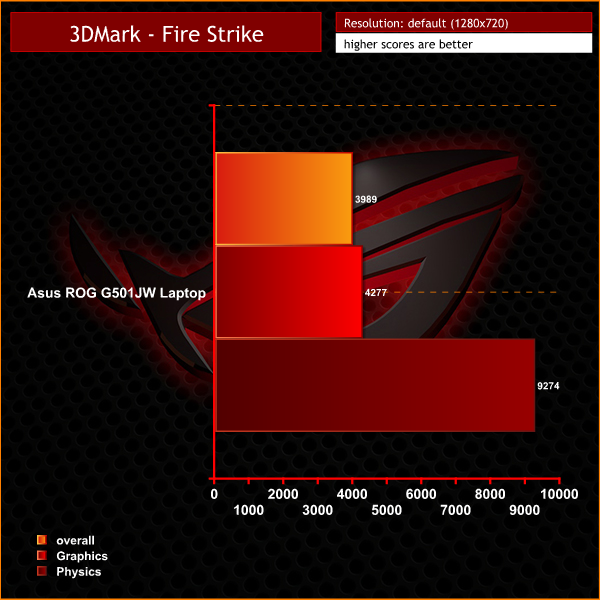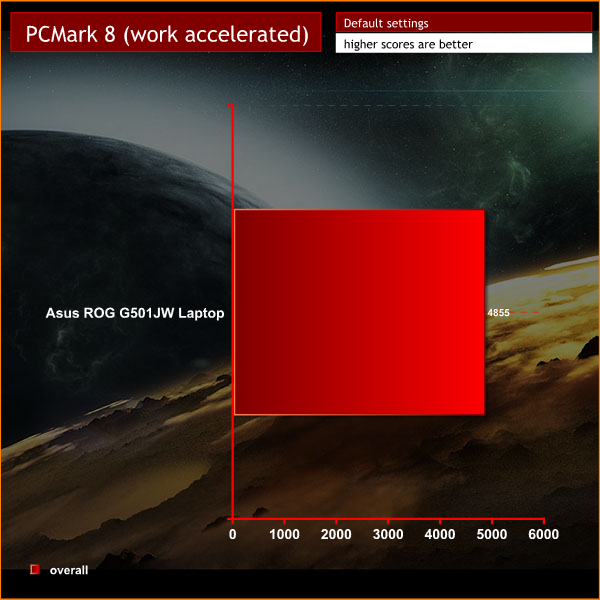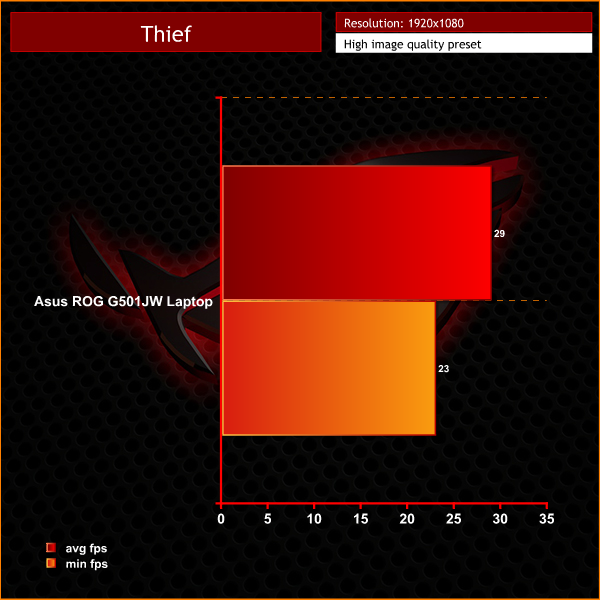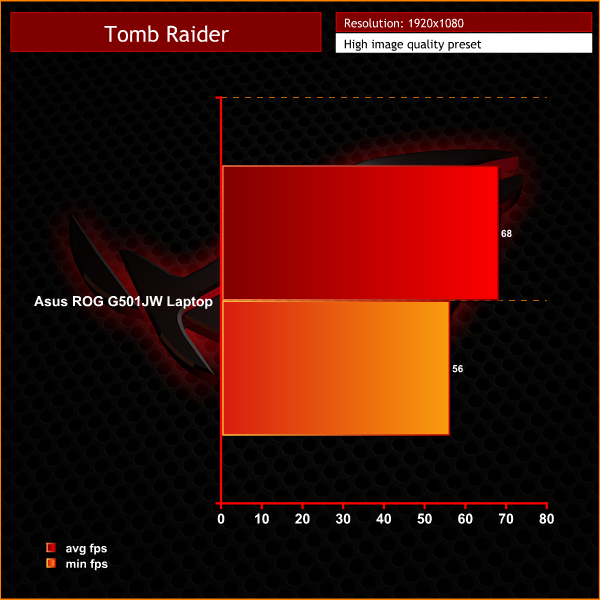 Testing appeared to go well. PC Mark, 3D Mark and our various games all ran well and the G501JW behaved itself immaculately. It was only when we compared test results with another Asus laptop with the same CPU and a similar GPU that we realised the G501JW was under-performing. One possibility was thermal throttling however some checks showed the temperatures were well within safe limits so we instead forced the Nvidia drivers to use the GTX960M, instead of swapping between Nvidia and Intel iGPU. This pretty much sorted the performance problem and is fine for mains powered gaming but is unlikely to help battery life.
The installed GeForce 345.05 drivers were current at the time of testing and Asus Live Update reported it was happy about the state of the laptop.
As things stand we're pointing the finger at Nvidia Optimus technology.
Once we had overcome our problems we found the G501JW delivered the results we expected. Game play is good at 1080p, provided you hold back on anti aliasing, but when you turn the presets to high in intensive games you can expect to see frame rates dip below 30fps. Bump the screen resolution up to 4k and frame rates drop to one third of their 1080p rates, which is hopeless for gaming. This is exactly as predicted.
Put it another way; 4k settings on this laptop are great for photos and movies but hopeless for games. The matte screen looks very good indeed. It doesn't have the bling of a glossy coated screen but is much more usable and doesn't suffer reflections, which is an absolute blessing.
Thermal Dynamics
Running a combination of Furmark and Cinebench showed just how well this aluminium chassis cools. The Core i7 peaked at 86 degrees and the GTX960M peaked at 78 degrees. Under more normal circumstances the CPU hovered around 50 degrees. This thin and light chassis works really well, however it is clearly aided by the choice of components, in particular the GTX960M GPU.
Acoustic Performance
The two cooling fans are audible when the laptop is working hard, however that is the most you can say about them. The noise is neither loud or intrusive and the fans slow down as the thermal load decreases. There are obvious risks associated with using a slender chassis and Asus manages to avoid them with ease through its use of good, solid engineering..
Battery life
Battery life is just over three hours in continuous looped benchmarks so you can expect to see about six hours of regular use on a single charge in the real world. Asus has included a substantial battery in this model and this yields a significant benefit.
Closing Thoughts
Overall we like the Asus ROG G501JW but it would be accurate to say we are impressed by the slender aluminium chassis. The styling is lovely and the look and feel are gorgeous. The chassis looks good and provides great cooling, but also feels solid and resists any flex or twist.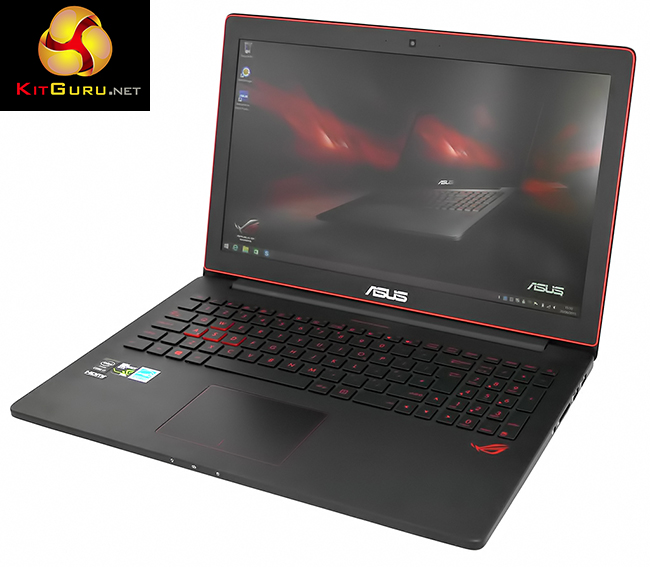 From a functional point of view the Chiclet keyboard is good to type on and the mouse works well enough however the layout of the keyboard is frustrating as the Power button sits where we expect to find the End key. Also, the left hand Windows key is too far inboard.
These are minor points but when you are buying a premium laptop that carries a hefty price tag you are looking for perfection. Uninstall the bloatware and wait for an Nvidia driver that fixes Optimus and you'll still be faced with a keyboard that isn't quite right, which is frustrating.



Buy direct from Overclockers UK for £1899.95 inc vat – HERE.
Discuss on our Facebook page, over HERE.
Pros:
Gorgeous aluminium styling.
Solid engineering, quality metalwork.
Core i7 performance.
GTX960M delivers decent gaming power.
Very nice 15.6-inch screen
Fast 512GB SSD.
Backlit keyboard.
802.11ac Wi-Fi
Three USB 3.0 ports.
Cons:
High price.
Apparent Nvidia driver problems affected performance.
Laptop comes loaded with bloatware
Keyboard layout isn't great.
You cannot game at 4k so be prepared to juggle resolution and game settings.
KitGuru says: This thin and light laptop looks gorgeous but considering the price we feel it is a little underspecified.