When Asus sent us the specification of the new ROG G701VI laptop we had a couple of thoughts. The first was a point of trivia as the model code suffix looks like VI or Roman 6 i.e. Skylake but in fact it is Vee Eye. The second, much bigger, point is that the specification looks amazing. Asus promises 'Desktop Performance In A Slim Package' and they make a good point. This large 17.3-inch chassis is relatively slender and measures 32.5mm at the thinnest point and 35mm at the thicker parts, weighing in at 3.8kg. For comparison the Asus G752VT is 43mm thick and weighs 4.4kg so the Asus ROG G701VI is not significantly smaller or lighter but it looks thinner and has a svelte appearance.
We like that but are much more interested by the GTX 1080 graphics chip and a display that boasts a 'World's first' as this 17.3-inch screen has a resolution of 1,920×1,080 and supports both 120Hz and G-Sync. Usually the best you can hope for is a choice of either 120Hz or G-Sync in a world where most laptops only support V-Sync technology and have a refresh rate of 60Hz.
The rest of the specification is also pretty impressive as there are a pair of Toshiba SSDs in RAID 0, 64GB of DDR4 memory and a superb selection of ports and connectors.
Watch via our VIMEO Channel (Below) or over on YouTube at 2160p HERE.
Asus ROG G701VI Specification:
Processor Intel Core i7 6820HK Processor
Chipset Intel CM236 Express Chipset
Memory 64GB DDR4-2,400MHz SDRAM
Display 17.3″ (16:9) LED backlit FHD (1,920×1,080) 120Hz Anti-Glare Panel with 72% NTSC
Graphics Nvidia GeForce GTX 1080 with 8GB VRAM
Storage Solid State Drive 512GB PCIE Gen3X4 SSD RAID 0 Support
Keyboard Illuminated Chiclet Keyboard
Card Reader Multi-format card reader
WebCam HD Web Camera
Networking Wi-Fi Integrated 802.11 AC
Bluetooth Built-in Bluetooth V4.0
Interface
1 x USB 3.1 Type C port
3 x USB 3.0 ports
1 x RJ45 LAN Jack
1 x HDMI
1 x Mini Display Port
1 x Thunderbolt port
1 x SD card reader
1x AC adapter plug
Audio Built-in Stereo W Speakers And Array Microphone
ASUS Sonic Studio
Battery 6 Cells 93 Whrs/8240mAh
Power Adaptor Output 19.5V, 16.9A, 330 W
Dimensions 429mm (W) x 309mm (D) x 33-35 mm (H)
Weight 3.8 kg with Battery
Operating System Windows 10 Home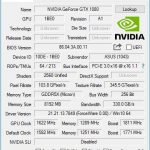 Take a look at our video and you will see the Asus ROG G701VI is a serious piece of hardware as evidenced by the mammoth 330W power supply which has a latching mechanism that locks in the rear of the chassis. In some respects it's a bit of a pain as connection and removal is a job that requires both hands but on the plus side you have no doubt the power will continue to flow.
Make no mistake, a combination of Core i7 and GTX 1080 requires mains power to deliver proper gaming performance. This laptop draws 40W when it is idling, however that figures increases to 265W in 3D Mark or when gaming.
As you will also see, a quick spin around the chassis reveals masses of USB 3.0 ports as well as a USB 3.1 type C and a Thunderbolt port. Fast data connection poses no problems.
Testing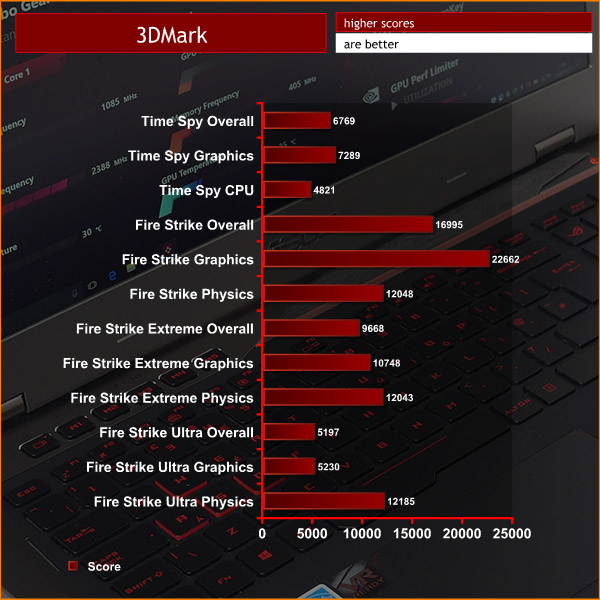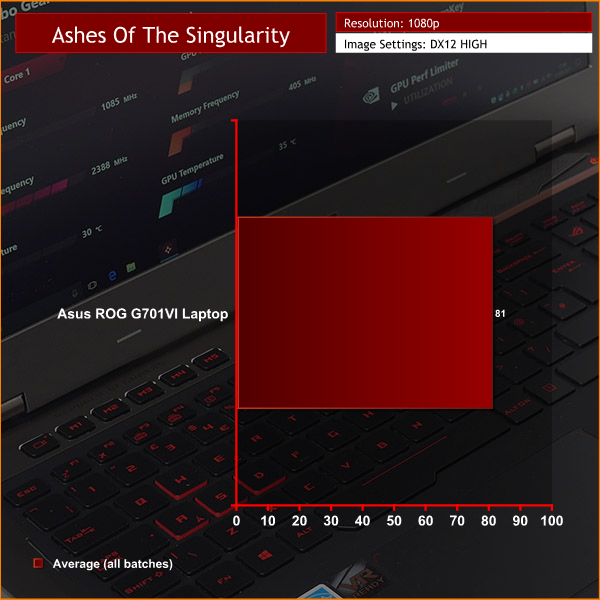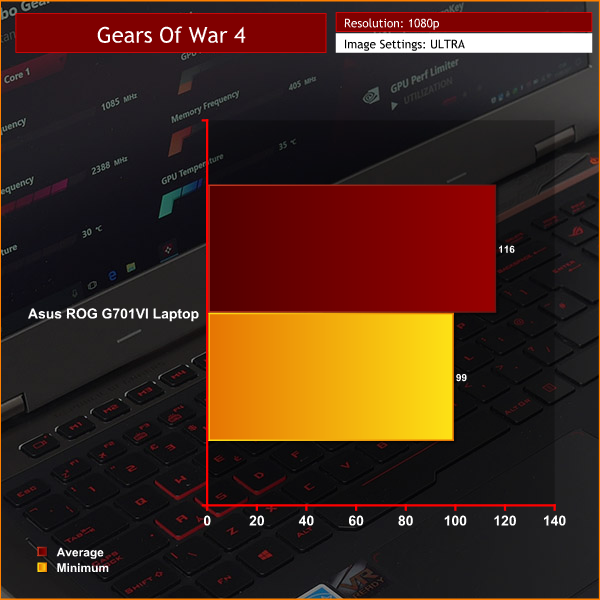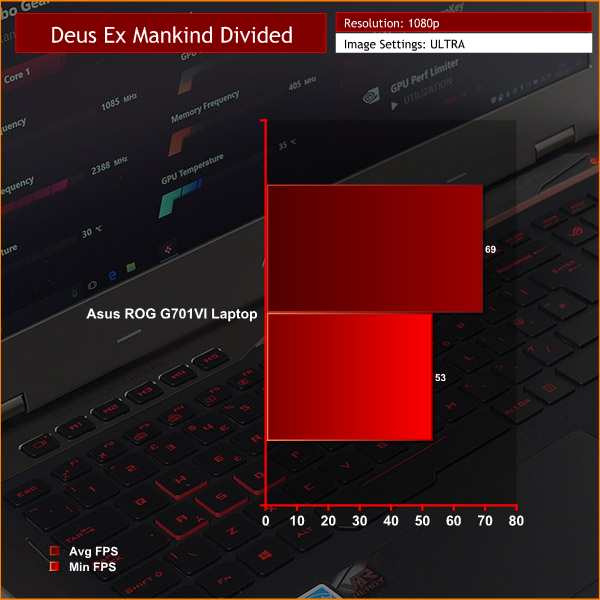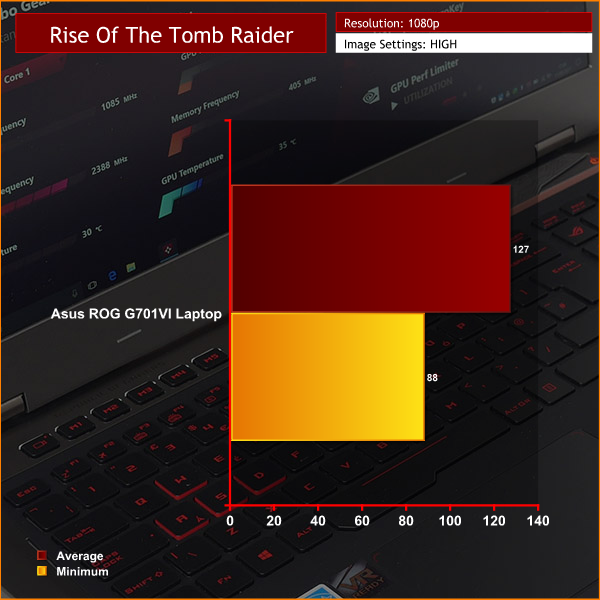 Gaming performance is simply epic. The GTX 1080 GPU delivers superb frame rates, such that the minimum frame rate in Deus Ex is 53fps and the average is 69fps. In Gears of War 4 the average frame rate is 116fps and yes, that is at Ultra quality settings.
In addition to pure performance the image quality is superb. It is hard to claim we could see much improvement from the 120Hz panel compared to a regular 60Hz G-Sync panel but the fact is that we loved it. Big thumbs up. Result.
Cooling Performance.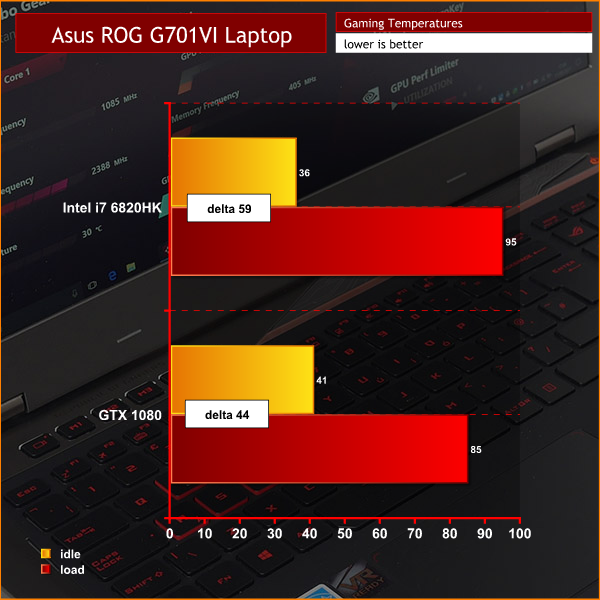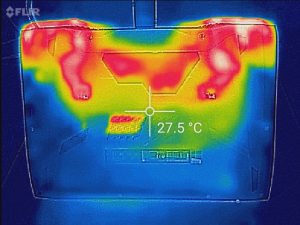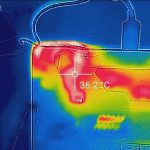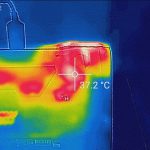 Our photos inside the Asus ROG G701VI show a conventional cooling layout with the two coolers in the rear corners and a pair of wide, flat heatpipes that reach from one side to the other, crossing the CPU and GPU along the way. The curious thing is that the cool air is drawn in pretty much in the centre of the underside and then passes through the casing before it is exhausted to the rear. Generally the air is drawn in much closer to the heat exchangers and this layout seems as though it could be prone to getting blocked were you to rest the laptop on soft furnishings or pretty much any surface that isn't hard and level, such as a table.
Temperatures are a little on the hot side. The CPU and GPU idle around the 40 degree mark and head north under load. We saw the CPU hit 95 degrees under synthetic stress test load and the GPU ran at 85 degrees.
Acoustics performance.
Watch our video and you will hear the Asus ROG G701VI in action. The cooling is fairly noisy even when the laptop is only working gently and it gets louder when the system is under load. It is clear that Asus has ramped up the fan curve to keep the temperatures in check and we found it all rather annoying and intrusive.
Closing Thoughts.
The Asus ROG G701VI is a mighty beast and in some respects it is over the top. We love the combination of Core i7 CPU and GTX 1080 GPU but see no need for 64GB of expensive DDR4 memory. The dual Toshiba SSDs in RAID are superb however it is easy to argue that RAID 0 is an accident that is waiting to happen.
We loved the screen. The combination of G-Sync and high refresh rate is a winner and we want to see this panel used regularly on other laptops.
On the downside the Chiclet keyboard is entirely forgettable and we are sure that gamers will plug in a proper mouse and keyboard before any gaming session.
You cannot escape the fact that this laptop is big and heavy but blimey it performs and heck, it even has decent battery life. We got around 5 hours real world battery life from the machine.

Buy from Overclockers UK for £2999.99 inc vat HERE
Discuss on our Facebook page, over HERE.
Pros:
120Hz display with G-Sync.
Massive CPU and GPU performance.
World class 1080p gaming.
USB type C and Thunderbolt ports.
Stylish good looks.
Cons:
The price is on the wrong side of £3,000.
The cooling is noisy.
Does it really need 64GB of DDR4 RAM?
It is big and heavy.
The keyboard is fairly middling.
KitGuru says: GTX 1080 graphics with 120Hz screen and G-Sync, all in one laptop.