Asus has given the ROG GX501VI Zephyrus laptop a name that is a mouthful however the fact of the matter is that the name is not really long enough. In an ideal world Asus would have found some extra space to include the term Max-Q as Zephyrus is the first laptop we have seen that includes Nvidia Max-Q technology since it was announced at Computex 2017. Asus will be the only company offering GTX 1080 Max-Q at launch so while you will be able to buy the GTX 1070 Max-Q from at least two laptop companies, when it comes to GTX-1080 Max-Q it is, at present, Asus all the way.
UPDATE: READ THE FULL REVIEW PUBLISHED 27th JUNE 2017 HERE.
Watch the video via our VIMEO Channel (Below) or over on YouTube at 2160p HERE
Asus ROG GX501VI Zephyrus Specification:
CPU: Intel Core i7-7700HQ (2.8GHz-3.8GHz)
Display: 15.6″ 1,920×1,080 120Hz IPS Anti-Glare LCD with Nvidia G-SYNC Technology
System Memory: 16GB DDR4-2400MHz SO-DIMM (24GB in our sample)
Chipset: Mobile Intel HM175 Express Chipset
Graphics: Nvidia GeForce GTX 1080 Max-Q GDDR5X 8GB
Storage: 512GB Samsung SM961 NVMe (1TB in our sample)
I/O Ports:
1x HDMI 2.0
4x USB 3.0 (Type-A)
1x Thunderbolt 3 (Type-C)
1x Headset Audio Jack
DC Jack x 1
Audio: Dual TI-255 Smartamp audio with 2x 6W output
Wireless LAN: Intel Dual Band Wireless-AC 8265 (802.11ac, a/b/g/n compatible)
Bluetooth: Bluetooth V4.2
Webcam: HD UVC Webcam
Security: Kensington Lock
Battery: Li Polymer 50Wh
Power Adapter: 230W
Dimensions: 379mm (W) x 262mm (D) x 16.9mm (H)
Weight: 2.2kg
OS: Windows 10 Pro
As you will see in our video (and have likely read in KitGuru news from Computex) Max-Q is a new approach by Nvidia that allows laptop manufacturers to build laptops that are thin and light but which still have decent gaming performance. In this preview we cannot discuss the specifics we have gathered as we are under NDA however the figures from Nvidia are as follows:
Max-Q designed laptops with GTX 1080 deliver on average 85 to 95% of the performance of GTX 1080, and are 50% more efficient.
Max-Q-designed laptops with GTX 1070 are on average 85 to 95% of the performance of GTX 1070, and are 33% more efficient.
Max-Q designed laptops with GTX 1060 are on average 85 to 95% of the performance of GTX 1060, and are 25% more efficient.
You will have to draw your own conclusions from those figures but you can be confident that a slightly slower GTX 1080 will be able to drive a 15.6-inch 1,920×1,080 display without any trouble whatsoever. The panel looks really good and the combination of IPS display technology and 120Hz rating makes it a natural for game play.
Cooling is a huge part of the design of the Zephyrus. The most obvious clue is the way the keyboard has been moved to the front of the chassis to leave as much space as possible for the heatpipes and fans. This means the touchpad and mouse buttons have been moved to the right hand side in a manner that is, frankly, annoying. Connect the USB mouse that is part of the Asus package and all is well.
You get a better idea about the way the cooling works when you open the lid of the laptop as the floor of the laptop lowers by 6mm to open an airflow path that directly feeds cooling air to the two fans. It is a novel approach that shows Asus is taking cooling incredibly seriously. Nonetheless we cannot help but wonder would happen with this laptop if you carelessly rested it on soft furnishings or, heaven forfend, put it down on a wet surface.
UPDATE: READ THE FULL REVIEW PUBLISHED 27th JUNE 2017 HERE.
Closing Thoughts.
As you will have seen in our video we are limited by what we can say about the GTX 1080 Max-Q graphics which means we are unable to discuss performance of the laptop or temperatures of the CPU and GPU right now. Do please check back when the NDA lifts for the full review where we will give you chapter and verse. Without giving away any secrets we can assure you the performance figures make for interesting reading and tell you a fair amount about the inner workings of GTX 1080.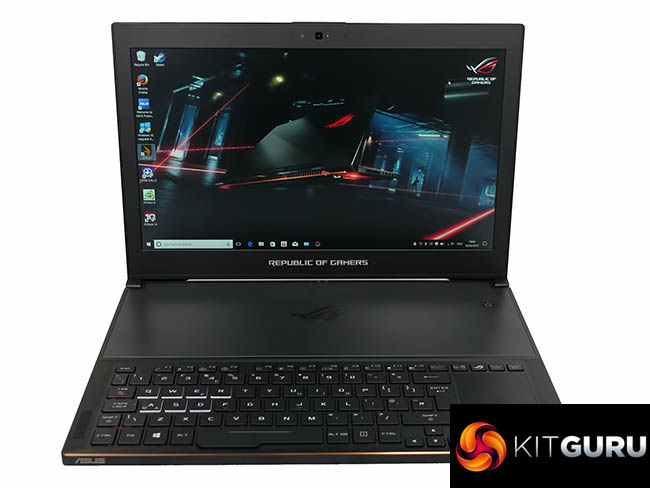 In the meantime we can tell you the Asus ROG GX501VI Zephyrus is thin and light by any standards, and amazingly so for a laptop that packs a Core i7 with GTX 1080 graphics. You get a good set of ports and connectors and the Intel Wi-Fi is truly remarkable. Added to that the screen is really good and combines IPS panel technology with 120Hz refresh and Nvidia G-Sync. The two questions we cannot answer today are how well the laptop performs and what sort of temperatures it produces at the CPU and GPU. We promise we will tell you just as soon as we can.
Pros:
Very thin and light for a gaming laptop.
Lovely Full HD IPS 120Hz panel with G-Sync
Good selection of ports and connectors.
Stylish good looks.
Cons:
We cannot discuss graphics performance at the moment.
Battery is only 50Wh.
Keyboard has very short travel keys.
Touch pad and mouse buttons are offset to the right.
KitGuru says: Asus ROG GX501VI Zephyrus is the first Max-Q laptop to break cover and it looks damn interesting.