During the month of March KitGuru rocked up to an Asus event showcasing three new laptops with Intel 10th Gen Comet Lake processors and Nvidia Super graphics including the Asus ROG Zephyrus Duo 15. Unfortunately due to Covid-19 chaos, production is likely to be delayed and we may not see these laptops on sale until July.

Watch the video via our VIMEO Channel (Below) or over on YouTube at 2160p HERE
Note: if the above images are not displaying properly, you may need to disable Ad Block as it is known to interfere with our display code
Asus ROG Zephyrus Duo 15:
Pricing Starts at £2,999
CPU Intel Core i9-10980HK or Core i7-10875H with 8 cores and 16 threads
Graphics Nvidia RTX 2080 Super or RTX 2070 Super
Main display 15.6-inch 3,840×2,160 IPS or 1,920×1,080 up to 300Hz
Secondary display 14.1-inch touchscreen 3,840×1,100
Storage Up to 2TB with dual NVMe SSDs in RAID 0
Battery 90Wh
Dimensions 360mm Wide x 268mm Deep x 21mm High
Weight 2.4kg
Asus ROG Zephyrus Duo 15 bears a passing resemblance to the Asus ZenBook Pro Duo which also sports a combination of 15.6-inch main screen and a secondary 14.1-inch screen positioned north of the keyboard.
Asus has paid extra attention to the cooling of Zephyrus Duo 15 with the introduction of AAS+. We have previously seen AAS (Active Aerodynamic System) where the action of lifting the laptop lid raises the chassis to increase airflow.
As you will see in our video, with AAS+ the secondary screen lifts up at the back. This opens a path for airflow and also improves the viewing angle of the screen. Inside the laptop Asus has used Thermal Grizzly Conductonaut Liquid Metal to maximise heat transfer from the Intel CPU.
We have yet to receive full details of 10th Gen Comet Lake H, however the headline figures suggest these are tweaked versions of Core i9-9980HK and Core i7-9750H. Similarly on the graphics front we do not yet have details of Nvidia Super for laptops but we understand both RTX 2070 Super and 2080 Super will draw 80W and will be supplied with 8GB GDDR6.
Asus ROG Strix G15
The headline specification of Asus ROG Strix G15 is a 15.6-inch FHD screen with 240Hz refresh, an Intel 10th Gen CPU up to Core i7 with Thermal Grizzly Liquid Metal and RTX 2070 Super graphics. This looks like a significant step up from current models such as Asus ROG Strix G531, in particular with regards to the graphics and faster screen response. We anticipate Asus ROG Strix G15 will be priced around the £2,000 mark (When we receive further details from Asus we will update this page).
Asus ROG Strix G17
The final member of the trio is Asus ROG Strix G17 with a 17.3-inch display that is rated at 240Hz and has FHD resolution. This model shares the CPU details with Strix G15 and packs a 10th Gen Core i7 with Thermal Grizzly Liquid Metal, however the graphics step up to RTX 2070 Super which is sure to increase the price compared to Strix G15.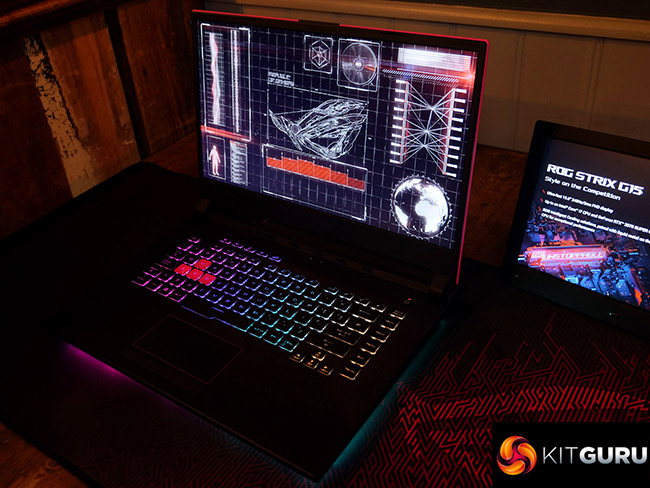 Discuss on our Facebook page HERE.
KitGuru says: The dual screens on ROG Zephyrus Duo 15 look intriguing and we will bring you a full review just as soon as possible.