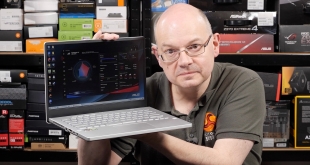 In a one-two combo, AMD unveiled Ryzen 4000 Mobile at CES 2020 and then Asus hit us with the ROG Zephyrus G14 which left us in no doubt they were taking the new AMD CPU seriously. This svelte 14-inch notebook looked gorgeous and also packed a lighting system in the lid called AniMe that simply could not be ignored.    
Watch the video via our VIMEO Channel (Below) or over on YouTube at 2160p HERE
00:16 Introduction
00:47 Unboxing The G14
01:32 No lighting in the lid – aww
02:37 Ports and connectors
03:06 Four distinct families / pricing / hardware
03:55 KitGuru Technical piece on Ryzen 4000 Mobile
04:20 Sampling issues for launch
05:09 The 'HS' suffix – 35 watts
05:49 Asus Armoury Crate / clock speeds / package power / temperatures
09:29 The Triangle Discussion
10:00 Ryzen 4900HS – it's impressive!
11:06 G14 hardware detailed
12:21 Is Leo impressed?
13:38 The Cooling System
14:22 One potential snag
14:55 Leo wants the QHD panel version!
15:16 Full HD Gaming is lovely
15:51 Good battery life as well
16:17 It's a triumph!
Product page for Asus ROG Zephyrus G14 HERE
Specification
CPU AMD Ryzen 9 4900HS
Screen 14-inch, 1,920×1,080 resolution, 120Hz refresh IPS-level
Graphics Nvidia GeForce RTX 2060 Max-Q 6GB GDDR6
Integrated graphics AMD 7nm Vega 512 Shaders, 512MB DDR4, 128-bit controller
Memory 16GB DDR4-3200MHz dual channel (8GB + 8GB on board)
SSD 1TB Intel 660p M.2 NVMe
Audio 2x 2.5W + 2x 0.7W speakers
Networking Intel AX200 Wi-Fi 6 and BT5.0
I/O ports

2x USB 3.2 Type-C (one with DisplayPort)
2x USB 3.2 Gen1Type-A
1x HDMI 2.0b
3.5mm Headphone/mic combo jack

Battery 4-cell 76Wh 4800mAh, 180W adapter
Dimensions 324mm x 222mm x 17.9mm
Weight 1.68kg plus 520g for power supply and mains cable
We were disappointed that our review sample was supplied without the AniMe Matrix lighting in the lid so we instead focussed on the technical features, and in particular the Ryzen 9 4000 HS CPU with 35W TDP. A regular 45W Ryzen 9 4900H has a Base frequency of 3.3GHz and Boosts to 4.4GHz. By contrast the Ryzen 9 4000 HS in this laptop has a lower 3.0GHz Base frequency and a slightly lower 4.3GHz Boost but saves a healthy 10W in the process.
This particular version of Zephyrus G14 packs Nvidia RTX 2060 Max-Q graphics that are rated at 65W so we were gratified to see that Asus has worked hard on the cooling system in this skinny laptop. The cooling system covers the CPU, GPU and VRMs and uses five heatpipes with two cooling fans that each have 81 blades. The fan blades have lengths that alternate between 50.0mm and 51.2mm in a move to reduce turbulence, and Asus has also included their dust bypass feature that ensures the fans remain clean.
Externally you can see the ErgoLift hinge that lifts the back of the chassis by 15mm to help cooling and also to angle the keyboard for more natural typing.
Asus controls the power, cooling and clock speeds of the ROG Zephyrus G14 with their Armoury Crate software that has four operation modes: Silent (under 35db), Performance (under 40dB), Turbo and Manual.
Silent CPU fan 2,400rpm, GPU fan 2,600rpm
Performance CPU fan 2,600rpm, GPU fan 2,800rpm
Turbo CPU fan 2,700rpm, GPU fan 3,000rpm
Manual Full speed CPU fan 3,000rpm, GPU fan 3,500rpm
Testing and Performance
We ran Cinebench R15 and Blender to test the CPU, as well as 3D Mark and a number of games tests. It will make things much clearer if you watch our video and take note of the section where we run Blender with Armoury Crate in Performance, Turbo and Manual modes as that will show you exactly how the CPU behaves when it is working hard.
CPU Tests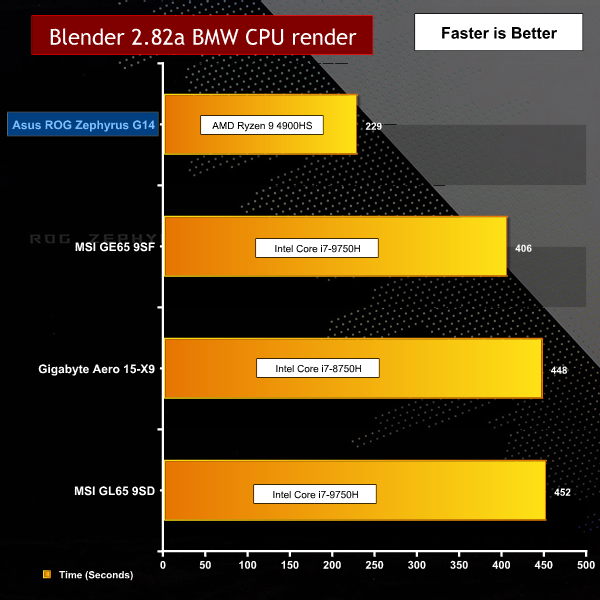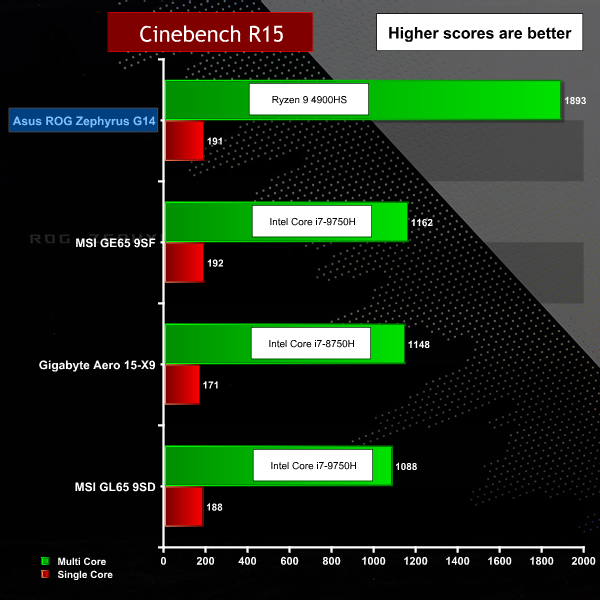 CPU Test Overview
Ryzen 9 4900HS storms along with eight fast cores delivering impressive performance. It is noteworthy that single threaded performance is on a par with Intel Core i7-9750H.
Synthetic Games Tests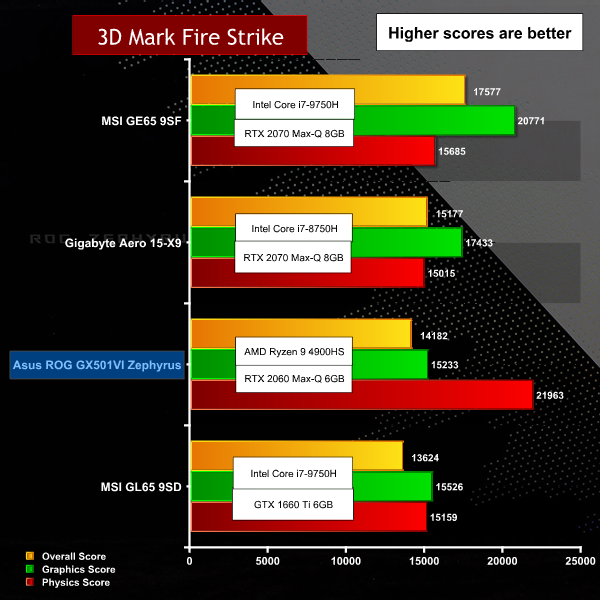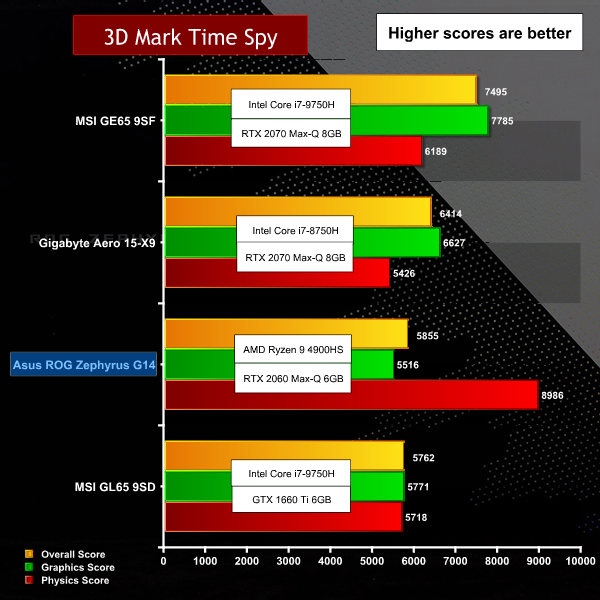 Synthetic Games Tests Overview
You can clearly see the CPU delivers huge levels of performance in 3D Mark while the RTX 2060 Max-Q graphics slot in exactly where you would expect, below RTX 2070 and above GTX 1660 Ti.
Games Tests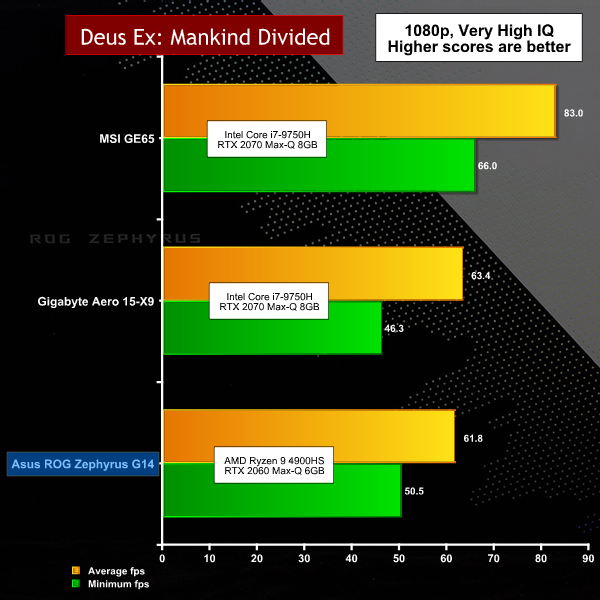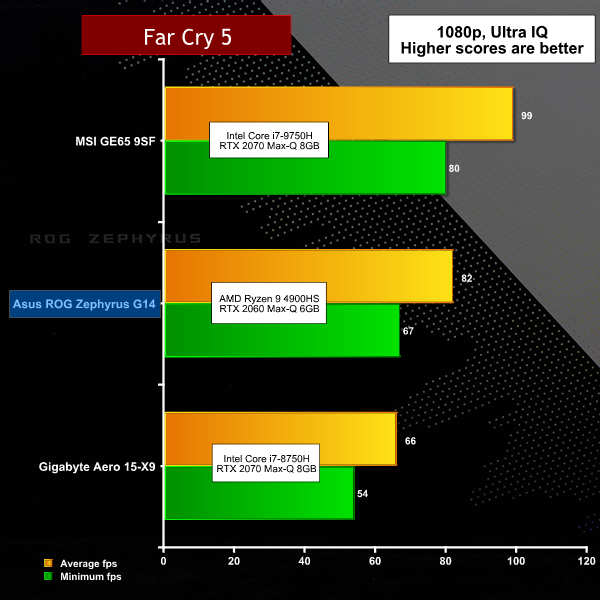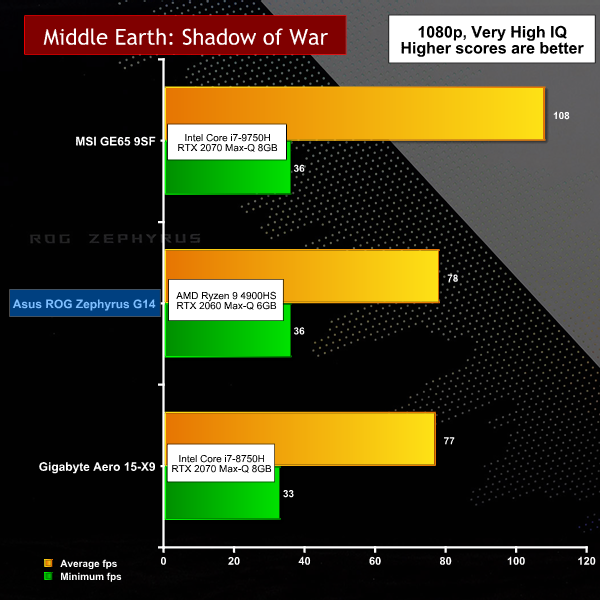 Games Tests Overview
Asus ROG Zephyrus G14 demonstrates how easily it can play Full HD games with the Image Quality cranked up high. The average frame rates deliver an excellent experience while the grunty CPU and fast memory ensure the minimum frame rates are also acceptable.
Testing and Performance Overview
It is clear the Ryzen 9 4900HS CPU inside Asus ROPG Zephyrus G14 performs like a champ, however it is less clear exactly what the CPU is doing at any given moment as the combination of power, cooling and clock speeds is highly dynamic.
In a lightly threaded task such as the graphics portion of Fire Strike we observed the CPU running at 4,366MHz. By contrast in a CPU-intensive task such as Blender the CPU would initially run at 3.7GHz and then slowly clock down to 3.2GHz or 3.1GHz. When we switched modes in Armoury Crate we could see the target CPU temperature changing from 90 degrees to 93 or 94 degrees. When the task was less CPU intensive the temperature would rapidly fall back to the mid-70s Celsius.
In a combined gaming workload such as Far Cry 5 we observed the CPU temperature at 95 degrees while the RTX 2060 Max-Q graphics were running at 76 degrees, which suggests the cooling package might be approaching its limits on this high end version of Zephyrus G14.
Battery Life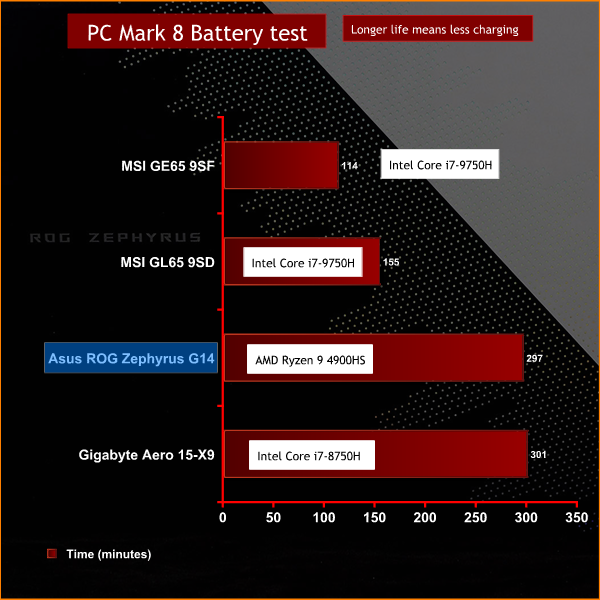 Battery Life Overview
Five hours of battery life in PC Mark 8 equates to ten hours of real world duties, and that is a big thumbs up for Asus ROG Zephyrus G14.
Closing Thoughts
The new Ryzen 9 4900HS CPU in Asus ROG Zephyrus G14 makes us keen to see more laptops with regular non-HS processors so we can get a feel for the whole family of Ryzen 4000 CPUs. We also need to use the AMD 7nm Vega graphics to see how well they work in a laptop so yes, we are slightly frustrated at the moment but yes, we are also impressed by Asus ROG Zephyrus G14.  This is a good laptop that should make for a highly portable working machine, although we would have preferred a version with a QHD screen rather than FHD.
The chassis looks good and has the ports and connectors arranged on both sides in handy locations. The screen looks good, the keyboard feels OK and the touchpad is responsive. None of these critical parts jumped out as exceptional but neither did we hit any problems. Our review sample did not come with the AniMe lighting feature in the lid, and while that is a minor shame as it would have looked interesting on video we cannot claim to be too deeply disappointed.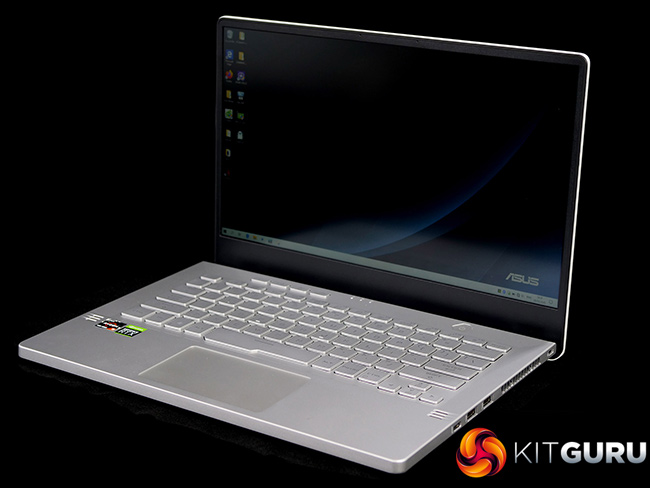 We have been able to dig up information on a number of versions of G14 but the prices have not been confirmed in advance of the launch date so we shall hold off on a final judgement about value for money. Right now it seems you pay a significant premium as you step up the product stack and improve the CPU and GPU, moving from £999 to £1,799. The underlying hardware in the chassis remains the same across the range of Zephyrus G14 laptops and that strikes us a good move as the tiny screen bezel, ErgoLift hinge and inclusion of Type-C charging are features that deserve to be shared.
Discuss on our Facebook page HERE.
Pros:
Very strong CPU performance from Ryzen 9 4900HS.
G14 chassis is thin, light and very compact.
Impressive battery life.
Good cooling system.
Cons:
Our review sample came with a FHD panel, rather than QHD.
As you move up the G14 product stack, prices increase significantly.
Armoury Crate feels like it needs tweaking for Ryzen 4000.
KitGuru says: Asus has introduced Ryzen 4000 in a premium laptop with ROG Zephyrus G14.
Be sure to check out our sponsors store EKWB here