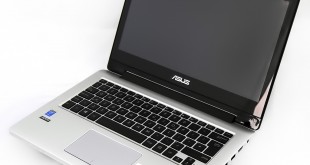 The Asus TP300L Transformer Flip is a 13.3-inch thin and light laptop that doubles up as a Windows 8.1 touch screen tablet. This is a neat trick that hinges, ahem, around the hinge. Instead of simply allowing you to open the screen and fold it back to a comfortable viewing angle you can swing the screen through a full 360 degrees until it ends up on the underside of the keyboard.
This action disables the keyboard and touch pad, allowing you to use the TP300L as a slightly heavy tablet. You might wonder why it would be a good idea to have a tablet that weighs a relatively porky 1.7kg however there is method in Asus' apparent madness.
Using laptop technology means the hardware lives under the keyboard and there is no need to attempt to shoehorn a skinny battery into a tiny tablet package. Neither has Asus been forced to employ a lowly ARM processor; instead you get a dual core Intel Core i5 U series CPU to drive Windows 8.1 along.
The two major plus points here are decent battery life and a low price point of £499.
Asus TP300L Transformer Flip Specification:
Screen Size: 13.3″
Screen Type: LCD
Backlight: LED
Screen Resolution: 1366×768
Aspect Ratio: 16:9
Processor Type: Intel Core i5-4210U
Processor Cores: 2 (4 Threads)
Processor Clock Speed: 1.70GHz (2.70GHz Turbo Mode)
Hard Drive Supplied: 1 x 500GB
Hard Drive Interface: Serial ATA-600
Hard Drive Speed: 5400RPM
Memory Size: 6GB
Memory Type: DDR3L
Memory Speed: 1600
Memory Socket: 2 x SO-DIMM
Max. Memory Support: 12GB
Operating System: Windows 8.1
Graphics: Intel HD 4600
Speaker(s): 2 x Speakers total 3W
Microphone: Built-in
Wireless NIC: Intel Wireless-AC 7260 802.11/b/g/n
Bluetooth: v4.0
USB 3.0 Port(s): 2
USB 2.0 Port: 1
HDMI Port(s): 1
Headphone/mic Jack(s): 1
Card Reader: SDHC/HC
Web Camera: HD type
Only 22m thick
Weight: 1.7Kg (w/Battery)
Warranty: 1 Year
Other markets benefit from a discrete Nvidia chip to help carry the performance workload but we Brits have to make do with Intel HD 4600 graphics which sorely limits the abilities of the TP300L. In short you can forget about gaming as the hardware simply isn't up to that particular task.
Asus also lists a model TP300LA Core i3 version of the 13.3-inch Transformer Flip that sells for £430 and a slightly faster Core i7 15.6-inch TP550 with Core i7 that costs £650.
Another sign of cost cutting with the TP300L is the inclusion of a 500GB hard drive, rather than a lower capacity and rather more expensive SSD which would have helped performance. The inclusion of a hard drive appears to be the only block on Asus claiming an Ultrabook label from Intel for this model. It would have been nice to have an Ethernet port but instead you have to rely on Intel wireless. This works well enough but there are times when only a network cable will do and the TP300L doesn't give that option.
In terms of software Asus has added a couple of applications to the basic installation of Windows 8.1 in the shape of Asus Web Storage Cloud and McAfee LiveSafe Internet Security, which delivers a steady stream of warning pop-ups.
The screen looks good, colours are bright and vibrant and the shiny coating isn't too intrusive. To our mind the flipover nature of the chassis means that you would need to take care if you use the TP300L outdoors as the keyboard may end up getting damp or suffering some misfortune.
On the subject of the keyboard, it feels good for typing and the keys have a decent amount of travel. If you press hard there is a certain amount of flex however this never became a problem.
The multi-gesture touchpad supports the full array of Windows 8.1 controls with one, two or three fingers and works well. Having said that, you get the full benefit of Windows 8.1 in flipped mode when you use the touch screen.
Testing


The TP300L is nothing special in the performance stakes as the combination of low powered Core i5-4210U, Intel graphics and 5,400rpm hard drive hamper it at every turn. On the other hand you have all the hardware you need to use a web browser, send email, watch videos and work with documents. Provided you forget about games, and cut the TP300L a bit of slack when it comes to multi-tasking, you'll find the laptop/tablet does a decent job.
Thermal Dynamics
The Core i4-4210U processor has a tiny 15W TDP and is the notable only source of heat in the chassis, unless you count the hard drive. This means there is no point measuring temperatures as the chassis remained cool to the touch at all times.
Acoustic Performance
Noise levels are very low. The only obvious source of noise was the hard drive and this simply isn't an area of concern with the TP300L. In fact the only note we made about noise was the bong sound when the lid was hinged back and forth and the keyboard was disabled.
Battery life
As the TP300L doesn't have an optical drive it didn't seem necessary to watch movies until the battery died. There is only so much YouTube a chap can stomach. Similarly it was impossible to play games as the TP300L isn't up to that particular job, so the battery test of choice was to loop PC Mark 8 and flog the TP300L mercilessly.
It performed well and returned a figure of 4 hours and 40 minutes. You can double that figure to get a real world life of nine hours or so, which is impressive.
Closing Thoughts
Asus has used its head when it developed the TP300L and has delivered a laptop that takes full advantage of Windows 8.1 thanks to that clever touch screen. The way it switches from laptop mode to tablet and back again with the minimum of hassle is very neat. On the downside 1.7kg is fairly heavy for a tablet so you will never confuse the TP300L for a Surface Pro 3.
Using a low power Core i5-4210U makes perfect sense from the point of view of maximising battery life but the downside is uninspiring performance, and this is also true of the Intel HD 4600 graphics. The obvious market for this laptop is the student sector where low price is a priority and a lack of performance isn't much of a hindrance.
Buy from PCWORLD for £499.99 inc vat.
Discuss on our Facebook page, over HERE.
Pros:
Low price
That clever hinge allows you to flip from laptop to tablet and back in moments.
Decent 13.3-inch 1366×768 touchscreen
The multi gesture touchpad works well
Good all-day battery life
802.11ac Wi-Fi
Cons:
Low performance from the Core i5-4210U and HD 4600 graphics
Using a hard drive slows performance and increases the risk of data loss
no Ethernet port
KitGuru says: This novel convertible laptop is an intriguing way to deliver the best of both worlds at a low price.