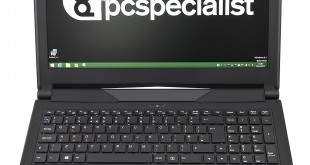 The new Optimus Nebula laptop from PC Specialist delivers the latest GTX 960M graphics in a mid-sized 15.6" chassis at a price that is aimed squarely at the mainstream user. Driving the graphics along we have a Core i7 CPU, 8GB of DDR3 RAM and a 120GB SSD with a 1TB data drive in the background which gives us the makings of a competent gaming laptop.
Watch via our VIMEO Channel (below) or over on YOUTUBE.

It is worth saying up front that I stumbled over the spec during the video and the Optimus Nebula comes with Intel 802.11/ac Wi-Fi. For some reason my notes said 802.11/n which would be a bit weird in this day and age as every decent laptop has /ac. There is almost nothing to dislike about this laptop and the possibility the Wi-Fi was lacking was potentially significant, however this is not the case.
The Clevo chassis is wrapped in a matt black rubberised covering that feels good yet doesn't attract oily fingerprints like certain laptops we have seen in the past. Continuing the good news the keyboard feels good, the touchpad works effectively and there is a fingerprint reader between the mouse buttons.
If we ignore the rubber feet the chassis has a thickness of 26mm which is split 20mm for the base and a mere 6mm for the screen panel. It is peculiar to see the degree of flex in the screen, presumably due to its skeletal nature, but this shouldn't be a problem so long as you avoid dishing out the rough treatment.
PC Specialist 15.6" Optimus Nebula Specification:
Screen: 15.6″ IPS LED 1920×1080
Processor Type: Intel Core i7 4720HQ
Hard Drive Supplied: 1TB Toshiba MQ01ABD100
Solid State Drive: 120GB Kingston HyperX 3K
Memory: 8GB 1600mhz DDR3
Operating System: Windows 8.1
Graphics Chipset: NVIDIA GeForce GTX 960M
Graphics Memory: 2GB GDDR 5
Chipset: Intel HM87 Express
Audio: SoundBlaster Cinema2
Speaker(s): 2 x Speakers
Microphone: Built-in
LAN Card: Realtek Gigabit
LAN Speed: 10/100/1000
Wireless NIC: Intel Wireless AC-7265 (a/b/g/n/ac)
Bluetooth: v4.0
Line In Jack(s): 1
Card Reader: SDXC/HC
Web Camera: 2.0MP Full HD
28.5mm thick
Product Weight (g): 2.6Kg (w/Battery)
Warranty: 3 Years (1 year parts, 3 years labour)
Along the front of the Nebula there are some activity LEDs, and the ports and connectors are arranged on three sides of the chassis with two USB 3.0 and headset jacks on the left side along with what looks like a DVD drive. On the rear there is a third USB 3.0, HDMI and mini DisplayPort and the jack for the power brick. Turning to the right hand side we have a fourth USB 3.0 port, VGA, Ethernet, an SD card reader and a slot for a 3G or 4G modem card.
The modem/SIM card slot connects with an internal M.2 slot and you can buy a 3G card for £29 or 4G for £59. Both models on offer come from Huawei.
Perhaps the most surprising thing is the dummy DVD drive. Inside the chassis there are two SATA connectors with one used for the boot drive, in this case a 120GB Kingston HyperX SSD, although the baseline spec includes a hard drive. The second connector is used either for an optical drive or to add a data drive via a drive caddy which for some reason looks like a DVD drive. You can press the non-functioning eject button as much as you like without necessarily realising there is a 1TB hard drive inside.
To get inside the chassis and see the layout of the components and cooling system requires the removal of a series of screws and then a bit of judicious pulling at the plastic bottom cover. While this is quite easy it is good to report that it simply won't be necessary for most users as the battery can be replaced once you have removed a couple of screws. That's not as simple as a locking latch but realistically you will rarely if ever change the battery so it doesn't cause us a problem.
Once you have the Nebula open you can see there are actually three M.2 slots inside. One for the Wi-Fi card, one unused mSATA and one for the modem card slot. The reason PC Specialist elected to install the data drive in the DVD bay, rather than using an M.2 SSD, is to balance cost against performance. We aren't fussed about the absence of a DVD drive but it feels neater to have a tiny M.2 card connected directly to the motherboard.
The other point that becomes clear when you look inside the chassis is the way the coolers for the CPU and GPU are separated. The CPU cooler exhausts to the right (as you sit as the keyboard) while the GPU exhausts to the left.
Firing up the Optimus Nebula is a very pleasing experience. It is fast and responsive and while it cannot match some of the power houses we have seen with SSD RAID it is certainly quite lively. PC Specialist has installed very little software (we saw a trial version of Bullguard) so there is no bloat to slow Windows and the combination of SSD, Core i7 and GTX 960M hardware drives the laptop along at a brisk pace.
Perhaps it would help to have dual channel DDR3 but honestly, the single channel memory didn't have any obviously negative effect and our feeling is that the balance of the Optimus Nebula is exactly what you need for day-to-day use.
Testing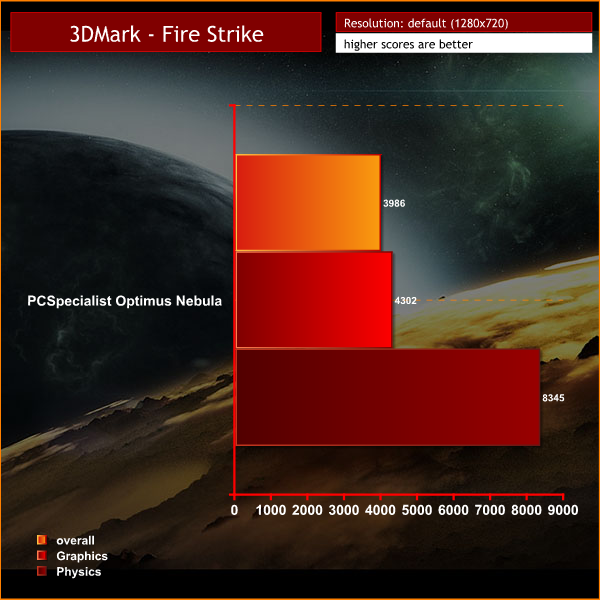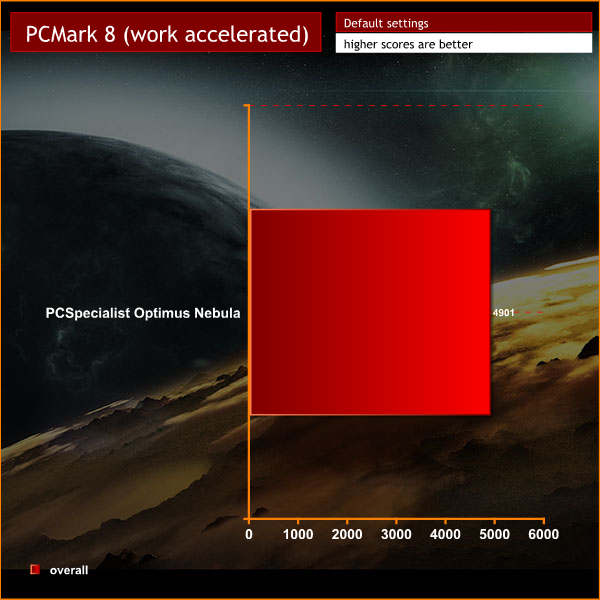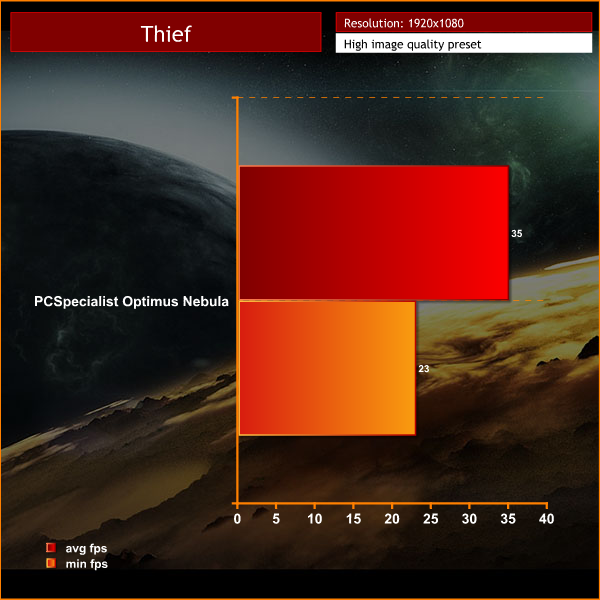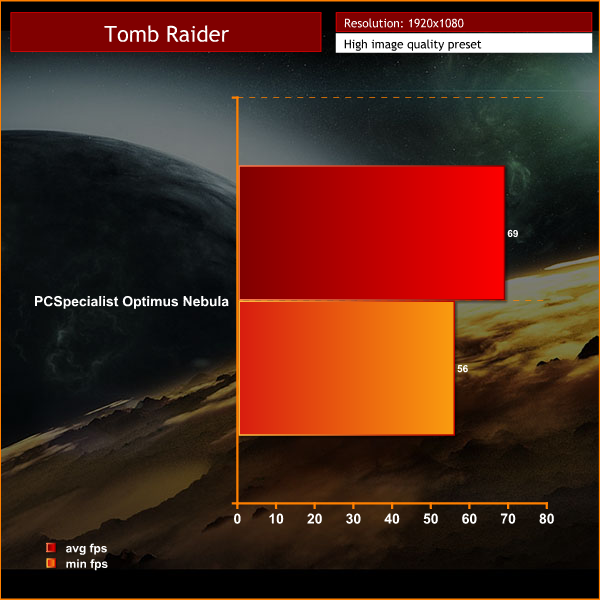 Gaming at 1080p is a lovely experience with the Optimus Nebula. It would be a short-sighted move to pay £119 and upgrade to a 4k screen as that would undoubtedly make the hardware struggle.
Clearly we have seen faster laptops at KitGuru but this model delivers 60fps gaming and that is all we need to keep us happy.
Thermal Dynamics
The Intel CPU idles at 40 degrees while the GTX 960M ticks over at 35 degrees. Under load the two cooling systems clearly operate independently with the GPU cooling kicking in when the temperature hits 70 degrees and stabilises at 74 degrees. The fan is audible but not intrusive.
It is a similar story with the CPU where the fan spins up when the temperature touches 80 degrees and stabilises at 90 degrees.
Of course those temperatures are inside the chassis but on the outside the temperatures barely rise above ambient. The worst case scenario in the region of the two fan exhaust vents was a trivial matter of 33 degrees.
Acoustic Performance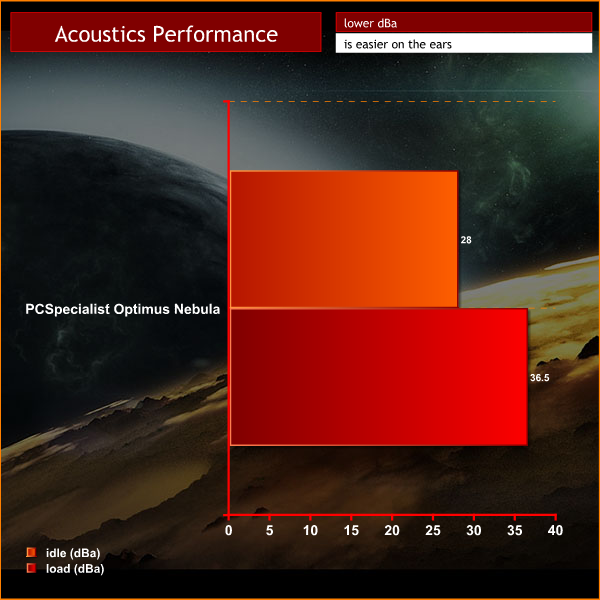 When the Nebula is idling it is pretty much silent apart from the occasional burst of fan noise, which presumably indicates that Windows decided to do some thinking for a moment or two. Under load the fans are quite audible however they are not particularly intrusive. The CPU cooler is slightly louder than the GPU cooler but neither is a cause for concern.
Battery life
It is intriguing to see a laptop apparently named after Nvidia battery saving technology. In fact it is a coincidence as PC Specialist had an Optimus laptop while the name was a twinkle in Nvidia's eye. The combination of Intel and Nvidia power saving technologies along with a decent sized battery mean you get nearly three hours of battery life under intense conditions. Take things more easily and you can expect the Nebula to make it through the working day on a single charge.
Closing Thoughts
The PC Specialist Optimus Nebula is cool, calm and collected, and while it is not especially quiet when it is working hard it is certainly a good all rounder.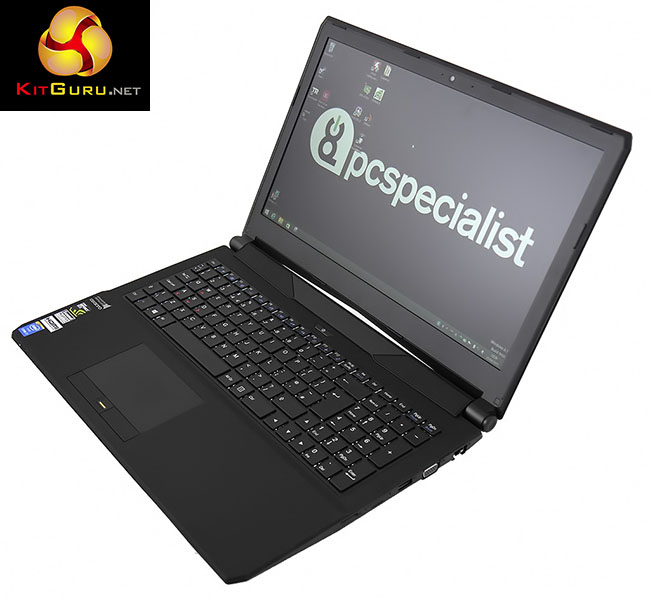 We know full well that a combination of Core i7 and SSD make for a decent laptop and we can add GTX 960M to that list. This is a sensible laptop that can be used for day-to-day duties as well as gaming and the price is low enough that it won't cause a shock.
You can buy direct from PCSpecialist for £849.00 inc vat.
Discuss on our Facebook page, over HERE.
Pros:
Excellent GTX 960M gaming performance.
Core i7 grunt always delivers the goods.
Full HD IPS panel with matte coating is a good all-rounder.
Good value for money.
Kingston HyperX SSD.
1TB of HDD storage.
Good, solid keyboard.
Reasonably light weight and fairly slender chassis.
Option of adding a 3G or 4G card.
Cons:
The screen flexes at the bottom.
Oddball fake DVD drive caddy for the add-in hard drive.
KitGuru says: There is almost nothing to dislike about the Optimus Nebula – this is an admirable all-rounder that delivers the goods.