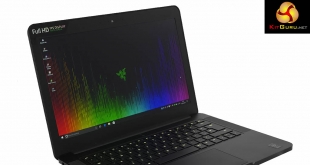 Razer has updated its Blade laptop with a new graphics chip, moving from GTX 970M to GTX 1060, however it keeps the same name 'Razer Blade' which could get pretty darned confusing so we're going to call it The New Razer Blade, From the outside the New Razer Blade looks like the previous model as the changes are internal.
The main attraction is the gorgeous chassis that is machined from a hunk of aluminium and measures a mere 17.9mm in thickness. When you buy a new Razer Blade you only have two parameters to play with as there are three options for storage and two for the screen. The M.2 SSD comes in 256GB, 512GB or 1TB versions and as there is no secondary drive we were pleased to see Razer had given us the full 1TB.
There are two panel options for the 14-inch screen. Our review sample came with a matte IPS Full HD screen with a resolution of 1,920×1,080. The alternative is a panel with QHD resolution (3,200×1,800) with touch screen that adds about £300 to the price. The GTX 1060 would be hard pushed to handle a modern engine at 3200×1800, but the option is there if you have other productivity duties in mind for this diminutive machine.
Watch via our VIMEO Channel (Below) or over on YouTube at 2160p HERE
The New Razer Blade Specification:
Intel Core i7-6700HQ Quad-Core Processor (2.6GHz/3.5GHz)
Nvidia GeForce GTX 1060 (6GB GDDR5 VRAM)
16 GB System Memory (DDR4-2133 MHz)
Windows 10 64-bit
1 TB Samsung PM961 PCIe M.2 SSD
14.0-in. IGZO QHD+, 3200×1800, capacitive multi-touch / 14.0-in. IPS Full HD Matte, 1,920×1,080 options
Anti-ghosting keyboard with per-key lighting powered by Razer Chroma
Killer Wireless-AC 1535 (802.11a/b/g/n/ac + Bluetooth 4.1)
Thunderbolt 3 (USB-C)
USB 3.0 port x3 (SuperSpeed)
HDMI 2.0 video and audio output
3.5 mm headphone/microphone combo port
Built-in 2Megapixel webcam
Built-in stereo speakers
Array microphone
Dolby Digital Plus Home Theatre Edition
7.1 Codec support (via HDMI)
Trusted Platform Module (TPM 2.0) security chip embedded
Razer Synapse enabled with programmable keyboard, track pad, back lighting, and fan control
Kensington security slot
Compact 165W power adapter
Built-in 70 Wh rechargeable lithium-ion polymer battery
Approx. Size: 17.9 mm (Height) x 345 mm (Width) x 235 mm (Depth)
Approx. Weight (QHD+) 1.95 kg
Approx. Weight (Full HD) 1.89 kg
As you will see in our video the external ports and connectors are thoroughly minimal.
On the left side there is a power jack, 2x USB 3.0 and an audio combo port. On the right side you get a 40Gbps Thunderbolt 3 port, another USB 3.0, an HDMI 2.0 and, for some reason, a Kensington lock. There are no connectors on the front or rear so even basics such as a card reader need to be connected over USB.
You can use the Thunderbolt 3 port to connect a Razer Core so you can use external graphics but we cannot see that is strictly necessary with the Razer Blade.
Our impressions of the New Razer Blade centre around the look and feel. For starters it would be a crime to damage the CNC machined aluminium chassis and we suggest you might want to buy a skin for the lid and bottom to protect the metal.
Then there's the chiclet keyboard with Chroma support which is a reasonable keyboard with superb lighting. You have to create a user account (that effectively registers your new laptop) to gain control of functions such as keyboard lighting. There are nine lighting modes including Static, Off, Breathing and six less useful modes – this is very restrained when compared to certain Taiwanese companies who push RGB lighting to the maximum.
We like the illuminated Razer logo in the lid and the way the USB 3.0 ports are coloured Razer green. The glass touch pad feels good, however the mouse buttons are rather small.
The only aspect of the Razer Blade that jars is the plastic hinge cover which is a little tacky.
Overall the Razer Blade comes across as a Mac Book for the Windows user, which is meant as a compliment in case you were in any doubt.
Testing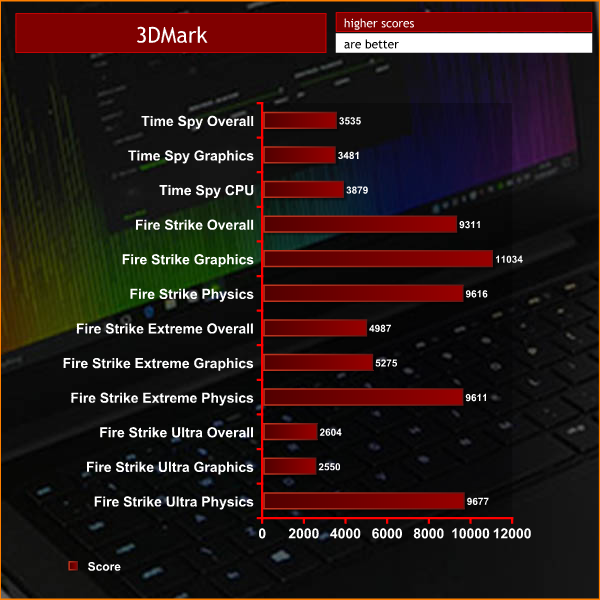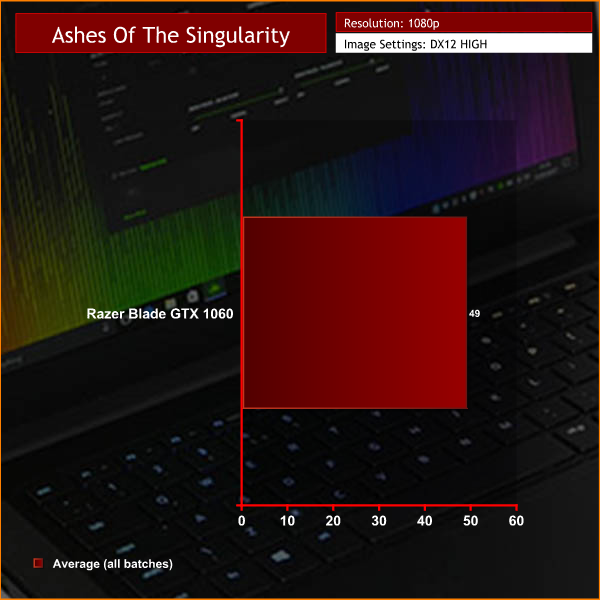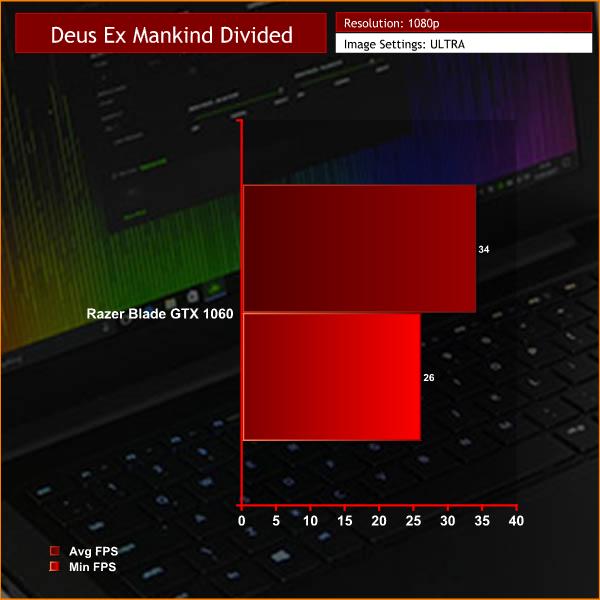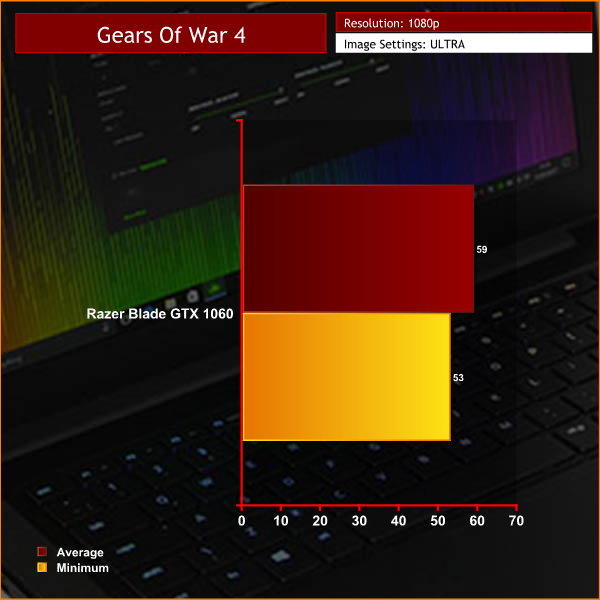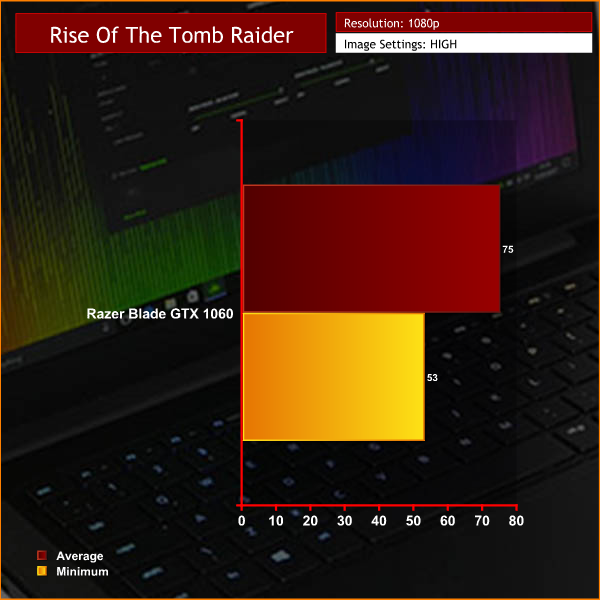 We played games at the native Full HD resolution and had a blast. The combination of Core i7-6700HQ and GTX 1060 delivers a fine experience and we had no complaints at all. You may well need to cut image quality back from maximum levels to high but other than that you can expect frame rates around 60fps in all modern games (although Grand Theft Auto V refused to play ball at all).
The matte IPS screen looks amazingly good and we were fairly happy with the speakers, which is very rarely true. Gaming on the New Razer Blade with an external mouse is a joyous experience.
Cooling Performance.
As you will see in our photos and video there are two heatpipes connected to each cooler. The air intakes are on the bottom and the exhausts are at the rear, directly in line with the hinge. When you move the screen the noise level changes as the exhaust air reflects off the panel.
It is rather unusual and presumably the design has been chosen to make it easier to mill out the aluminium casing with the minimum of hassle. Razer has clearly chosen a fan profile that allows the CPU and GPU to approach throttling temperatures without ever going over the limit. That is under extreme load and with synthetic tests – during game play we never had a moment's concerns about the temperatures in the Razer Blade.
Acoustics performance.
The New Razer Blade is fairly noisy under stress test load, which is a worst case scenario. The cooling system is clearly audible in 3D Mark but not too bad, and the same is true during game play. Synthetic stress tests in this case are not real world at all.
The two fans have distinct steps and spin up and down very quickly as the cooling responds to thermal load. It is mainly the volume that changes, rather than the pitch of the noise and that makes it less distracting than it might otherwise be. This is a curious thing as varying fan noise is often intensely annoying however Razer has done something clever here and made the cooling system work impressively well.
Closing Thoughts.
The New Razer Blade with GTX 1060 is superb and much better than the previous revision with GTX970m graphics. In an ideal world the screen would be slightly larger however that would have an obvious impact on size and weight so the compromise chosen by Razer makes perfect sense.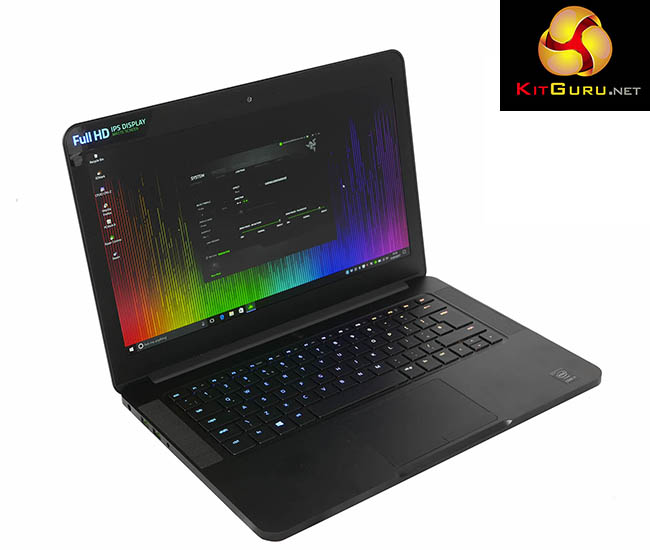 It is clear the Razer Blade is aimed at the MacBook Pro market where it effectively sits between the 13-inch and 15-inch models. The dividing line is software – if you need Apple software then fair enough, it's Mac time. On the other hand if Windows is your thing, or you fancy a change from Mac, the Razer Blade is an obvious choice.
The combination of gaming level GPU and CPU in an ultra slender chassis is a pure delight. The sub 2kg weight is impressive when you consider that Razer has had to pack in a cooling system that keeps the GTX 1060 graphics under control. Our complaints about the New Razer Blade are pretty much non-existent which makes this laptop both memorable and a winner.
Pros:
The IPS screen is excellent.
Aluminium chassis looks superb and feels amazing.
GTX 1060 graphics drive games along.
1TB of SSD storage is generous.
Keyboard illumination works very well.
Nifty illuminated Razer logo in the lid.
Glass touch pad is good.
Cons:
The hinge cover is plastic.
RAM chips are soldered on motherboard so memory cannot be upgraded.
Mouse buttons are a tad small.
KtGuru says: The New Razer Blade is stunningly good.