KitGuru were the first to bring you videos and information on the upcoming flagship MSI GT80 Titan and today we are able to show you a few internal pictures of the pre-retail sample that we looked at way back in December. We hope to bring you a full indepth review in the coming weeks.
The interest in the new high end MSI GT80 Titan laptop is phenomenal, while the sheer physical size of the desktop replacement can split opinion, there is no argument over the insane level of hardware that is inside the case.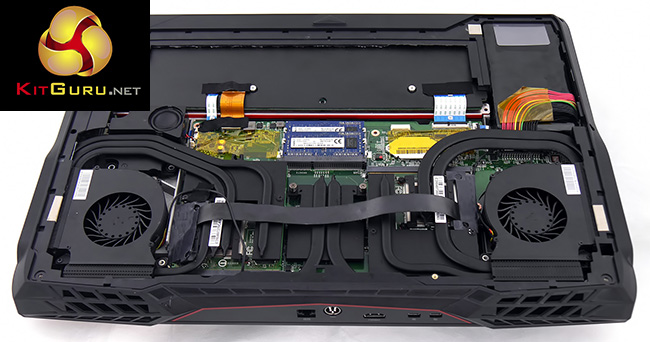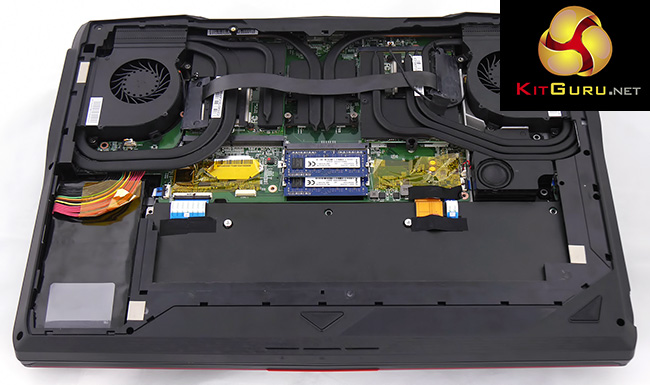 Open the high resolution images below.
Previous articles on the MSI GT80 Titan Gaming laptop are available here, here and here. Watch our full GT80 Titan video 'preview' from late December over here.
It is important we point out that the MSI GT80 Titan featured on this page is not the final retail version, although it is unlikely the layout or cooling will change.
We can see two large fans on either side of the chassis which are in place above heatsinks to cool the Nvidia discrete graphics cards (Nvidia GTX980m). A bridge cable runs between both graphics cards. In between these graphics cards is the processor – cooled by a separate heatsink. MSI have assured us that the highest end Intel Extreme Edition processor will be an option for this system. Two thick heatpipes run from the processor along the length of the chassis and are cooled by the fans on either side. An additional speaker is positioned just below the heatpipes on one side of the chassis.
This is a serious cooling system comprising 8 thick heatpipes, and we admire the attention to detail on the build quality. We would have liked to see the PCB finished in black rather than green, to match the heatsinks and heatpipes above – however most customers are unlikely to ever look inside the chassis in the first place. Perhaps the final retail version may have a new black board in place.
As this is a pre-retail version of the MSI GT80 Titan, we didn't disconnect the additional cover to take a look at the mechanical keyboard for further analysis. MSI only had one sample and it was needed for CES, so time was also limited. We will have a closer look at the internals when we get a sample of the full retail unit for review.
Discuss on our Facebook page, over HERE.
Kitguru says: If you want more information on the MSI GT80 Titan check back close to the end of January, and we will hopefully have a full review published by then.