Korean electronics giant Samsung, has confirmed reports that it is heading for its first drop in annual profits since 2011, with its market share dipping all the way until September last year. However, a mild resurgence near the Christmas period may have saved it from a complete washout.
Of course this doesn't mean anyone on the Samsung board is heading to the bread line any time soon. Reuters reports that Samsung's profit is likely to be around 25 trillion Won for 2014, which works out to around £15 billion. Even so, this is still the worst result Samsung has had in three years, with much of the blame being put on the relatively low 4.2 trillion Won (£2.4 billion) profit it generated in the third quarter of the year.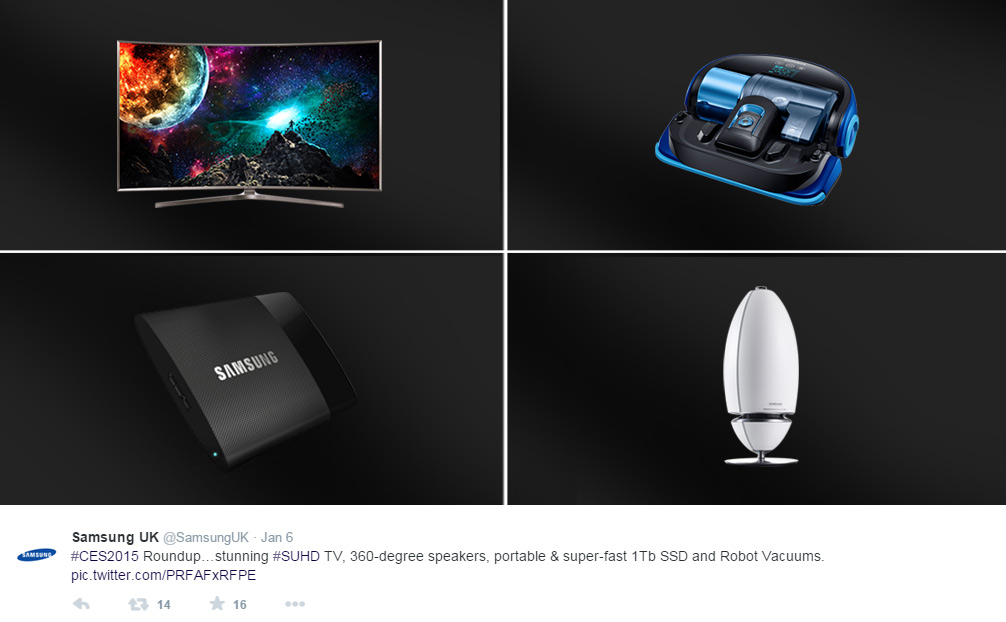 At CES, Samsung showed off several big products designed to innovate in the home
Although Samsung's Galaxy Note 4 has been selling well, this is perhaps an indicator that its influence in the mobile sector is stalling. Indeed, the mobile division's stake in Samsung's profits has fallen to 44 per cent. This is down from the 68 per cent high it reached in 2013.  It could end up leading to a new focus for the company, which made more money from its semi-conductor business in the fourth quarter.
Moving forward though, Samsung plans to reinvigorate its smartphone sales by taking a step back from the top-end premium devices, instead focusing on the more mid-range and budget solutions. This may not lead to much of a boost in profits, but it could end up stabilising the current slide in Samsung smartphone relevance.
Samsung is also looking to pioneer in new markets, by championing things like the Smart Home, with internet of things enabled devices like speakers and a robot vacuum cleaner.
Discuss on our Facebook page, HERE.
KitGuru Says: Do you guys think Samsung is a less relevant smartphone brand than it was just a couple of years ago?