Aorus first showed their flagship X9 laptop at Computex, where it was firmly fixed to a display stand. KitGuru has now had the chance for a hands-on preview of the X9 and it is clearly an imposing piece of work. The key features are an aluminium chassis with 17.3-inch screen, dual GTX 1070 GPUs in SLI and a mechanical keyboard with brown switches and 2.5mm of key travel.
Watch via our VIMEO Channel (Below) or over on YouTube at 2160p HERE
Specification
CPU 7th Gen Intel Core i7-7820HK (2.9-3.9GHz) Overclockable Processor
Graphics NVIDIA GeForce® GTX 1070 SLI GDDR5 8GB+8GB
Display 17.3" UHD 3840×2160 IPS Anti-Glare Display with 100% Adobe RGB
17.3″ QHD 2560×1440 120Hz / 5ms WVA Anti-Glare Display
Memory 4x DDR4 2400 (Max 64GB)
Storage 2x M.2 PCIe SSD (512GB+512GB Max) + 1x 2.5" HDD (2TB Max)
Dimensions 428(W) x 314(D) x 23.5- 30.5(H) mm
Weight 3.59kg (excluding HDD)
As we show in our video, the X9 will be launched in two versions that have a number of common components. The cheaper US$3199 laptop has a 3K display with a resolution of 2560×1440 and 120Hz refresh rate, 16GB of DDR4 RAM and a 256GB NVMe SSD, along with a hard drive for bulk storage.
The more expensive US$3649 version has a 4K IPS panel, 32GB of DDR4 and a larger 512GB SSD.
At some point in the future a premium version of X9 will be launched with the 3K display, 32GB of RAM and a pair of SSDs, thus dispensing with mechanical storage.
During our preview we were impressed by the cooling abilities of the chassis which has a huge capacity for air flow, yet the four cooling fans made relatively little noise. Manually setting all four fans to 100 percent speed proved they could become very noisy, although that was more of a party trick than anything to do with real world circumstances.
Aorus was keen to talk about the mechanical keyboard with brown switches that have 2.5mm travel, however we shall not come to a firm view about any of these features until we use the laptop extensively in a full review. It is a similar story with the display which looked perfectly OK, however we were sitting in a off-white room with fluorescent overhead lighting and windows on two sides. Initial impressions in those circumstances count for very little and certainly do few favours for a display that has, we are told, been professionally calibrated.
As soon as Aorus delivers a sample of X9 you can be sure that KitGuru will get down to a proper review that includes a decent amount of gaming.
Closing Thoughts.
We have been waiting since Computex for the launch of Aorus X9 and the time has nearly arrived. The combination of dual GTX 1070 GPUs sounds interesting, however we will need to use the laptop properly to decide whether a single GTX 1080 might have been better.
It is a similar story with the big, imposing aluminium chassis which is certainly imposing with its striking styling. Balanced against that, it may simply turn out to be big and heavy in daily use.
As you know, the difference between a preview and a review is that a preview is all about first impression while a review gets properly beneath the surface. There is a huge amount to see with the X9 and we can hardly wait to really get to grips with this premium laptop.

Overclockers have the Aorus X9 range of laptops available on preorder already over HERE.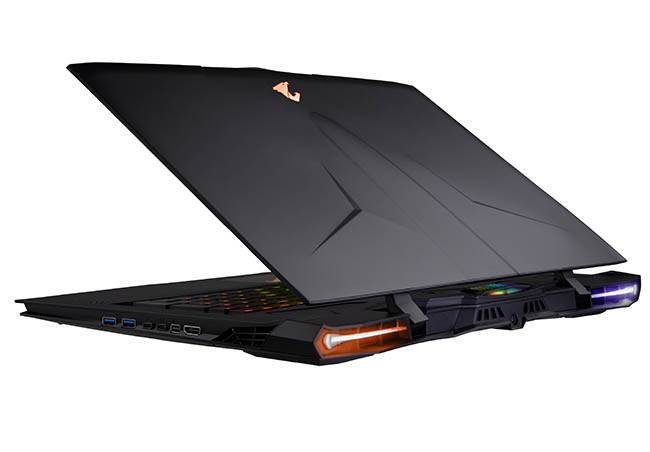 KitGuru says: Aorus X9 has been a long time coming but is looking good – check back on KitGuru in the coming weeks for a full review!