The world's largest e-tailer Amazon is on the finish line with its long-awaited smartphone, a media report citing people familiar with the matter claims. The company reportedly intends to unleash the smartphone and services associated with it in June and plans to start shipments in late September. Unfortunately, it is unclear whether the hardware of the device has been finalised and it is ready for production.
Various versions of the smartphone from Amazon, which features auto stereoscopic 3D display, were shown to software developers in San Francisco, California, in the recent weeks. Certain sources revealed to the Wall Street Journal that the phone would feature retina-tracking technology embedded in four front-facing cameras to make some images appear to be 3D, similar to a hologram. A feature like this is not available on any smartphone nowadays.

An LG smartphone featuring a stereo-3D display
The smartphone from Amazon will almost certainly run on a new version of the Fire OS, which already powers Kindle Fire tablets and Fire TV set-top-box. The Fire OS is based on Google Android, so it is simple for developers to port their services and games over to the smartphone from Amazon. Moreover, most likely many apps for Kindle Fire tablets will also run on the handset.
The first rumours about a smartphone from Amazon emerged back in 2011. Since then, the company probably has been trying to invent something that would differentiate it on the market that is dominated by Apple and Samsung. Automatic stereoscopic 3D as well as retina tracking technology could be Amazon's "killer feature", especially if software developers learn how to take advantage of it. However, since smartphones are used for making calls, surfing the web, emailing and other tasks, many people will consider the quality of that basic functionality first.
Amazon needs a smartphone in its lineup of products to sell more digital content in a bid to offset dropping sales of packaged media. In addition, its own smartphone will allow Amazon to enter the market of various other services, which will boost its revenues.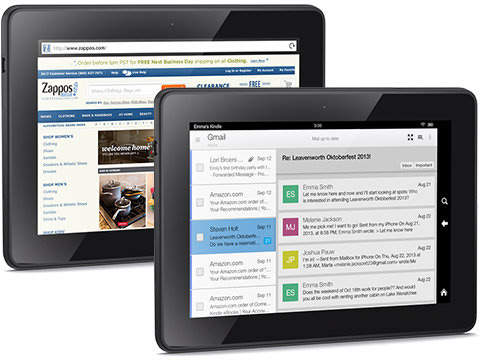 Amazon Kindle Fire HDX media tablet
The price of the smartphone as well as its specifications are currently unknown. In theory, an automatic stereo-3D display as well as retina tracking technology could make the handset more expensive than Apple iPhone or Samsung Galaxy S. Traditionally, Amazon sells its gadgets at or below their actual cost and then earns on selling software, services and content.
It is also indefinite whether Amazon plans to offer its smartphone outside the U.S.
Keeping in mind that all the information is unofficial, Amazon's plans may change and availability schedules will shift as well.
Amazon did not comment on the news-story.
KitGuru Says: Amazon Kindle Fire family of tablets are popular in the USA because of high performance, high-quality screens, advanced applications and relatively low price. In a bid to make the Amazon smartphones popular (and this market is much more crowded than the market of tablets in 2011 – 2012), the company will have to maintain the same set of advantages. While it sounds like a hard thing to do, Amazon is a company that knows how to efficiently solve hard problems, so its smartphone could indeed be a product to watch.