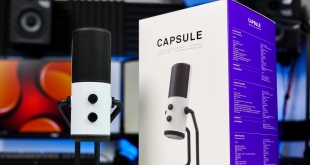 Audio quality is arguably more important than visual quality; it's much easier to watch a bad quality video with great audio as opposed to great visuals with horrendous audio quality. NZXT – yes, the case manufacturer! – is aiming to take the world by storm with its brand-new USB microphone called the Capsule, coming in at £109.99. Is their first dedicated microphone any good though? Let's check it out!
Timestamps:
00:00 Start
00:15 What is the NZXT Capsule?
01:49 Unboxing / Accessories
03:00 Integrated desk stand
04:45 Adding a boom – removing the stand
07:10 The Mic itself – up close
09:06 Specifications and NZXT choices
11:09 NZXT Capsule sound tests
15:26 Andy's thoughts on the product
16:57 Comparisons with Razer and Elgato
18:08 It's designed to be simple – closing thoughts
Specs:
Dimensions 115 x 131.3 x 252.8mm
Dimensions without stand 60 x 65.1 x 170.2mm
Weight 883g with stand, without stand 314g
Capsule type: 25mm Condenser
Polar patter: Cardioid
Built-in pop filter and shock mount
Frequency response: 20Hz – 20kHz
Max SPL: 120dB
THD: 0.1% @ 1kHz
Bit Depth / Sample: 24-bit/96kHz
3m USB-C to USB-A cable connection
Headphone impedance: 16ohms
Headphone THD: < 0.1% @ 1kHz
Headphone signal to noise: 100dB
Microphone thread female 1/4″
Warranty: 2 years
Mic thread adapter – male 1/4″ to female 3/8" included
Stand quick-release cover included
No software required
We don't yet have a buy link but the MSRP for the NZXT Capsule is £109.99.
Discuss on our Facebook page HERE.
Pros:
Excellent audio quality and clarity.
Build quality and aesthetics are great.
Almost non-existent setup time.
Easily removable stand.
Metal threads and included adapter for boom arms.
Cons:
Wobbly gain control knob can introduce noise.
No indication of what gain setting you're using (knob spins indefinitely).
Slightly fiddly to reattach desk stand once removed.
KitGuru says: If you're someone that wants instantly good audio just by adjusting the gain level then we definitely recommend the Capsule by NZXT. If you're after a more complete route with in-depth software, maybe check out the Elgato Wave:3.
Be sure to check out our sponsors store EKWB here