After accusing John Carmack of stealing intellectual property earlier this year, ZeniMax on Wednesday started a legal battle against Oculus VR, which is about to become a subsidiary of Facebook.
When John Carmack was asked why he left id Software (which is owned by ZeniMax Media) last year for Oculus VR, he said that the company did not put enough efforts into development of virtual reality (VR) technologies, which, he believes, are the key to the future of video games. Ironically, but ZeniMax entertainment not only accused John Carmack of stealing its VR-related intellectual property last month, but also filed a lawsuit against Oculus VR on Wednesday.
ZeniMax Media and its subsidiary, id Software LLC, filed suit against Oculus VR, Inc. and its founder, Palmer Luckey, for "illegally misappropriating ZeniMax trade secrets" concerning virtual reality technology, and "infringing ZeniMax copyrights and trademarks". ZeniMax is also asserting claims "for breach of contract, unjust enrichment, and unfair competition against the defendants." The suit was filed in federal court in the U.S. District Court for the Northern District of Texas.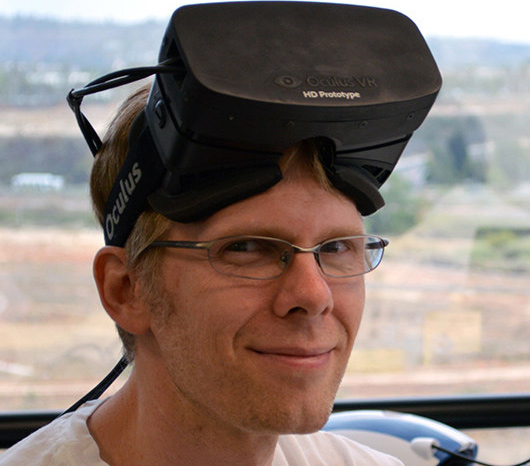 According to ZeniMax, the defendants unlawfully exploited its intellectual property, including trade secrets, copyrighted computer code, and technical know-how relating to virtual reality technology. ZeniMax claims that development of the VR-related technologies took "years of research and investment" and were allegedly provided to Mr. Carmack under a binding non-disclosure agreement. The software company asserts that its fundamental technology drove the Oculus Rift virtual reality headset "since its inception". In 2012 and 2013 John Carmack, who is not mentioned in the lawsuit, helped Mr. Luckey to make the Oculus Rift prototype better.
It is noteworthy that ZeniMax revealed in Wednesday's court filing that Oculus offered it a 2 per cent equity stake in the company as a compensation for the intellectual property. The negotiations ended early in 2013 after Oculus and its founder Palmer Luckey "became increasingly evasive and uncooperative."
Oculus VR and Facebook did not comment on the news-story.
Discuss on our Facebook page, HERE.
KitGuru Says: There may be two key reasons why ZeniMax sued Oculus VR now (both are speculations at this point). The software company believes that this time the virtual reality technology will take off and it naturally wants to capitalize on it somehow. ZeniMax wants to sign a larger deal with Facebook concerning not only virtual reality technology in particular, but something considerably broader.