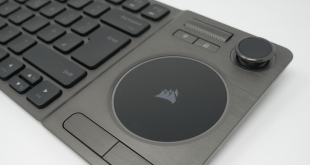 Today marks the launch day of Corsair's new K83 Wireless entertainment keyboard, which provides you with complete control over your smart TV, iOS/Android and streaming media devices. This wireless media keyboard has up to 40 hours of battery life when used continuously and is intuitively designed with joystick and touchpad integration. While the K83 comes with a MSRP of £109.99, will it be the future of media control?
Watch the video via our VIMEO Channel (Below) or over on YouTube at 2160p HERE
Specifications:
Brushed aluminium design
Colour: Anodized Gun metal
Compact frame with 76 keys
Wireless Connectivity: Ultra fast 1ms 2.4GHz or Bluetooth 4.2
Wired Connectivity: USB 2.0 or 3.0 Type-A, 1.82m, Flat, Tangle free rubber cable
Switches: Ultra-low profile key switches
Touchpad: Precision with four-finger gestures
Backlight: White colour, Single zone, Adjustable
CORSAIR iCUE Software support
Multimedia keys: Dedicated mute, Volume up/down
Battery: Up to 40 hours, Rechargeable via Micro-USB, Lithium polymer ion
USB Polling Rate: 1000Hz
Anti-Ghosting with 20-Key rollover
Wireless Encryption: 128-bit AES
Dimensions: 381(L) x 125(W) x 28(H)mm / 15″ x 4.93″ x 1.11″
Weight: 0.48kg
Box Contents:
K83 Wireless entertainment keyboard
USB Wireless receiver
USB Charging/data cable
Warranty, Safety and Quick start guide
While using the K83 I really liked the idea of the features it would add to watching movies and listening to music in different areas of the house where there are compatible devices. Unfortunately, due to not having a great smart TV, I couldn't seem to get 100% functionality with the keyboard when it came to playback options or just general application switching.
Depending on the compatibility of devices with the keyboard, that will best determine what functions will work and some seemed to definitely work better than others.
On my PC things seemed to work a lot better, allowing for better usage and a new experience when it came to gaming, too. Gaming seemed to work surprisingly well with the keyboard – it still has a QWERTY design, as well as having joystick control and the L and R buttons for different in-game actions. I wouldn't really recommend trying to play a intense type of game solely with the keyboard as I feel it's not designed for that type of play style. However, you could definitely use it normally alongside a mouse.
Even though I encountered a few minor issues when it came to trying to use it on my TV, I did find that when it came to using the keyboard on my Samsung Galaxy S9, it worked flawlessly. It was really quite interesting and fun to watch my phone being controlled via a keyboard. I could access everything easily such as Spotify, YouTube, Google and even my games.
The design of the keyboard looks very stylish and it feels sturdy, even with it being quite compact and having a lightweight frame. I found the keyboard comfortable to type with and the key presses very precise and responsive. Having a trackpad and keyboard all on the one peripheral is definitely very convenient.
I think overall. it makes for a great addition alongside current peripherals/remotes, and having the option to take it from room to room without all the hassle of cables is great. Finally, the K83 is incredibly easy to set up via the USB wireless receiver and Bluetooth and has a long lasting battery life.
We don't yet have a buy link but will update this review when we have one. The MSRP is £109.99

Update: The K83 Wireless can now be pre-ordered from Overclockers UK for £99.95 HERE
Pros:
Lightweight, durable and stylish.
Easy to set up and comfortable to use.
One-handed controls.
Full Android/iOS control.
White backlight.
Cons:
Fairly expensive.
Awkward to press the mute volume button as it's on the volume dial.
KitGuru says: Overall, the K83 Wireless makes for a great addition to the peripheral family and gives you access to a whole new level of intuitive R&R time whichever room you are in.
Be sure to check out our sponsors store EKWB here