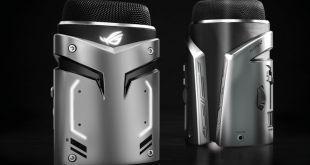 Rode or Blue? Two well known manufacturers of desk microphones that ASUS are targeting with their Republic Of Gamers Strix Magnus USB condenser gaming microphone. At £199.99 it is a significant investment, but can the features and sound quality justify the spend? That is what we aim to find out today.

Watch via our VIMEO Channel (Below) or over on YouTube at 1080p60 HERE.
The Asus Aura feature supports up to 16.8 million different colour options which means hitting that exact colour match is possible, if a little time consuming. You can't really complain about the lack of variety or unique custom lights.
The microphone incorporates three individual 14mm condenser capsules which point in different directions to make full use of the three main recording modes. As mentioned in the title of this review it is aimed to the Gamer and content creator / Streamer.
Cardioid – Records from the front and is used for the solo streamer.
Stereo mode – to detect multiple voices from different angles.
ENC Mode – (environmental noise cancelling) this helps to prevent the Microphone recording mouse and keyboard clicks (and other background noise).
After using these three modes I can try to give you the run down on the positive and negatives of each.
Cardioid mode – with the adjustable microphone option this really is ideal for the streamer and I can see this being the main mode for most of the buying public. It is crystal clear when the microphone is positioned in front of you within the first metre or two.
Stereo mode I felt gave off an accurate representation of where two people would be in a room and allowed the streamers to position themselves and end up in either the left or right of the stereo field. Which when listening back to is quite a pleasant viewing experience.
ENC mode really didn't seem to remove a high percentage of background noise such as keyboard clicks. Yes it does mask some of the clicks but there are noticeable reductions in the quality of overall voice presentation. On play back you can notice changes as it restricts some audio waves that a human voice will produce.
Asus wanted to give you a high quality beefy sized braided cable but the 1.5m length is quite restricted. They offer the 5/8 microphone stand adaptor which can be attached to the bottom of the Magnus but I really couldn't find a space close enough to my desk to use it.
I can see it working fine with a desk clamp microphone stand. Honestly I was more than happy to just leave the microphone placed on my desk in front of my monitors as the size didn't restrict my view at all. Its very unobtrusive which earns it a bonus point – I am used to microphones taking up a lot of desk space.
I can say that the only issue will be vibration related noise interference as it is sensitive enough to pick up randomly generated movement noises such as elbows hitting off a desk.
Comparing this to the Blue Yeti is something I was very lucky to be able to do as I actually own one. After five years of ownership and all my good experience with it i could easily make the switch over to the Asus ROG Strix Magnus. I used to attend LAN events and would bring my equipment with me. I have never been a fan of the 'microphone and headset combo' so from day one i have had a wireless headset. This was simply because the cables used to rub on my neck or get in the way when gaming.
I have loved the idea of having a separate microphone but my current USB microphone is really not designed for portability. The lightweight Magnus can be packed up within seconds as there is just a cable connecting it to the PC. It weighs about the same as an Xbox controller, so bonus points for that.
Closing Thoughts
The Asus ROG Strix Magnus really does satisfy my demands and requirements as a content creator and streamer, but I am really trying not to get too excited by it and look at the big picture – what reasons are there to buy it, or not to buy it?
Before I go any further there seems to be some confusion over UK pricing – we heard it will cost around the £120 mark, but Overclockers UK currently have it listed at £199.99 on pre order – which we would like to hope is a pricing glitch. We have emailed ASUS about this on Sunday and they confirmed the pricing should be around the £120 mark.
So at £119.99 the price is cheaper than the Rode NT-USB which costs around £145, but the Strix Magnus is the same price as the Blue Yeti. On that note alone Asus have positioned themselves well as it incorporates many aesthetically pleasing features that close competitors don't offer.
If you already have Asus Aura products in a system build then the RGB Strix Magnus is likely to appeal to you. We feel it looks like a weapon the transformers would carry around — the sharp edges give it a sports car feel and there is no doubt it catches the eye from every angle.
EDIT 30th May: After much confusion with ASUS reps the price has moved from £119.99 to £199.99 to £169.99. We can't keep track of how many times the price seems to have changed so don't blame us if its changed again!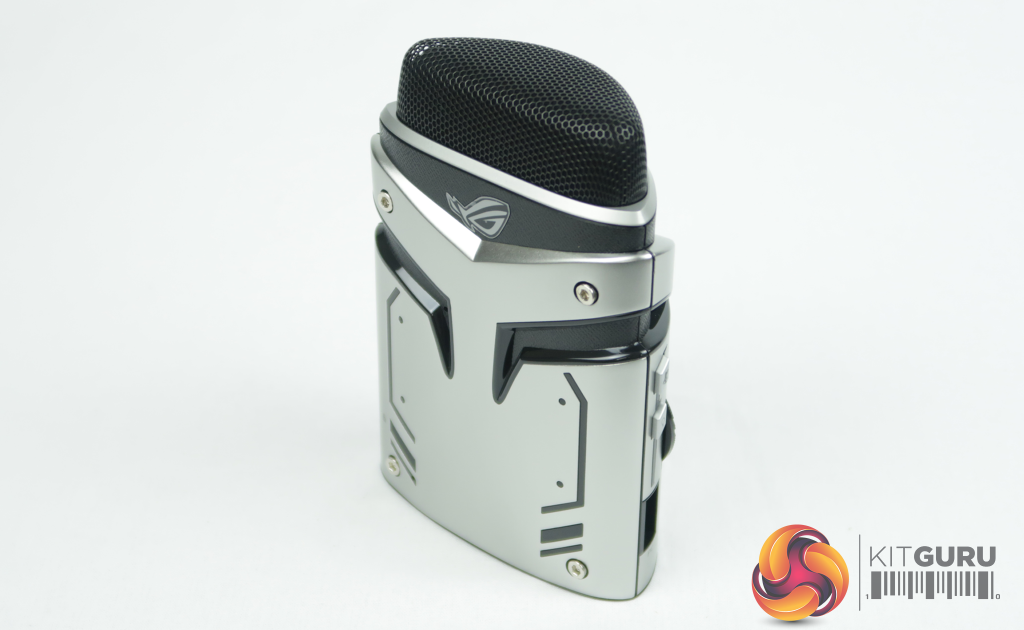 The Asus ROG Strix Magnus is a winning product – it is built to very high standards and offers three modes to target specific audience members. The audio quality is first class and the ease to setup will appeal to a less tech savvy audience. It is also extremely portable meaning it will be ideal for LAN parties and big events when you don't want to compromise on audio quality.
The only thing ASUS need to address is the short cable they supply. It might not affect everyone but if you like to use a long dedicated mic stand, the 1.5 meter cable may not be long enough. I hope in future revisions ASUS supply an extension cable, or just supply a high grade braided cable at twice the length.
Discuss on our Facebook page, over HERE.
Pros
Portability.
Carry Case.
Thick Braided Cable.
Asus Aura RGB LED.
1/4inch camera mounting.
Noise Cancelling feature.
Small and Very Lightweight.
Cons
Distorts your voice slightly at times (Using ENC mode).
Cable Length too short.
LED lighting behind the microphone.
No anti-vibration stand.
Kitguru says: The Asus ROG Strix Magnus is a fantastic, high grade microphone suited to a variety of tasks. Sound quality is killer, and it is immensely portable and easy to set up.