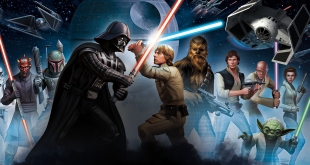 This is the second part of our Star Wars Tie Advanced X1 article – last week we published an unboxing of a cool looking new Drone by company Propel. Propel have been one of the few companies lucky enough to snag a Star Wars license. Their goal was to create a series of battle capable drones based around the Star Wars theme.
We took the Tie Advanced X1 into a local park, but as you will find out, it took considerable mastery of the force to battle even the moderate winds. The Emperor wasn't too happy with the condition of the Drone when we got back to base either.

Watch via our VIMEO Channel (Below) or over on YouTube at 1080p60 HERE
Propel sell three of these right now and they ship in glorious hand crafted collector boxes which I covered in my previous video. They also sell the 74-Z Speeder Bike and the T-65 X-Wing StarFighter versions. You can see the home page for all three Battle Drones over HERE.
So how does it handle under real world outdoors conditions? The Star Wars Tie Advanced X1 Battle Drone is a fantastic collectors product and the box itself is a work of art, but as an outdoors Drone, the short battery life of around 12 minutes and the inability to cope with even light winds make it a very specialised product for a niche audience. If you have access to an indoors arena or a huge open room inside a building, then it might be a different story – especially if you have friends with a similar Star Wars drone.
If you missed my unboxing video – please check back HERE to watch it.
KitGuru says: Darth Vader is unsure. A lot of work went into the box and it is clearly a wonderful collectors item. Outdoors however it failed to shine due to fairly weak battery life and its inability to stay moderately stable under any kind of wind.