After a near five year break from the franchise, Mass Effect returns this week with an all new entry to the series. Mass Effect Andromeda leaves earth and Sheppard behind in an effort to expand the universe with new characters, a new story as well as all new planets and enemies. Aside from that, this game has also seen Mass Effect move over to the Frostbite engine, which works incredibly well in the Battlefield series, but how does it hold up in a huge RPG like this? Today, we will be taking a look at just that, alongside 1080p, 1440p and 4K benchmarks on PC. 
Click images to enlarge. 
Taking a look at the graphics options menu reveals quite a bit of scalability. This is a common theme when dealing with the Frostbite engine, as it was initially designed for shooters like Battlefield, which require high and stable frame rates.
All of the options you would expect are there, so those with high-end systems will be able to crank things up, while those with lower-end or perhaps older generation GPUs will be able to make plenty of adjustments to try and optimise performance.
Click thumbnails for 1440p screenshots. 
As for actual graphical quality, Mass Effect Andromeda is a very good looking game. While I have only been able to check out the first planet so far, I have been impressed by the scenery, texture work and effects on display.
I've also had the opportunity to check this game out running in 4K with HDR on by plugging my PC into my Samsung JS8500 SUHD TV. At 4K with HDR enabled, this game offers visuals that surpass almost any other high-end PC game out right now.
However, as has been widely reported at this point, character models and animations aren't always great. This is unfortunate as it does bring down an otherwise visually stunning game but from my own experience, these issues aren't nearly as prominent as the highlight reels would have you believe.
I have also noticed that many animation glitches being shown actually originated from console versions of the game and did not appear on PC for me. Finally, I have also found that some of the poor facial animation is less noticeable on the male character, so if you are playing Jack Ryder over Sarah Ryder, you will notice less 'lazy eye' moments.
For our performance tests today I will be running Mass Effect Andromeda on the following system:
CPU: Intel Core i7 6700K with 4.2GHz boost clock.
Motherboard: Asus Maximus VIII Hero.
RAM: G.Skill 16GB 3200MHz DDR4.
Storage: 1TB Samsung 850 Evo SSD.
OS: Windows 10: Anniversary Update.
For graphics cards, I will be running the following:
MSI GTX 1080 Gaming X.
Asus GTX 1060 Strix.
MSI GTX 970 Gaming 4G.
AMD R9 Fury X.
XFX R9 390x Ghost Edition.
Sapphire R9 290 Vapor-X.
The latest drivers (at the time of benchmarking) were used for performance testing, as was the game's planned day-one patch. On the Nvidia side, we are using driver version 378.78 while on the AMD side we are running Radeon Software version 17.3.2.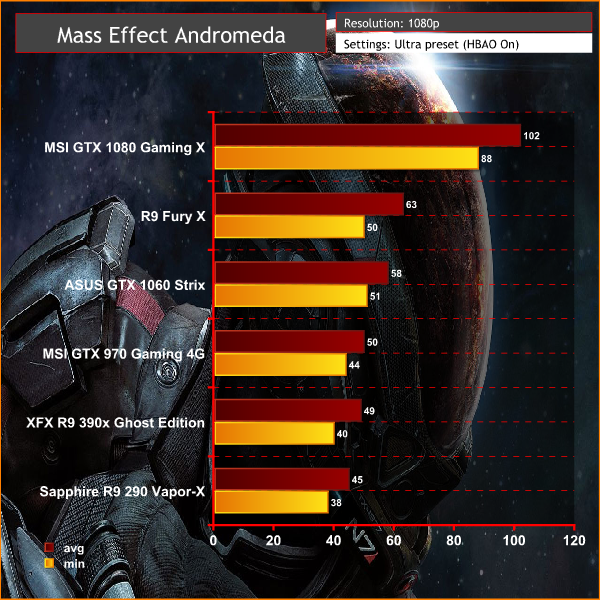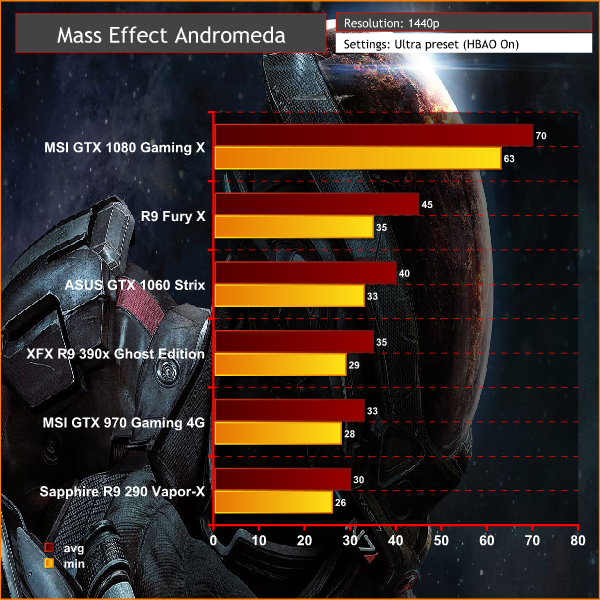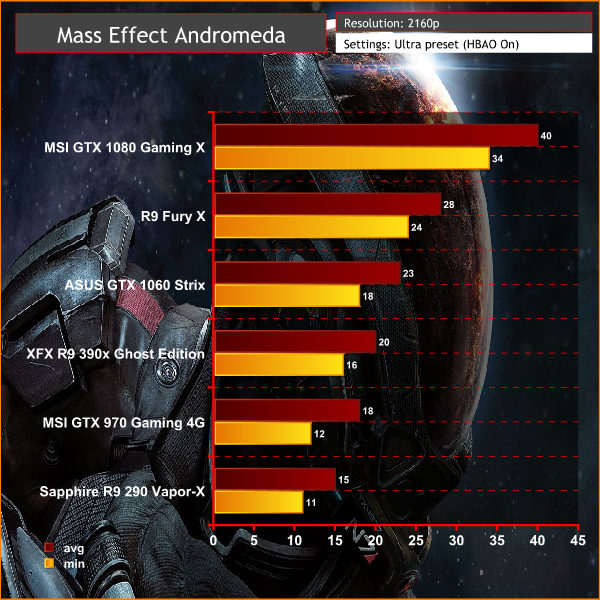 Mass Effect is by far the most demanding game so far to be based on the Frostbite Engine. For the most part, 1080p scores are solid across the board but for 60 frames per second on an older R9 390x, R9 290 or GTX 970, you are going to want to turn down some graphics settings.
The same can be said for the GTX 1060 and R9 Fury X at 1440p. The GTX 1080 manages perfectly fine at ultra settings in 1080p and 1440p but at 4K, you will need to dial things back a bit to achieve higher frame rates.
One thing that is well worth noting is that the minimum frame rates are all close to the average across the board, which means you will have a fairly consistent experience while playing. That said, with a game as huge as Mass Effect Andromeda, there is the chance that you will come across more demanding sections of the game later on.
As for the game itself, I have had the chance to play the first few hours of Mass Effect Andromeda and so far, I am enjoying it. If you are a Mass Effect fan, then there is still a lot to like here. The combat system is fun, the biotic powers are excellent and from what I have seen so far, side quests are much more interesting than they were in Dragon Age: Inquisition.
The character creation isn't great so I ended up sticking with the standard 'Jack Ryder' preset. This is certainly one of the areas where Bioware cut corners, which was likely a result of Andromeda's troubled five years in development.
With that in mind, if you are worried about poor quality then perhaps wait for a sale but from what I've played, Andromeda is an enjoyable game and I don't think you should let the gifs floating around deter you from giving it a shot.
KitGuru Says: Mass Effect Andromeda might not end up being the masterpiece we were hoping for but there is still a lot to like about this game. It runs well on PC, has fewer bugs (so far) than the Xbox One version and it has enjoyable combat mixed with an intriguing story. There are some odd moments here and there but they are few and far between.