It's been a while since I tried a product from Xtrfy, but I have really enjoyed using the Xtrfy M4 RGB mouse over the last two weeks.
We've seen a number of ultra-lightweight gaming mice now, but it's always good to have options and the M4 is certainly setting itself apart with its distinctive shape. I found this very comfortable to use with a palm/claw grip hybrid, while its medium size should make it a good fit for a lot of people. Due to the ergonomic design, however, the M4 won't be for everyone, but if you know you like this sort of shape I'd definitely recommend giving it a go.
For a mouse weighing 69g, the M4 is also very well built. There's no rattle, no creaking or flexing, and lateral movement for the mouse buttons is barely worth mentioning. Overall I'd say this is the most solid-feeling ultra-light gaming mouse I have used in the past year.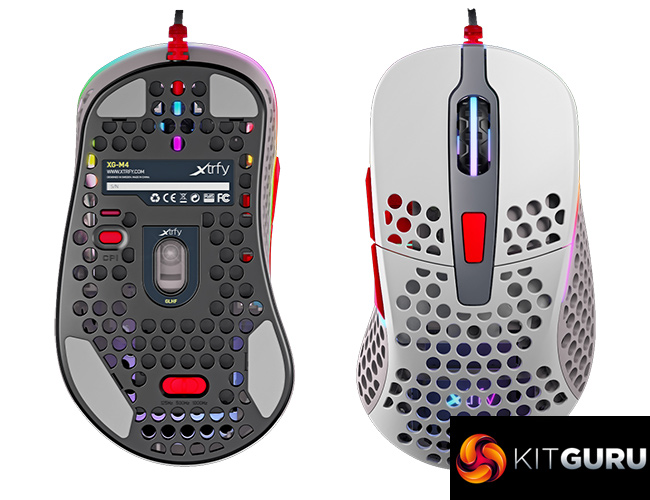 It's also got high quality primary buttons, great side buttons and another top performing scroll wheel. We all know what we're getting with the PMW 3389 sensor, too, so overall the M4 does the fundamentals very well indeed.
For me, there are two main areas of improvement. First is the lack of software – as I explained on the previous page, I can see why Xtrfy has taken this route, but in my view the end-user is missing out on a fair bit of functionality that software can offer.
The second area to improve would be the cable. To be clear, I still think is a good cable but Cooler Master has really set the standard here with the MM711's ultraweave cable. In comparison, the M4's EZCord just feels a little stiff and heavy.
For £50 though, the M4 is a great buy and I am going to continue using it as my daily driver. If you want an ergonomic, lightweight mouse, the M4 RGB does a lot of things right for a good price.

You can buy the Xtrfy M4 RGB for £49.99 from Overclockers UK HERE. For the full range of colours, click HERE.
Discuss on our Facebook page HERE.
Pros
Distinctive but very comfortable shape.
Very well built considering the weight.
Just 69g.
Very good primary and side buttons.
Great scroll wheel.
PMW 3389 sensor.
Cons
Cable isn't quite up to the standard of the MM711.
No software.
KitGuru says: The Xtrfy M4 is a great mouse for just £50. I'd love to see the 'M5' ship with an even better cable and dedicated software.
Be sure to check out our sponsors store EKWB here