To test the Rockjaw Clarito earbuds I used them as my main smartphone headphones for a period of one week, listening to a variety of different musical tracks and playing a couple of smartphone games. Although not the main focus of these earbuds, I also tried them out on my desktop to see if they could perform as a backup pair of main-gaming headphones.
All the while I considered their audio quality at the various points in the spectrum, as well as their comfort and ease of use.

These Rockjaw headphones sound great when listening to just about any genre of music. I put them through their paces listening to a mixture of R&B, rap, electronic, rock, classical and a little trance too – there was a bit of everything in this test suite and they did a good job at all of it.
The bass frequencies are really punchy, with a lot of oomph. What is perhaps more impressive though, is that while delivering that chest rattling bass, they can also go lower, to that deep, rumbly territory that so many headphones fall down with. The Rockjaw Claritos will rattle your brain around in your skull if you have the right track and enough volume.
The top end too sounds powerful and clear, with no real lack of clarity even if you crank the volume up to the rafters. I noticed a little sibilance with certain tracks at the top end, making some lyrics a little too punchy at higher volumes. It is subtle enough that it will not be something that bothers everyone though.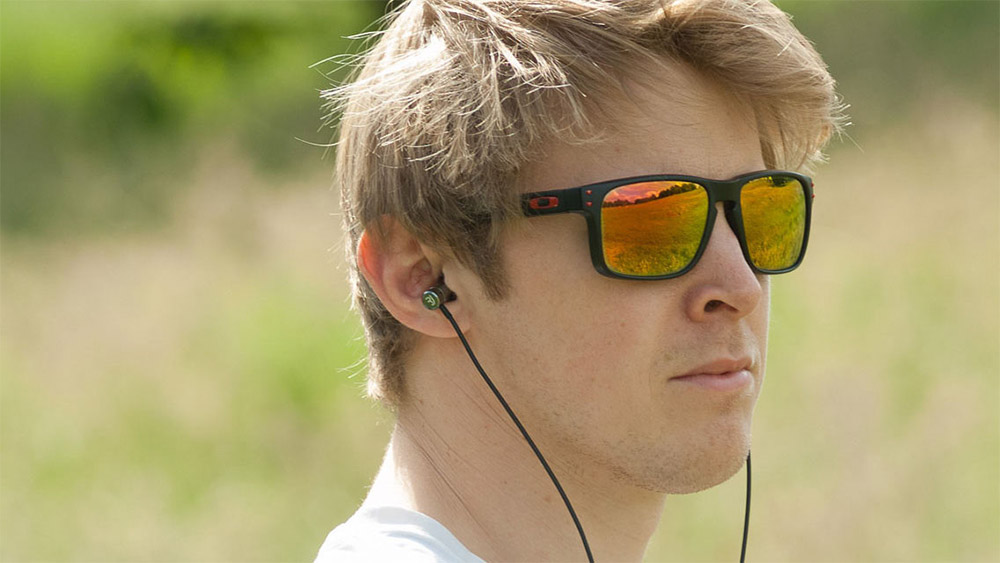 You too can look as cool as this guy
The mid-range is perhaps the weakest part of the mix and in certain songs that can leave the overall audio feeling a little under-represented, but it is far from a deal breaker.
Although not built with it in mind, I found these earbuds pretty great for gaming too. They are not likely to replace your high-end set of gaming cans, but for those on a laptop or heading to a LAN who want an easily portable pair of headphones that can work equally well on your PC and phone, the Claritos would do a god job.
The cable is a little short and there is no microphone, so do not expect to be able to use these in VOIP or calling scenarios, but they are a nice set of headphones regardless.
The cabling of these earbuds did make me miss some of the fancier headphones we have reviewed in the past, like the Trinity Deltas, as the rubber cable on these is a little stiff and easy to tangle. That is not uncommon with earbuds of course, especially at this price point, but just bear in mind that there is nothing special about the cable.
It does also have a problem with microphonics. Fortunately Rockjaw saw that problem coming and included a crocodile clip so you can attach it to your shirt and that just about eliminates all of it. If you need to as well, you can always wrap the ear bud's cable over your ear and that clears it up entirely.
The silicon tips do a good job of cushioning your ears to the ravages of in-ear earbuds and the various sizes make it easy to find one that fits well and does not fall out too easily. Personally I prefer foam, but that is a personal preference and not necessarily indicative of the comfort afforded by these earbuds.