Considering the Rockjaw Clarito earbuds are just £24, it would be easy to expect below average performance from them – but you would be sorely mistaken. Despite their entry level price point, these are a really excellent set of in-ear earphones. They sound great and though they miss a few of the higher end features of more expensive sets, they do a fantastic job and could easily replace a number of stock smartphone headphones.
No the sound is not perfect. The mid-range lacks a little depth and they can sound a little bright at times, but the bass is absolutely excellent, with tonnes of grunt and rumble at the very bottom of the spectrum. They sound great with just about every genre, though they definitely benefit from a more bass heavy tracks.
Although that will not be to everyone's taste, considering the trend in a lot of commercial headphone brands as of late, that is likely to be the sort of sound that appeals to the widest audience, which at this price point makes a lot of sense.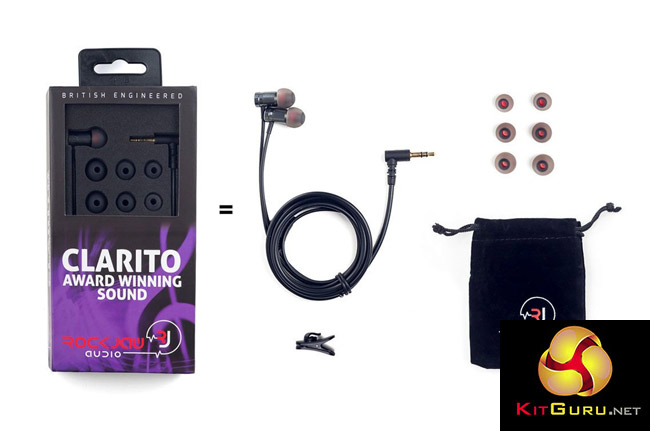 The cabling is as you would expect really. A little short, a little stiff and easily tangled, but the included clip eases off the microphonics and the earbuds are comfortable over long periods of use. The multiple size options should mean that there is a set of tips for everyone, but bear in mind that there are no alternative materials; it is silicon or nothing.
Minor complaints aside though, the Rockjaw Clarito are an excellent set of earbuds, especially at their price point. They deliver a strong, powerful – if a little punchy – sound, that works well at all sorts of volumes and genres, that make them an excellent choice for those looking to replace a stock set of earbuds without breaking the bank.
They have a nice little bundle too and can even work in a pinch for a bit of gaming. If you are looking to spend around £25 on a new set of earbuds, these would be a solid choice.
You can buy the Rokjaw Clarito earbuds direct from the official site, for £24.
Pros
Sound excellent, bass is very powerful and broad.
Plenty of volume, no loss of clarity at the top end.
Included clip eliminates microphonics.
Comfortable over long periods, multiple size silicon tips included.
Excellent value for money.
Cons
Mid-range lacks the depth of other frequencies.
Some sibilance at the top end of the spectrum.
The cable can get easily tangled, has some microphonics.
No microphone.
KitGuru Says: The Rockjaw Clarito earbuds are not the most high-end headphones out there, but you would be hard pressed to tell that by how well they sound. Strong in all genres and at most frequencies, these earbuds would be a great replacement for your stock smartphone headphones, especially considering the competitive price tag.