Our main test involves using a DataColor Spyder Elite 5 Colorimeter to assess a display's image quality. The device sits on top of the screen while the software generates colour tones and patterns, which it compares against predetermined values to work out how accurate the screen is.
The results show –
A monitor's maximum brightness in candelas or cd/m2 at various levels set in the OSD.
A monitor's contrast ratio at various brightness levels in the OSD.
The brightness deviation across the panel.
The black and white points.
The colour accuracy, expressed as a Delta E ratio, with a result under 3 being fine for normal use, and under 2 being great for colour-accurate design work.
The exact gamma levels, with a comparison against preset settings in the OSD.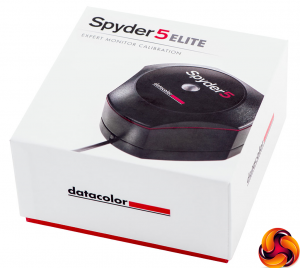 We first run this test with the display in its default, out-of-the-box state, with all settings on default. We then calibrate the screen using the Spyder software and run the test again.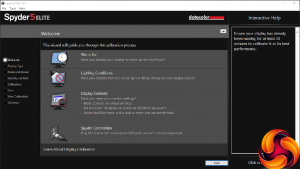 We always test the display subjectively on the Windows desktop, using it for general tasks such as browsing and word processing, and with games as well, even if the display is not intended solely for that purpose.
We pay careful attention to any artefacts, ghosting or motion blur, and enable any gaming-specific features, such as adaptive-sync settings like G-Sync or FreeSync, using a compatible graphics card in our test PC.
We performed the quality tests on the AG273QX at its native 2,560 x 1,440 resolution in the default mode, after resetting the OSD, which sets the refresh to 60Hz. Our test system was equipped with an AMD Radeon Vega Frontier Edition graphics card, which supports FreeSync.
The gamut is surprising but good overall. The AdobeRGB score of 84 per cent is very good, but strangely sRGB is 99 per cent when we would usually expect to see 100 per cent when AdobeRGB is this high.
Some great brightness uniformity readings along the top two thirds, but not so good in the bottom third.
Colour uniformity is very good across the board, however.
The AG273QX doesn't quite hit its spec at 100 per cent brightness, achieving 386.1cd/m2. But the range is evenly spaced as the percentage value increases, and the white point is fairly consistent at 7300K up to 50 per cent, and 7400K beyond. Contrast, as usual for a VA panel, is high, hitting 1,530:1 at the brightest setting.
We've tested the Game Modes alongside the Eco Modes for brightness, contrast and white points. Starting with the Game Modes, they all offer similar brightness and contrast, with FPS hitting 374.3cd/m2, RTS 398.4cd/m2, and Racing 382.8cd/m2. FPS and RTS offer 1,480:1 contrast and Racing is 1,430:1, a negligible difference. The white points vary more, with FPS hitting a slightly cool 7600K, Racing a similarly cool 7700K, but RTS a warmer 7000K.
The default Standard Eco Mode offers 298.8cd/m2 brightness, 1,430:1 contrast and 7500K white point. Text mode halves the brightness to 154.7cd/m2, but with a similar 1,450:1 contrast and 7400K white point. Internet mode sits somewhere in between with 215cd/m2 brightness, the same 1,450:1 contrast and 7400K white point. Game, Movie and Sports modes all use 7500K white point, but Game mode adopts 268.1cd/m2 brightness whilst Movie and Sports are brighter at around 324cd/m2. Game and Movie have similar contrast around 1,310:1 and 1,320:1, but Sports hits 1,420:1.
Reading mode is the odd one out. Although the brightness is the same 298.3cd/m2 as Standard mode, and contrast 1,310:1 like Game mode, the white point is a warmer 6700K. Most importantly, however, this setting turns the screen monochromatic, since it's easier to read text in black and white.
AOC's gamma options are usually a bit odd, and the AG273QX doesn't break with tradition. The default Gamma 1 equates to 2.3, whilst Gamma 2 is a lower 2.2, and Gamma 3 is 2.5. These are strangely spaced and it's also curious to have them so the values aren't in sequential order.
Although IPS panels have the best reputation for colour accuracy, VA panels aren't far behind, and the AG273QX acquits itself incredibly well here, hitting an average deviation of just 0.88 out of the box – one of the best scores we've seen. We didn't think we could do much better with calibration, but we always try, so the Spyder was fired up again to run through the process.
Gamut, as is almost always the case, remains unchanged at 99 per cent sRGB and a very credible 84 per cent AdobeRGB.
Again, as is almost always the case, the gamma remains unchanged too at 2.3 for the Gamma 1 preset.
Sadly, colour accuracy has gotten a bit worse, but it's still an average deviation of 0.99, which is very good indeed. We'd suggest not bothering to calibrate this monitor, though.
Overall, these are great results. There's an issue with the brightness uniformity of the bottom third, but in every other respect this is an excellent performer. For subjective testing, we ensured FreeSync was enabled (it is by default) and switched to a DisplayPort connection. Like the ASUS TUF Gaming VG27AQ, it appears that the 165Hz refresh is not available via HDMI, only DisplayPort.
We then fired up our usual selection of comparison titles including CS:GO, Rainbow 6 Siege and League of Legends. We enabled the FPS Gaming Mode preset for the first two games, and RTS for LoL. The frame rates were smooth, and particularly with CS:GO, FreeSync and the high refresh were doing their bit to prevent tearing or other artifacts from a lack of synchronisation between screen refresh and graphics frame delivery.