Not long ago, you'd need to spend close to a grand to get a 4K monitor. But as with all things in computing, the prices have been falling steadily. With the AOC U2790PQU you can enjoy 27in of 4K goodness for less than £300. Surely there must be a catch?
The U2790PQU certainly doesn't seem to skimp in any part of its specification. Aside from the 4K (3,840 x 2,160) resolution, the panel uses IPS technology, which usually comes at a premium. The maximum 4K refresh is just 60Hz and pixel response 5ms, but both are pretty standard for a 4K IPS panel. The maximum brightness is a reasonable 350cd/m2, and static contrast 1,000:1, again typical for IPS.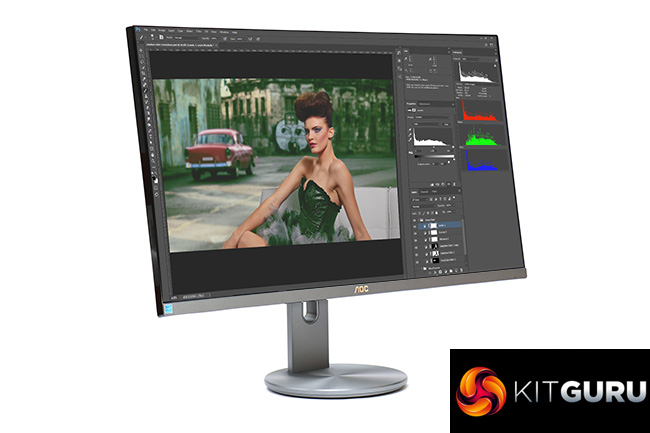 The appearance is classy and not budget at all, with a comprehensive range of adjustment. You can swivel the monitor on its base, tilt forwards and backwards, raise the screen up and down on the stand, and also pivot into portrait mode. The video inputs are reasonable, including two HDMI and DisplayPort, but no USB-C (although this usually comes with a significant extra cost, so it's an acceptable omission). You also get a two-port USB 3.0 hub and built-in stereo 2W speakers. However, there's no support for any form of adaptive sync technology, which will be a disappointment for gamers hoping for an affordable 4K entry point.
The U2790PQU is clearly more for the business user than entertainment, but there are no major features missing and with IPS panel technology, the image quality has promise too. It's not widely available yet, but we've already found sites listing this screen for as little as £280. If you were hoping to go 4K but didn't think you could afford it, this could well be the screen that changes your mind. It looks too good to be true, so read on to find out whether this really is the best value for 4K yet.
Specification:
Screen size: 27-inch, 16:9 aspect
Native resolution: 3,840 x 2,160
Refresh rate: 60Hz (4K)
Panel type: IPS
Contrast ratio: 1,000:1 (typical)
Brightness: 350cd/m2
Response time: 5ms Grey-to-Grey
Display inputs: 1 x HDMI 2.0, 1 x HDMI 1.4, DisplayPort 1.2
USB hub: Yes, 2 x USB 3.0
Tilt: 3.5 degrees forward, 19.5 degrees backward
Raise: 130mm
Swivel: 45 degrees left and right
Portrait: Yes
Other: Audio output, 2 x 2W speakers
Retail Price: £280.79 (inc. VAT)
Be sure to check out our sponsors store EKWB here