Consoles used to just be devices you plugged into a TV. But even though the model update cycles mean the devices can lag behind PCs for hardware ability, they're offering 4K now, and if you're serious about your console gaming you may be considering a dedicated screen for yours. This is where Asus's CG32UQ comes in, providing 4K and HDR plus a bunch of other features that make it worth considering if your gaming needs involve both consoles and PCs – and at least a quarter of KitGuru readers fit this category.
Although announced some time ago, the CG32UQ has only recently arrived in the UK. This is a 32in-class screen (actually 31.5in diagonal) with a native 3,840 x 2,160 resolution. It uses VA panel technology, with all the usual benefits this provides. Typical maximum brightness is 400cd/m2, but peak can be 600cd/m2, allowing DisplayHDR 600 certification. To go with this Asus claims a 95 per cent DCI-P3 colour gamut. The max contrast ratio is 3,000:1, as we expect from VA.
A major downside for the crossover PC gamer, however, is the fact that this screen only supports a 60Hz refresh, although adaptive sync is available. This is based on FreeSync, but with G-Sync Compatible accreditation. Many graphics cards will struggle to deliver A-list games in 4K at over 60Hz, but if you do have high-end PC graphics that can, this screen may not be for you. Response is only 5ms grey-to-grey, although there are electronic systems included to reduce the perception of lag.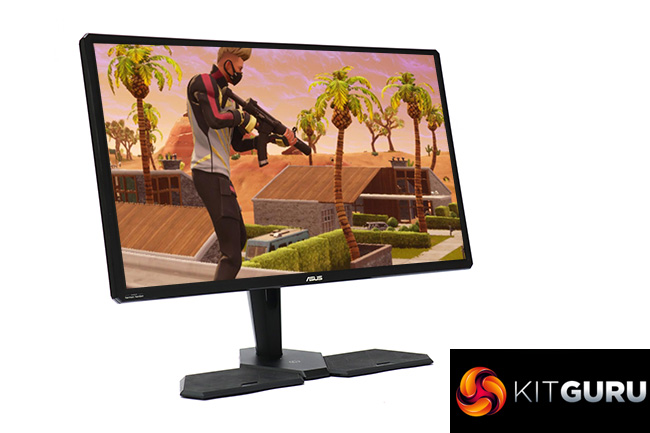 Where this screen really positions itself for console gamers is in the design and features. A remote control for changing settings is just the beginning. There are also power-only USB ports in the base and pads nearby to place your controllers, so you can easily recharge them when not in use. Otherwise, you get a trio of HDMI 2.0 video inputs and a single DisplayPort 1.2. Then there's a two-port USB 3.0 hub for peripherals and built-in stereo 12W speakers, which is decidedly loud for integrated audio.
So there are plenty of features to lure you over to the Asus CG32UQ, but one thing that might dampen your enthusiasm is the price. At over £750, now that 4K screens have dipped well below this, you're paying a fair bit for the console friendliness. Is this worth the extra money? Let's find out.
Specification:
Screen size: 31.5-inch, 16:9 aspect
Native resolution: 3,840 x 2,160
Refresh rate: 60Hz, Adaptive-Sync
Panel type: VA
Contrast ratio: 3,000:1 (typical)
Brightness: 600cd/m2 peak
Response time: 5ms grey-to-grey
Display inputs: 3 x HDMI 2.0, 1 x DisplayPort 1.2
USB hub: Yes, 2 x USB 3.2 Gen1, plus pass-through for 2x USB charging and 2x USB 3.0
Tilt: 5 degrees forward, 20 degrees backward
Raise: 100mm
Swivel: No
Portrait: No
Other: Audio output, 2 x 12W speakers
Retail Price: £764.99 (inc. VAT)
Be sure to check out our sponsors store EKWB here