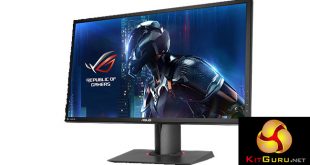 The ASUS ROG SWIFT PG248Q is very much a gaming monitor, and ASUS even claims it is targeting the e-sports community. It comes with the bells and whistles a dedicated gamer will hanker for – presets for specific game types, an overclockable refresh rate, and support for NVIDIA G-Sync. But does all that mean this 24in screen warrants its hefty £400 price? 
As with most gaming-oriented displays, this is a TN panel, and the resolution is the usual 1,920 x 1,080, not 4K. The maximum brightness is a healthy 350cd/m2, with a fairly standard 1000:1 contrast ratio. So, on paper, the main specifications are nothing to write home about. The extra details are where this screen is aiming to set itself above the pack.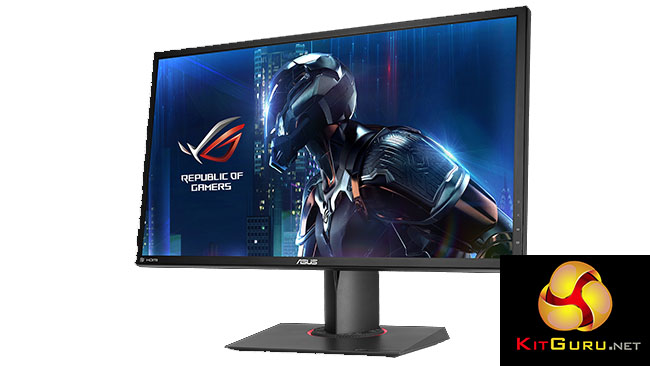 The headline detail is the refresh rate. As standard, the maximum is 144Hz. But you can also invoke an overclocked mode which can be varied up to 180Hz. This means that you can leave V-sync on, avoid tearing, and still have frame rates up to 180 per second. Even without overclocking, the native 144Hz is very high. For players of FPS, racing, or other types of games where the smoother the motion, the better, the high refresh will be a boon.
Complementing the high refresh rate is the support for NVIDIA G-sync. So if you're the owner of a compatible NVIDIA graphics card, which is most of the recent models from GeForce GTX 650Ti BOOST, and most of the recent professional Quadro models too, you can enjoy a monitor refresh that varies with the frame rate provided by the graphics card.
There's the requisite 1ms response time to go with the rapid refresh, for really snappy on-screen motion.
Other tempting features include the GameVisual preset modes, which range from Scenery, Racing, and Cinema to RTS/RPG, FPS, and sRGB, with the latter included just in case you foolishly want a preset for some serious work on the monitor. There are also GamePlus modes for added gaming goodness, including built-in crosshairs, timer, and frames per second.
Turning to the physical specification, there are inputs for HDMI and DisplayPort, but only one of each, plus a built-in USB hub, and headphone output so you can make use of the sound feed from a screen connection that includes this.
Orientation adjustments include tilt, swivel, pivoting 90 degrees into portrait mode, and height. But is this screen all flashy features or does its performance match the gaming extras? Let's find out.
Specification:
Screen size: 24-inch
Native resolution: 1,920 x 1,080
Refresh rate: 144Hz (Normal mode); 180Hz (Overclocked) – DisplayPort only
Panel type: TN
Contrast ratio: 1000:1 (typical)
Brightness: 350 cd/m2
Response time: 1ms
Display inputs: DisplayPort 1.2, HDMI 1.4
USB hub: 2x USB 3
Tilt: Yes
Raise: Yes
Swivel: Yes
Other: Headphone jack
Retail Price: £399.98 (inc. VAT)
Be sure to check out our sponsors store EKWB here