When we first looked at the Linksys Velop a few weeks ago, we tested it on the basis of what we were sent, which was the three-unit version. We concluded that, whilst it was extremely easy to set up, performance fell considerably behind the NETGEAR Orbi. However, after further discussions with Linksys, and considering that since our review a couple of new features have been released, we thought we would revisit the Velop, this time as a two-unit configuration, which can also be purchased. We were told that this configuration would actually be faster in some circumstances than the three-unit pack. So we wanted to put that theory to the test.

The reason why the Velop could be faster with two units is that, by default at least, one of its three wavebands is used as the "backhaul", which is the dedicated WiFi link used to communicate between units. With three Velop units, one backhaul covers all the units, with the most distant unit communicating to the main broadband-connected unit via the unit in between.
This staging process is great if you need to cover really large areas, because each new node only needs to be in good range of another already on the system, not the main one. This is true mesh networking. But it also means that the backhaul has to service two connections with three nodes, acting as a relay and reducing overall performance.
According to Linksys, the backhaul can be any of the three bands that has the best signal and throughput at the time of installation. It's most likely to be one of the 5GHz 802.11ac channels, and with the Velop these are both rated at 867Mbits/sec, compared to the Orbi's 1,733Mbits/sec 802.11ac band, which is always used as the backhaul. But that's immaterial to the issue at hand.
The point is that, if you don't need the coverage of three units, you're reducing the backhaul bandwidth unnecessarily by using them, and could be better off with two.
This is the primary theory that we wanted to put to the test in this follow-up article, by adding two-unit-only figures to our tests. However, Linksys has also launched three new features for the Velop (and some other compatible Linksys routers) since our original review. So we thought we'd mention those too.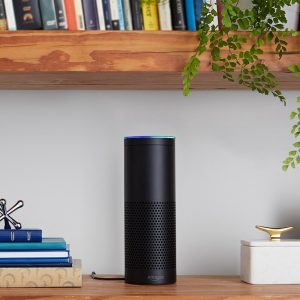 First of all, new Alexa voice controls have been added (currently for UK and Germany only), and this also applies to WRT and Max-Stream products. The user needs to have a LInksys Smart Wi-Fi account, and can then use voice commands to turn guest access on and off, as well as for obtaining the guest Wi-Fi name and password.
Similarly, Alexa can be asked for the SSID and password of the main WiFi network. These "Skills" are added using the Alexa mobile App.
Another new addition is bridge mode, which really should have been there in the first place. If you happen to have an ISP-supplied router that you can't replace (or don't want to) because it also acts as the hub for other services like telephony or television, you can now use Velop as an add-on.
This allows devices connected wirelessly or via wires to the ISP's router to be on the same network as those connected to the Velop system. To use bridge mode, you need to update the Velop firmware and also the smartphone app. The option will then be available in the App.
The final improvement is to the Parental Controls. As we noted in our original review, these originally didn't initially provide any kind of scheduling. Now, with just an update to the smartphone configuration app, parents can schedule blocking of a child's access based on day of week and hour of day. As with bridge mode, we would have liked this ability from the get-go, but it's here now thankfully.
Nevertheless, our main reason for this Velop revisit was retesting with just two units instead of three. So let's see if it really is quicker with two in our test house as suggested, as this would make it a more tempting proposition, considering that the two-unity pack is £100 cheaper and therefore very competitive compared to NETGEAR's Orbi on price.
Price: £249.99
Specification:
Wireless protocols: MU-MIMO with 802.11b/g/n 2.4GHz and 802.11b/n/ac 5GHz plus 256 QAM on both
Performance: AC2200 (867 + 867 + 400 Mbits/sec)
Antenna Configuration: 2×2 Internal Antennas
Ports: Per unit: 2 x Gigabit Ethernet
Modem Support: VDSL/ADSL 2+ or cable
Be sure to check out our sponsors store EKWB here