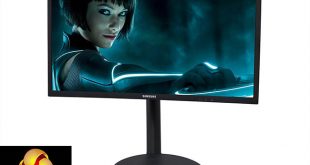 There are three main types of TFT panel in regular use – TN, IPS/PLS and VA – and none of them are perfect for every situation. Like IPS/PLS, the VA type isn't so often found in gaming monitors because of slow pixel response and motion artefacts, although its contrast, black level and colour are generally good. But what if you could keep these strengths and fix the weaknesses? This is what Samsung has planned with the C24FG70 24in gaming monitor, and that's not the only trick it has up its sleeve, too. It's a curved screen as well.
The most frequent panel type for gaming is TN, because a 1ms grey-to-grey is readily available, and it also happens to be the cheapest kind of panel to make. But viewing angles are poor, particularly in the vertical direction, and a colour shift is often visible at an angle, so it's not the best choice for curved displays.
The IPS/PLS panel, on the other hand, offers wide viewing angles and more faithful colour. Thanks to its viewing angles, IPS/PLS is a much better choice for curved screens, but the greater cost compared to TN and slow pixels means these aren't optimal for gaming.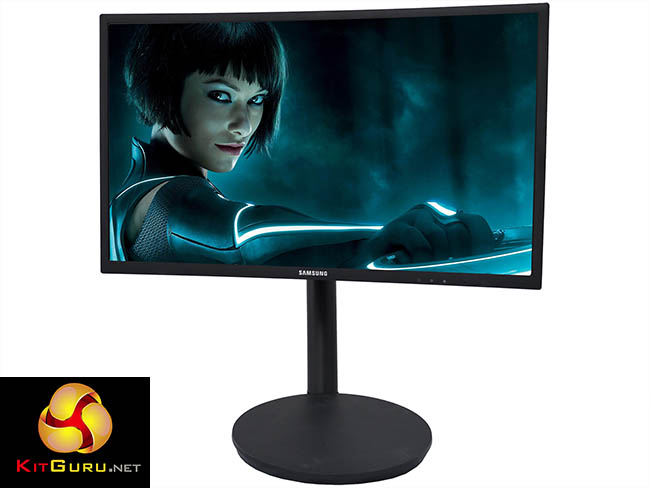 VA has traditionally been in the same boat as IPS/PLS, but Samsung is introducing a new technology that it claims counters the motion artefacts and slow pixel response of the screen technology. Samsung is has a new take on the system that used to help CRTs avoid motion artefacts. This involves a Dark Phase, where the beam is turned off between frames to eliminate the time where two consecutive frames could be partially visible at once, which is what causes the motion blur.
With the C24FG70 Samsung has updated the modern TFT version of Dark Phase, which is called Impulsive Scanning, where the backlight is turned off selectively between frames. Instead of just turning the whole screen off, Samsung's system divides the frame into four bands and synchronises each one as the corresponding pixel areas are switched. This reduces motion blur even further, but also allows Samsung to claim a response time comparable to TN gaming panels of 1ms.
However, this isn't grey-to-grey response time, which is the time taken to switch a pixel from 10 per cent to 90 per cent grey. Instead, Samsung's quoted figures are based on Moving Picture Response Time (MPRT), which is the time from the point where motion blur arises until it disappears. This is essentially a measurement of how long the screen takes to react to a change in picture due to activity. So it's not the same thing as grey-to-grey, but Samsung argues that MPRT is a better measure of responsiveness.
Aside from the reduced motion artefacts and TN-like response time, the C24FG70 also boasts a 144Hz refresh. This may not be quite as high as the most full-on overclocked panels, but it will be more than enough for most gamers, particularly as it's partnered with FreeSync, so the panel will synchronise its true frame rate with whatever the graphics card can deliver. There's no NVIDIA-oriented G-sync, though.
The curvature is also more pronounced than most curved panels, using a 1800R rating rather than the more usual 2000R. The arm attaching the panel to the base is more elaborate than usual, too, and there's interactive lighting in the bottom of the bezel for greater immersion. However, whilst there is a reasonable range of inputs available, with two HDMI and a DisplayPort 1.2 input, there's no USB hub or analog audio pass-through, although a headphone jack is available for digital audio coming in alongside the video.
Although the brightness level is fairly standard at 300cd/m2, the VA panel's characteristically excellent contrast is in evidence, with 3,000:1 stated, which is well beyond the usual 1,000:1 of TN and IPS/PLS panels. But these aren't the most important features about the C24CG70. This is a panel that promises the quality of VA but with the response time of TN, and expects you to pay nearly £400 for the privilege. But does it deliver on the theory?
Specification:
Screen size: 24-inch, 16:9 aspect
Native resolution: 1,920 x 1,080
Refresh rate: 144Hz
Panel type: VA
Contrast ratio: 3000:1 (typical)
Brightness: 300cd/m2
Response time: 1ms MPRT
Display inputs: 2 x HDMI, DisplayPort 1.2
USB hub: No
Tilt: Yes
Raise: Yes
Swivel: Yes
Other: Headphone jack
Retail Price: £395.40 (inc. VAT)
Be sure to check out our sponsors store EKWB here