For a company that does not often try its hand at hardware marketed at gaming audiences, Sennheiser sure does a good job of it. The PC 373D are an absolutely fantastic set of gaming headphones, offering much higher quality sound than your average gaming headset, with a few nice features – but at a price.
Although this headset may look a little dull on the outside, inside it is hiding some absolutely fantastic hardware. The audio produced in games, movies and when listening to music is really of an order of magnitude better than even some of the £100+ gaming headsets we have reviewed.

The music playing abilities of this headset cannot be overstated either, as while some headsets are not as capable of producing the nuanced sounds of certain tunes, these ones can. And that makes a real difference in games with wonderful soundtracks as you get the full experience, rather than just catering to the booms and bangs of the action sequences.
Not only that but its surround sound capabilities are excellent. Despite being software controlled (virtual), the positioning of audio sources in games' 3D spaces was simply excellent, giving a real feel that a sound was ahead or behind the player.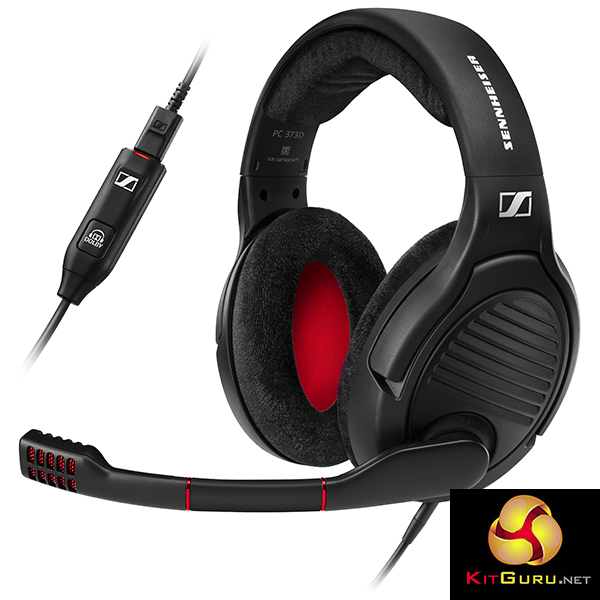 It is not quite perfect, as I do feel like these headphones lack the kind of ear splitting volume that is always nice to turn to occasionally when losing yourself in a gaming world, or really blasting that favourite track of yours. The software is a bit weak too, though that could be improved with time.
It is supremely comfortable though. I have worn it for hours at a time without difficulty.
The only big problem with this headset is its price. At north of £200, it is not a cheap headset. Though it is worth it if you really value your sound quality and want a great gaming and music listening headset, this is outside of most people's budgets.

You can buy the Sennheiser PC 373D from Overclockers UK for £219.95.
Discuss on our Facebook page HERE.
Pros
Fantastic sound quality in games, music, movies.
Supremely comfortable throughout hours of play.
Strong microphone boom, great mic clarity.
Surround sound placement is excellent.
Cons
Could do with a bit more volume.
Looks bland.
Very expensive.
Some minor issues initiating software.
KitGuru says: The Sennheiser PC 373D is up there with some of my favourite gaming headsets ever. I just wish it had a bit more volume and was not quite so expensive. While certainly worth it for the quality, it is hard to justify that much unless your PC is already a monster and you have the cash spare.