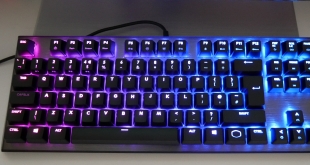 Recently Cooler Master announced the CK530 tenkeyless (TKL) keyboard as a new addition to its peripheral family. While this board may be missing some keys compared to a standard sized keyboard such as the similar CK550, the CK530 doesn't sacrifice features or quality to meet its price point, and is notable for its curved top plate with a brushed aluminium design. On sale for £70, is it a perfect peripheral option for gamers on budget?
Watch via our Vimeo channel (below) or over on YouTube at 2160p HERE
Be sure to support us on PATREON and read our MANTRA on HONEST REVIEWS HERE
Specifications: 
Colour: Brushed Aluminium, Gunmetal
Material: Aluminium base, Plastic keys
Standard sized keycaps
Switch Type: Gateron Blue Mechanical rated for 50 million presses
Tactile Click and Clack
Multimedia keys: Yes, through FN key
Polling rate: 1000Hz
Response rate: 1ms/1000Hz
Onboard memory: 512Kb
1.8M Fixed soft rubberized cable
Connector: USB 2.0
Backlight: Yes, RGB LED
Lighting mode: Per-key RGB
Cooler Master portal software support
Customisable lighting effects, colours and fine-tune macros
On-the-fly controls
Weight: 749g without cable
Dimensions: 380(L) x 135(W) x 40(H)mm/ 14.9″ x 5.31″ x 1.57″
Box Contents:
Cooler Master CK530 Keyboard
Keycap Puller
Information Leaflet Guide
The CK530's aluminium frame provides a luxurious, premium and an incredibly sturdy feel to it. The keyboard is of a nice compact size with its tenkeyless (TKL) body, but I feel the keyboard sits a little high, even without the little stands laid flat. So during long periods of use, I found it to be a bit strenuous on my wrist. Luckily I had a wrist rest handy and pairing the wrist rest with the CK530 was heavenly.
The backlight options of the keyboard can be controlled via the Cooler Masters' software and look stunning in all colours. The software itself is very easy to use, and I got a bit carried away for a long period of time playing around with all the different lighting effects, such as; rainbow wave, static, rain and even ones I've personally never seen before, such as snake, snow and fireball. The per key illumination is a great feature, and the lighting is very bright as well. Overall, the keyboard is designed to fit your gaming personality down to a T and I feel this aesthetically adds much more value to the keyboard itself, especially at this price.
In terms of the way the CK530 performs, it definitely took me a while to get used to the clicky Gateron Blue switches with an actuation distance of 2.2mm, as I'm more familiar with the Cherry MX Speed switches that have an actuation distance of 1.2mm. So trying to do my day to day PC tasks and using the keyboard while gaming, it required a little more force when pressed, and then the total travel distance of 4mm is also more than what I am used to.
I was also surprised with how loud these Gateron Blue switches actually were. If I'm going to be perfectly honest, this type of key switch isn't my preference. If you're wearing headphones while gaming it isn't going to be a problem. However, being a streamer who plays mainly PC games, I would have to find a comfortable level with microphone noise gates in order to block out the 'click clack' of the keyboard. But like mentioned, this is my preference, some of you guys might love clicky switches – but it is a slight shame Cooler Master is only bringing the CK530 to the UK market with Gateron Blues.
You can buy the Cooler Master CK530 from Scan for £69.98 HERE.
Pros:
Feels Durable and sturdy.
Affordable price.
Premium look and feel.
Bright RGB LED backlight.
On-the-fly keyboard controls.
17 different lighting effects.
Cons: 
Keyboard is quite tall, recommend wrist rest.
No braided cable.
Only available with Blue switches in the UK.
KitGuru says: The tenkeyless CK530 keyboard will be a great addition to any gamer's setup, provided they enjoy the clickity clackity Gateron Blue switches. It's an all round great option for a budget mechanical gaming keyboard.
Be sure to check out our sponsors store EKWB here