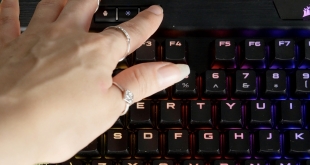 Corsair is definitely trying to impress when it comes to RGB lighting. The K95 Platinum Keyboard sits right at the top as their flagship keyboard with a retail price of £194.99. With fully customisable RGB back lighting, aluminium construction and dedicated media and macro keys it certainly ticks all the right boxes. Can the features of the K95 platinum justify it's hefty price tag?
Watch via our VIMEO Channel (Below) or over on YouTube at 2160p HERE
My colleague Dominic previously took a look at the Corsair K95 Platinum in a written review which can be found here. Corsair asked us if we would like to revisit their flagship keyboard and produce a video review of it. After all, more than one opinion is a good thing when we are offering you buying advice. Was Dominic wrong?

I am pleased to say that my opinion of the Corsair K95 Platinum Keyboard almost mirrors the views of Dominic's. There is no doubt it is worthy of the flagship status. Just as well mind you, it is expensive at £200 inc vat making it absolutely not an impulse purchase.

Buy from Overclockers UK for £194.99 inc vat HERE
Pros:
Fully Customisable RGB Backlighting, Logo and lighting edge.
Available with MX Cherry speed or Brown mechanical switches.
Dedicated Media and Macro keys.
Double sided removable wrist rest.
Great build quality and aluminium body.
Cons:
 Kitguru says: This is an expensive keyboard which might not be for everyone but we think that the features on offer make this an excellent keyboard worth the investment.