The Cooler Master MasterSet MS120 is an effective-yet-affordable keyboard/mouse combo set.
Given the price of just £77.99 (UK MSRP) for the bundle, you would've been forgiven for thinking that neither peripheral would be of good quality. However, I enjoyed my time with the MS120 for a number of reasons.
For one, the 'mem-chanical' keyboard switches, while still not as good as proper Cherry MX switches, are definitely the best mechanical-feel plunger-type switches I have used. There is some definite tactile feedback, as well as an audible click at the point of actuation.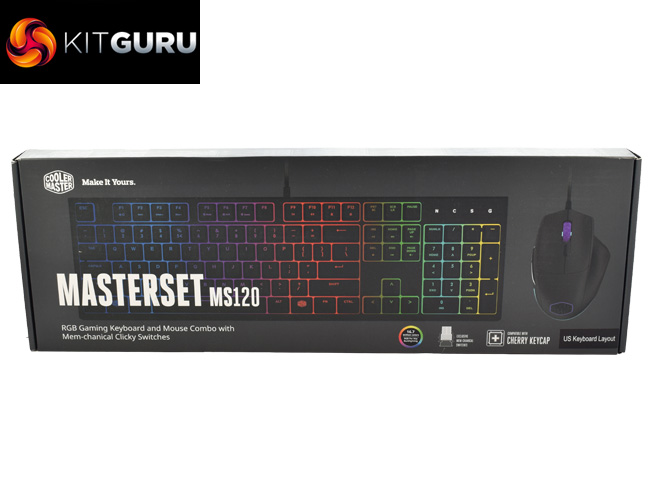 The mouse, too, is comfortable for those who use either a claw or palm grip, and I found its performance to be very good considering the bundle's price tag.
The only issues I had were quite minor: I found it annoying that there is no master backlight brightness setting for the keyboard, while I also noticed some slight jitter from the mouse when editing photos at an ultra-fine level. For anyone worried about the second issue, I found the mouse to perform very well in other situations, including gaming, it was just on a pixel-to-pixel scale where I noticed the slight jitter.
So, on the whole, The Cooler Master MasterSet MS120 is well-worth buying. Both peripherals perform well and also look great thanks to the RGB lighting. They aren't the best peripherals I've ever used, but for the price-tag this bundle definitely represents good value for anyone looking to get into PC gaming.
The MS120 has just launched today with a UK MSRP of £77.99. We will update the review with a buy link when we have one.
Discuss on our Facebook page over HERE.
Pros
Affordable.
Mem-chanical switches are actually pretty good.
Keyboard is very solid.
Mouse is comfortable and pretty accurate.
RGB lighting looks good on both.
Cons
No master brightness setting for the keyboard.
I noticed just some slight jitter when doing low-level photo editing.
KitGuru says: For the money, you could do a lot worse than the Cooler Master MasterSet MS120. The peripherals look good, work well and don't cost the earth.