As part of Corsair's new focus on wireless peripherals, we were sent a special 'wireless kit' just for reviewers. Inside that big box of goodies we found the new K63 wireless mechanical keyboard, a DarkCore SE wireless mouse, the MM1000 mousepad, a Void Pro RGB wireless headset, and a special lapboard designed for sofa gaming. To be able to share this experience with our readers, we of course filmed the whole thing.
As you can see in the video above, we got rather a lot of good-looking peripherals as part the special reviewers' wireless kit. We've already reviewed the Void Pro RGB but rest assured we will be bringing full reviews of the DarkCore SE as well as the K63 Wireless in our usual fashion.
We actually got a first hands-on with the K63 Wireless and the DarkCore SE at CES 2018. To go back and watch our Facebook Live video, just head over to this page.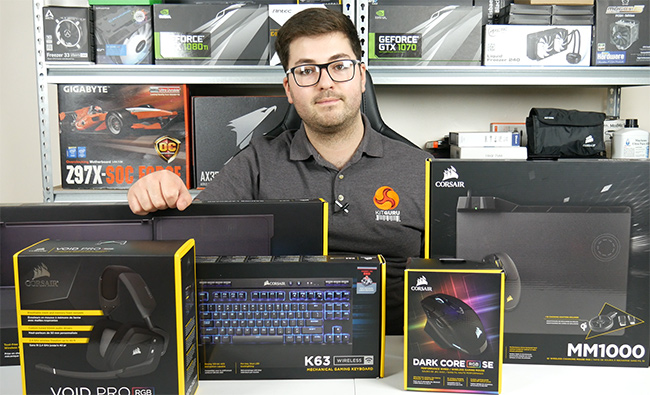 If there's product you're particularly excited for, or if you have any questions about the new wireless peripherals, let us know down in the comments.
KitGuru says: Getting a big box of Corsair goodies is always exciting, but the new wireless range is something quite different. Stay tuned for our reviews of the K63 Wireless and the DarkCore SE in the coming weeks.