For a dyed-in-the-wool mechanical keyboard user, I was very impressed with the Roccat Skeltr and may even go so far as to say that it is the best membrane keyboard I have ever used. It types well and games well, two of the most important aspects of a gaming keyboard.
It also looks rather pretty with RGB backlighting, a comfortable wrist rest and a nice colour scheme across the 'board.' The included Swarm software shows excellent potential and offers some really fun features through the companion smartphone application which keeps you in the loop.


And that smartphone shelf really is something I want to see on every keyboard from now on. There is little excuse not to.
There are a couple of hiccups of course. As good as these membrane switches are (and they really are the best I have ever used) they still do not measure up to a mechanical alternative. They are quieter yes, but less precise feeling and I really miss that obvious, tactile actuation point of a good brown or blue switch.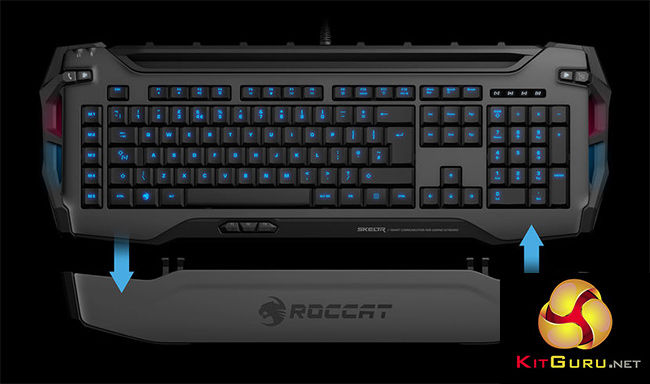 They also cannot offer per-key backlighting, which is a shame and full n-key rollover is also not possible on membrane.
Some of the connected features, specifically the phone pairing and call pass-through system are great, but a little finicky and the audio quality needs improvement. The cabling is also a complete mess when all plugged in. Surely a Bluetooth connection is enough?
But that is enough griping about this keyboard, because if you sat me down and forced me to use a membrane keyboard for the rest of its life or mine (whichever ended first) I would pick the Skeltr. If you asked me to pay for it, I might balk though, as at this price point it becomes really hard to recommend this over its mechanical counterparts.
In reality, this is the board for the die hard membrane fans. If for reasons of noise, or you just do not like the feel of a mechanical switch and you prefer membrane, this is absolutely the board you should buy. In fact, if Roccat put quality mechanical switches in this board and priced at £200+, I would still recommend it to you. It is that good.

You can buy the Roccat Skeltr Gaming Keyboard from Overclockers UK for £149.99.
Discuss on our Facebook page HERE.
Pros
Best feeling membrane switches I have ever come across.
Neat look, with attached comfortable wrist rest.
Smartphone shelf is a genius addition.
RGB (not per-key) backlighting.
Swarm software is solid and companion app adds great connected features.
Macro switches are within easy reach and easily programmable.
Cons
Very expensive for a membrane board.
No per-key backlighting.
Mechanical switches are still better in a number of ways.
Some audio issues on smartphone call pass-through.
KitGuru Says: All hail king of the membrane boards. While that still does not make the Roccat Skeltr better than some mechanical boards out there, especially at this price point, it is still the king of the rubber dome hill and that is an impressive feat in and of itself.