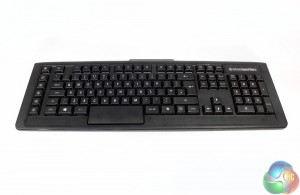 The Steelseries Apex M800 is quite a typical looking board at first sight. It has a matt black colour scheme and a hard plastic body with a light texturing and it is a pretty standard size, with no really obvious styling points.
The board itself is very sturdy and quite heavy, with Steelseries listing weight as just below 1.5 kilos.
The keys themselves are also pretty typical of most modern keyboards with the usual slightly concave top to make for a more comfortable finger rest. They also feature clear plastic lettering to allow backlighting to shine through. That said, they are about half the height of typical keys, an intentional design decision, since lowering the travel distance of the keys was how Steelseries has made it 'faster.'
Located on the far left of the board are six dedicated macro keys, labelled 0-5, though every key on this board can be remapped in the back-end software.
Along the F keys, you will notice that there some added functions which are activated with the specialised Steelseries key. From F5 running through to F12, there are controls for key brightness and media commands such as skipping forward and back, play/pause and volume controls – including a mute button.
The only Steelseries logo on the board is over on the right hand side, where we usually find the lock indicators. Since this board has quite advanced lighting, its lock indicators are actually the buttons themselves, which light up white when the different functions are engaged.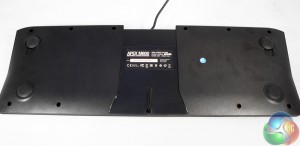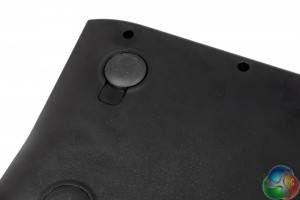 The underside almost has more styling nuances than the top, with a glossy section of plastic running right through the middle of the board.
In each of the corners is a rubber stopper which acts as a foot, improving grip. That said, The Apex M800 weight makes this less necessary than many competing boards.
One noticeable absence from the underside of the Steelseries Apex M800 is a pair of flip up props which raise the rear of the board. Steelseries have instead included some larger rubber feet which increase height at the rear.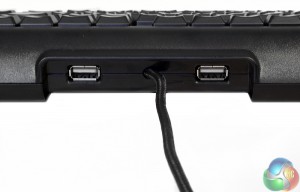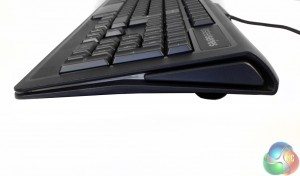 Two USB ports are situated on the rear of the board. That white area on the side actually lights up too, in line with the key backlighting.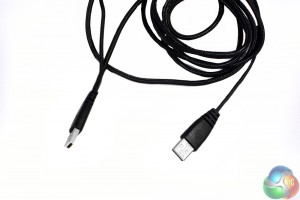 The cable is braided as you would expect from a high end board, but does not feature the usual gold leafing. There are two USB headers for connection on the motherboard I/O plate.