During our time at CES in January, we had the chance to check out what Cooler Master had coming up in 2019. Being the keyboard nerds that we are, the new SK621 caught our eye due to its ultra compact, 60% size. We've been waiting on this keyboard to launch and that day has finally arrived.
The Cooler Master SK621 is the company's first ever Bluetooth wireless mechanical keyboard with a 60 percent layout. The '60 percent' refers to the size, as not only is the keypad chopped off, but the board has been shrunk further by pushing keys closer together. Beyond that, this keyboard uses Cherry MX low profile switches to keep it slim. This is a linear switch though, modelled after Cherry MX Reds but with a shorter travel/actuation distance. We don't know if a tactile version will be made in the future.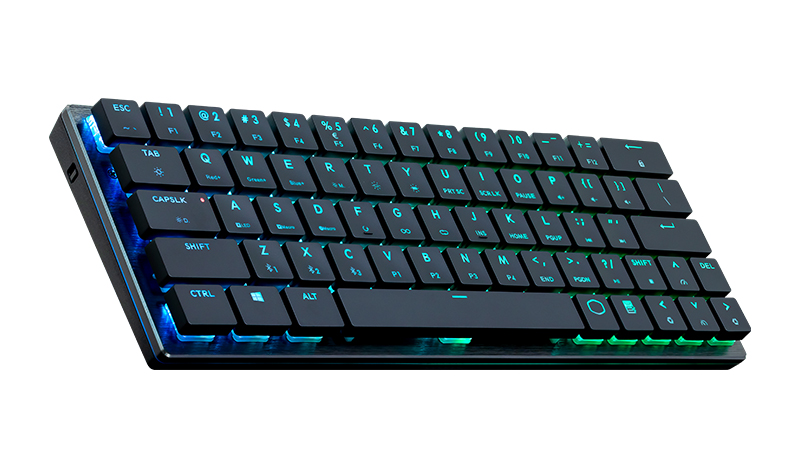 Speaking about the design decisions, Cooler Master's Peripheral General Manager, Bryant Nguyen said: "We created the SK621 with design and functionality in mind. Especially for those who are on the go, workers by day and gamers at night".
The SK621 is wireless and offers up to 14 hours of usage while backlit, or as Cooler Master claims, up to four months without lighting. The keyboard can be wired via USB Type-C and macros can be created using Cooler Master's own software application.
The SK621 is available to pre-order starting from today- it is a high-end keyboard though, coming in at £139.99. We have our own review unit in at the moment and will be gearing up to publish that soon.
KitGuru Says: I'm a big fan of smaller, more compact keyboards, although I also love tactile switches so I'm hoping Cherry can come up with a low-profile tactile switch at some point. Do any of you have a preferred keyboard size? Would you be interested in a super compact, wireless keyboard like the SK621?