The Logitech G410 Atlas Spectrum comes in a suitably sized box. There is a good look at the keyboard itself on the front while the back of the box runs through a list of features including the Arx control dock, lighting and Romer-G switch.
Here you can get a look at the differences between the G410 on the left and the original G910 on the right. One of the biggest improvements you can notice right off the bat is that Logitech has changed the keycaps this time for a better typing experience.
There is not much to see on the backside of this keyboard. As always, a USB passthrough would have been a nice inclusion but this is becoming increasingly rare on gaming keyboards. We can also see that in order to save space there are no dedicated media control keys, which is understandable for a 10-keyless keyboard.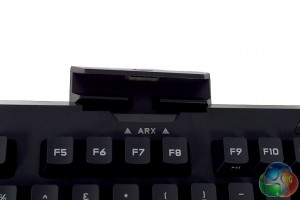 The Arx dock makes a return on the G410 but it still isn't really anything special. Disappointingly enough, I couldn't get my iPhone 5S to stand upright in the dock so do keep in mind that your phone may not even fit here.
The Romer-G switch takes a different design approach compared to Cherry or even Kailh switches, which are based on a cross design. We will talk more about actuation and the feel of the switch over on the next page.