The Logitech G410 has succeeded in impressing in the looks department but how does it perform? For this review, I have been using the G410 as my main keyboard for typing up the daily news here at KitGuru, as well as playing plenty of games. To kick things off, let's take a look at the software…
The first screen you will see upon opening the Logitech Gaming software is the Profiles tab, which allows you to disable certain keys while running a game. You can save multiple profiles and switch between them too.
The next tab gives you access to the RGB lighting. Here you can select a colour for each individual key, or you can choose from a range of lighting effects including rainbow wave, colour cycle, fixed colour and breathing. You can also create lighting zones for gaming, which will allow you to choose different colours for different sets of keys. For example, WASD could be red while the number keys can be yellow.
The lighting on the G410 is impressive enough. The LEDs shine through perfectly fine, even in a well-lit room. However, you can't adjust the brightness levels, you can only turn the LEDs on or off.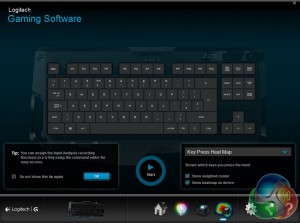 The final tab in the Logitech gaming software allows you to record what you are typing in order to see which keys you use the most. It will also measure your keypresses per minute and present you with a heat map of pressed keys. This could be particularly useful for aspiring pro-gamers or those looking to improve their typing technique as they will be able to pick up on any common mistakes made.
Overall we are satisfied with Logitech's software solution. Everything is laid out nicely and easy to find, it is also very responsive. Some advanced features like Macro recording aren't present, but this makes sense due to the lack of additional macro keys.
Now that we have established that the software is good, we can talk about the actual typing experience. The G410 makes use of the Romer-G switches which are supposed to actuate 25 percent faster- this is partially achieved by shortening travel distance required to fully press the key.
The switches are actually quite nice to use though they feel a little tougher to press compared to Cherry MX Brown or Blue switches- which isn't necessarily a bad thing. For games, the Logitech G410 Atlas Spectrum performs as well as you would expect from a gaming keyboard of this class. The switches are quick to actuate, which helps with swift reactions in fast paced games.
Back when I reviewed the Logitech G910, I had some complaints about the typing experience due to the oddly shaped concave keycaps used. I also had some issues with key spacing due to the additional macro keys on the side of the board. Fortunately, these issues have all been rectified, making the G410 an excellent keyboard for those who spend a lot of time typing. They have obviously been listening to feedback.
Thanks to the 10-keyless design, there are no additional macro keys along the side. Logitech has also opted to use normal keycaps this time, which really helped with the transition from my Corsair K70 to the G410. My touch typing didn't take a hit and I found myself making far fewer mistakes compared to the G910, where the keycaps really hindered the typing experience.
Overall, the Logitech G410 Atlas Spectrum is an excellent keyboard both for gaming and typing. It brought what was great about the G910 to a new, smaller design and made improvements to the key areas where it faltered.