With our peripheral reviews, I normally like to kick things off with an in-depth look at the software and its features. However, this particular keyboard doesn't come with a software suite.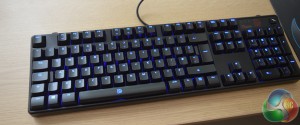 Since there is no software, there are no additional lighting effects. The keyboard backlighting is blue and you get four levels of brightness. It is strictly no frills, but effective and fairly evenly lit across the length of the board.

As I pointed out earlier in this review, ThermalTake has opted for the Chinese-made Kailh mechanical switches for this board, rather than Cherry. This model came with Kailh brown switches, which are tactile rather than linear. However, unlike blue switches, the browns don't click whenever a key press is registered, making for a slightly quieter typing and gaming experience.
While typing, I noticed that the brown Kailh keys were significantly quieter than the Cherry MX keys found on my Corsair K70. However, they also had a higher actuation point, making them slightly heavier to press.
ThermalTake has opted for a simple, understated design with the Poseidon Z keyboard. It features a traditional layout, with standard key caps- a tried and true design that makes for an easy typing experience. Since this keyboard is pretty basic, I did not experience a 'adjustment period', so my touch typing didn't take a hit and I didn't find myself making more mistakes due to key spacing.
Since this is branded as a gaming keyboard, we have to touch on gaming performance. This keyboard does not have any macro keys, which may be a deal breaker for some right off the bat and since there is no customization software, you can't make any custom macro commands for the keys you do have. Personally, I don't make use of macro keys so I was good to go but I do know some of our readers value that level of customization.
I didn't experience any input lag while gaming, in all, things felt as snappy and responsive as they should. The keyboard is a great option for demanding typists, using a tried and true design. For gaming, you are getting the bare minimum, with no additional customization available. However, that won't be a deal breaker for everyone so it really depends on what you are looking for.