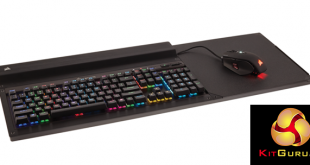 The Corsair Lapdog is grandly described as a 'Gaming Control Centre', however that doesn't explain things very well as Lapdog is unlike anything we have seen before. The idea is that you have your gaming PC (ideally a Corsair Bulldog) next to your TV and sit on your sofa with your Corsair keyboard and mouse all ready to frag 'em up in a first person shooter. But where do you put the mouse and keyboard? Take a look at our video and you will see how Lapdog answers that particular question.
Watch via our VIMEO Channel (Below) or over on YouTube at 1080p60 HERE.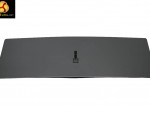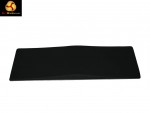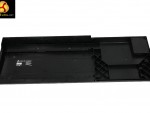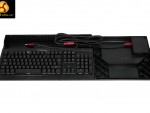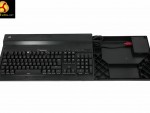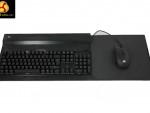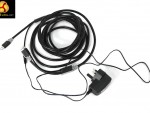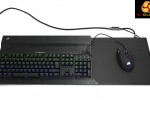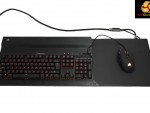 Corsair Laptop Specification:
LAPDOG Gaming Control Centre
Keyboard Compatibility All Corsair K70 and K65 series mechanical gaming keyboards
Connectivity USB
USB Compatibility USB 2.0, USB 3.0 or USB 3.1 (Type A port)
USB ports Built-in 4-port USB 3.0 hub, powered, fast-charging enabled
Product Dimensions 735mm (L) x 261mm (W) x 94mm (H) / 28.94" (L) x 10.27" (W) x 3.70 (H)"
Product Weight 2.63 kg / 5.80 lbs.
Warranty Two years
MSRP $119.99
There are a number of limitations to Lapdog that reduce its appeal. It is fairly expensive, you are obliged to use it with a Corsair K65 or K70 keyboard (also expensive) and the trailing umbilical core that connects to your PC may well act as a trip hazard.
Perhaps the biggest problem for the left handed ten percent is that the mousing surface is on the right hand side. Once you slide the keyboard in place and adjust the mouse so you have the correct amount of USB cable exposed Lapdog is ready for action. We were fully expecting it to feel heavy or uncomfortable but were very pleasantly surprised to find the magnetically attached memory foam cushion on the underside works very well. Added to that, most of the construction is plastic so while it looks as though you are resting a Yamaha stage piano across your lap it feels much lighter in use.
In terms of function the Lapdog behaves perfectly well – indeed, it is house trained.
Once we had connected it up the only remaining problem is the plastic mousing surface which sounds noisy and feels a little unpleasant. Quite why Corsair didn't integrate one of its own mouse mats is an abiding mystery.
Closing Thoughts
At first glance the Corsair Lapdog looks like a bit of a curiosity but it fits its design brief very well indeed. Clearly the big question is whether or not you want a device that allows you to play games with mouse and keyboard without leaning forward on a table top. And the keyboard must be a Corsair K65 or K70. If you pass that question with a 'Hell yeah' then you're good to go.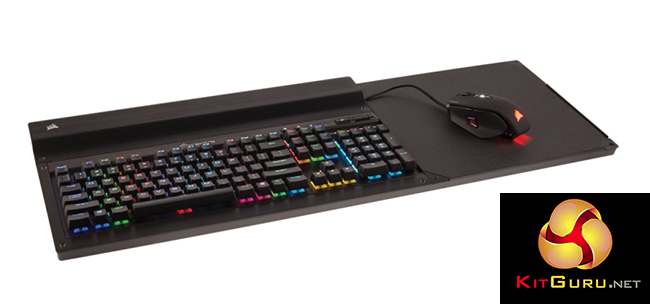 The combination of Lapdog, keyboard, mouse and headset will rush you for more than £300 (more likely close to £400) so you need to be a fairly wealthy gamer who likes to lounge on the sofa. For that matter you need to be able to dedicate your K65 or K70 to the Lapdog along with your chosen mouse as they are effectively held captive.
Clearly Lapdog is ill-suited to left handed gamers but we right handers have our own gripe as we wish to goodness the mousing surface was better.

Buy the Corsair Lapdog from Overclockers UK for £109.94 inc vat HERE, or get it bundled with the Corsair K70 keyboard for £220.31 HERE.
Pros:
Very comfortable to use.
Construction is solid.
Keyboard fits in place very nicely
Two external USB 3.0 ports for other peripherals.
Connecting cable is long enough to provide flexibility.
Cons:
Mousing surface feels unpleasant.
Fairly expensive.
Storing Lapdog along with mouse and keyboard is tricky.
Left handers need not apply.
Connecting cable is a potential trip hazard.
KitGuru says: A very well designed gaming product that addresses a niche requirement.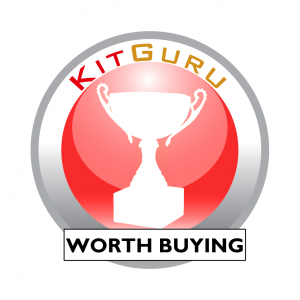 Be sure to check out our sponsors store EKWB here