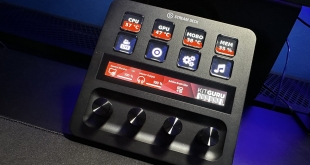 The Elgato Stream Deck has been a hugely popular tool for streamers and content creators since its inception in 2017. Well, the company has just launched the Stream Deck+, featuring four customisable dials and an LCD touch strip. Will this become the new 'must have' device for streamers and content creators?
Watch via our Vimeo channel (below) or over on YouTube at 2160p HERE
Timestamps
00:00 Start
00:45 What it is and what's new / pricing
02:05 Unboxing and body weight
03:35 The controls / dials / pages
06:14 Display / 8 LCD buttons
07:42 Software and hardware support
11:48 Closing Thoughts
Specifications:
Size: 140 x 138 x 110 mm / 5.5 x 5.4 x 4.3 in
Weight: 465 g | 1 lb
Keys: 8 x customizable LCD keys
Multifunction Dials: 4 x 360° encoders with push function
LCD touch panel: 108 x 14 mm / 4.2 x 0.5 in
Interface: USB 2.0
You can buy the Stream Deck+ directly from Elgato from £199.99 HERE.
Discuss on our Facebook page HERE.
Pros:
Very good software.
Great customisation.
Very good functionality.
Cons:
Dials wobble slightly.
Doesn't stay in place on a deskmat very well.
KitGuru says:  The sheer functionality of the Stream Deck+ is quite staggering. Simple and complex tasks can be programmed to a single button press. The ability to control every single audio source coming from your computer with a single dial could also be a game changer. This will come in very handy for streamers and content creators.
Be sure to check out our sponsors store EKWB here