AU Optronics Corp., one of the world's leading makers of LCD panels for various devices, and 3M this week announced a new technology alliance that can dramatically improve quality of TV-sets and displays. The two companies will offer turn-key solutions that will help suppliers of televisions to offer TV-sets with quantum dot (QD) technology that enables wide color gamut and high dynamic range for ultra-high-definition (UHD) 4K TVs.
The QD display enhancement technology significantly improves quality of backlighting in LED LCD panels by integrating a special quantum dot enhancement film (QDEF) with trillions of semiconductor nanocrystals into an LCD panel stack. A quantum dot can emit (or, in the case of QDEF, filter) light at a very precise wavelength. The ability to control the spectral output of a quantum dot allows QDEF to create an ideal white backlight, something that allows to display more accurate red, green and blue colours, thus enhancing color gamut.
"The exciting thing is that the LCD industry is on the verge of a color revolution," said Erik Jostes, business director for 3M display materials and systems division. "Quantum dot materials enable displays to produce colors richer than any other technology, providing life-like images of a quality never seen before."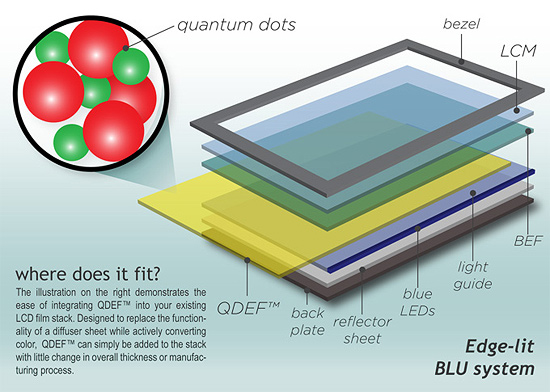 AUO claims that its LCD LED panels with 3M's QDEF tech will help to build TVs and displays compliant with ITU-R Recommendation BT.2020 (better known as Rec. 2020) for ultra-high-definition TVs. In addition to 3840*2160 and 7680*4320 resolutions, the Rec. 2020 also supports bit depth of either 10-bits per sample or 12-bits per sample, which means that Rec. 2020-compliant devices can reproduce colours that were not shown on previous-gen displays. Ultra HD Blu-ray discs and players fully support all the aspects of the Rec. 2020, including display resolution, frame rate, chroma subsampling, bit depth, and color space. Essentially, Rec. 2020 is must-have feature for modern Ultra HD TVs.
AUO Optronics will offer various 4K TV panels featuring 3M's quantum dot enhancement film with up to 85" size. TV brands will have to equip such panels with appropriate electronics to take advantage of the QDEF technology. Mass production of the new display panels will begin by the end of this year.
The dot enhancement film replaces a similar film already found inside LCD backlights, which means that adding QDEF to manufacturing processes required no new equipment or process changes for AUO. Unfortunately, it is unknown how much does a single quantum dot enhancement film cost.
It is unknown who of AUO's customers will use its advanced LCD panels with QDEF. AUO supplies panels to companies like Apple, Dell, Hewlett-Packard, Panasonic, Sony, Toshiba and a lot of less known makers of PCs and televisions.
Sony was the first company to offer TVs with QDEF technology in 2013. At present, Samsung Electronics, LG Electronics and TCL also sell QD-enhanced TVs.
Discuss on our Facebook page, HERE.
KitGuru Says: Could the collaboration between AUO and 3M eventually lead to creation of Apple's TV-set with QD-enhanced panel? That's a possibility, but it is more likely that the partnership will help brands like Panasonic and Toshiba to take advantage of quantum dot technology and improve quality of their products. Besides, little known brands could significantly improve quality of their products and offer TVs that provide image quality on par with devices produced by leading manufacturers.