ViewSonic has introduced its latest set of portable monitors, in the shape of the TD1655 and VG1655. The company claims these 15.6in screens have been built for "business travelers, remote workers and digital nomads".
ViewSonic's new monitors are described as "portable monitors for productivity on-the-go" and are designed to work as a complement to laptops and tablets. Both monitors use 15.6-inch panels and have a resolution of 1080p, with one key difference between the two being that the TD1655 offers touchscreen support. This model also comes with a stylus included and is said to offer a "smooth and natural writing experience".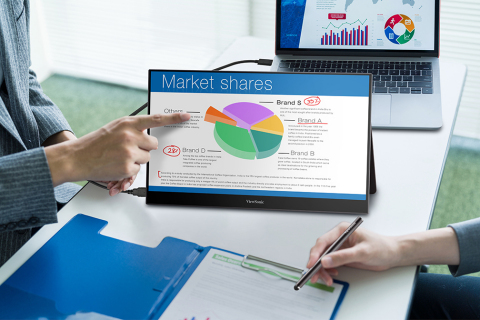 Image credit: BusinessWire
The new monitors from ViewSonic include two USB Type-C ports for 2-way charging and mini-HDMI support. ViewSonic claims these Type-C ports make it possible for users to quickly enable "transmission of video, audio, and data, while also delivering up to 60 W of two-way power." Both the VG1655 and the TD1655 measure 16mm in terms of thickness, while the TD1655 weighs 1KG with the VG1655 weighing 0.8KG.
Both monitors will be made available from July 2020 with the TD1655 priced at $239 and the VG1655 coming in slightly cheaper at $179.
Additional information about the TD1655 can be found HERE, while you can read more about the VG1655 HERE.
Discuss on our Facebook page HERE.
KitGuru says: The use of monitors is a part of everyone's day-to-day life. What are your thoughts on the new portable monitors from ViewSonic?