Philips impressed KitGuru earlier this year with its productivity-focused Brilliance 328P6AUBREB monitor, however its QHD resolution left something to be desired. Building upon its predecessor, the brand new Philips Brilliance 328P6VUBREB steps things up with 4K Ultra HD resolution and a particularly wide colour gamut.
The Philips 328P6VUBREB sports a 32-inch "UltraClear" VA panel at 3840 x 2160 resolution, built for industry professionals requiring "extremely detailed images for CAD solutions." From graphic designers to video editors to architects, many of these professions demand accurate colour reproduction.
Philips has implemented Ultra Wide-Color technology that reportedly results in a "wider range of colours for a vivid picture." In fact, the firm states that the 328P6VUBREB pushes "smooth, natural colours totally free of gradations or colour banding" thanks to its 10-bit display providing 1.074 billion colours and 12-bit internal processing. Of course, none of this is complete without High Dynamic Range 600 technology enriching the colours with enhanced brightness and more pronounced darks.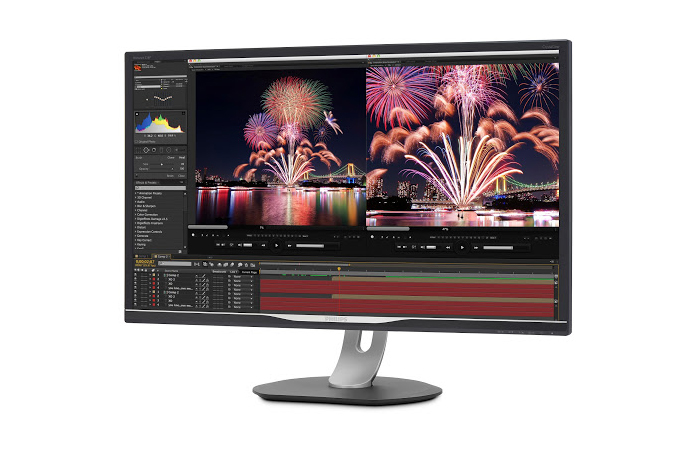 User experience is paramount for Philips' new monitor, as the 328P6VUBREB houses features that solely focus on the wellbeing and enjoyment of the individual. This includes a good degree of flexibility similar to the monitor's predecessor, implementing a SmartErgoBase. This ensures the perfect height, swivel, tilt and rotation required by each user, along with some neat, non-intrusive cable management. LowBlue Mode is Philips' proprietary smart software, designed to not only to enhance usage, but to preserve the vision of the owner by cutting down on harmful shortwave-length blue light rays.
MultiView allows two devices to connect to the 328P6VUBREB at the same time, improving productivity. This can help achieve the perfect blend of work and play by enabling the user to watch live television on one device, while writing up a report on another, all on the same display. These can be connected via the single DisplayPort 1.4, two HDMI 2.0 ports or lone USB-C 3.1 Gen 1 port.
The built-in USB-C connector houses a ton of features in itself, creating "easy one-cable docking, meaning that peripherals such as keyboard, mouse, and secure RJ-45 Ethernet cables can be hooked up to the docking station with ease." It also meets USB Power Delivery standard, allowing compatible notebook devices to charge directly from the monitor using a single cable.
It's worth emphasising once again that this monitor is aimed at professionals, sporting a maximum of 60Hz. Complete with built-in RJ-45 Ethernet gives data security, Philips will be launching the Brilliance 328P6VUBREB in November, priced at £559.
KitGuru Says: I'm excited to see if the colour is improved any more after it was explicitly praised on the display's predecessor. Do you like the look of the Philips Brilliance 328P6VUBREB?