The OSD on this monitor isn't quite as slick of the joystick controlled one on Asus' monitors, but it's still quick and intuitive to use.
The four buttons change function depending on what's on screen and it always feels intuitive as to which button does what – there's none of the confusion that accompanies the likes of the AOC AG271UG.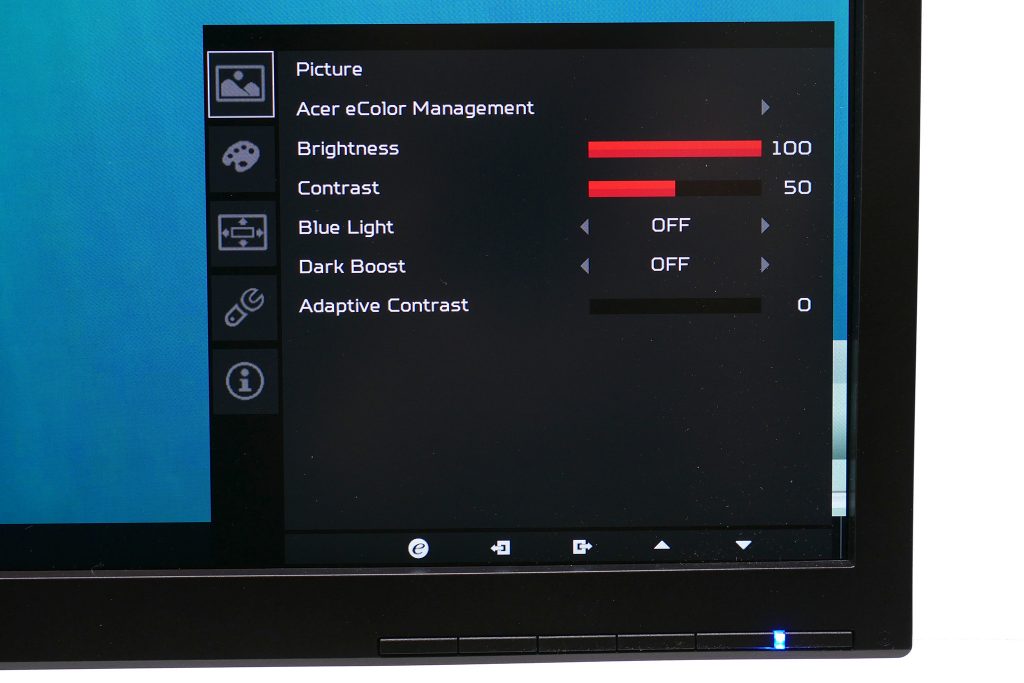 As well as being easy to navigate the OSD is also thoroughly comprehensive, with a mass of options in the main menu and several other shortcut options too. Tap any of the buttons and the same five options appear, giving you quick access to Game Mode presets, the overdrive setting, volume and input selection with the fifth option diving right into the full main menu.
The overdrive, volume and input selection options are self-explanatory. As for Game Mode, there are three Game Mode presets that you can configure in the main menu – just setup the screen as you like then save those settings to the preset – and quickly call up via the Game Mode shortcut.
All other settings are in the main menu and there are masses of them. Starting from the top, the first screen gives you access to basics like brightness and contrast, as well as Blue Light, Dark Boost and Adaptive Contrast settings.
These variously reduce the blue light level of the screen to reduce eyestrain, increase the brightness of dark areas making it easier to see things lurking in the dark when gaming and adaptive contrast can boost perceived contrast but does so by clipping information at the extremes of the luminance range.
The Acer eColor Management option offers up five shortcut options for changing the over settings of the monitor, with choices of User, Eco, Standard, Graphics and Movie. We never saw a need to change this from the default user option.
The next screen offers up more colour tweaking settings with a choice of two gamma settings (2.2 and 1.8) several colour temperature modes, an sRGB mode, colour saturation adjustment and rare 6-axis colour adjustment feature. Most monitors only offer manual adjustment of red, blue and green channels but Acer offers the ability to change yellow, magenta and cyan too. Not that we felt the need to use those extra colour channels but it's a potentially useful option for fine-tuning your calibration.
The next menu page offers a selection of basic OSD settings like language and OSD timeout plus this is where you store your settings for the Game Modes.
The penultimate screen shows a motley selection of options, including input selection, overdrive, the option to turn off the power LED and the reset option. The final screen just shows screen information like resolution, refresh rate and firmware version.