AOC has clearly made an effort to create a premium-looking monitor in the AG352UCG. Its metal stand, in particular, looks great and has a reassuring heft to it.
The overall colour scheme works well too. Silver and black on the rear and just a touch of red from the AGON logo on the front bezel is a far cry from the slightly over the top styling of the Asus PG348Q.
However, AOC hasn't quite stuck the landing. For a start, you miss out on the tiny bezels of its competitors. Instead, you get a conventional, and in fact slightly larger than usual, bezel that gives the whole display a dumpier feel.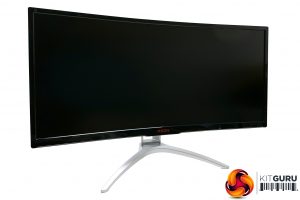 It's also utterly bizarre that despite using matt black plastic for the rear, AOC has used glossy plastic for the frame. This both looks cheaper than matt and causes distracting reflections. In fact, AOC has exacerbated this by adding a chamfer to the inside edge such that any lights above the display are reflected directly at you, as you can clearly see in our photos.
The drab, painted-on AGON logo also cheapens the look, while the addition of lights to the bottom bezel means it's even chunkier than the rest. These lights consist of two strips that run along the front edge and can be set to either red, green or blue, and the brightness varied.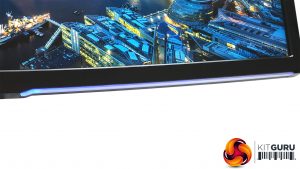 On a certain level, they're quite nicely done, but ultimately it's likely most people will find them a bit too distracting and want to turn them off. A more sensible approach would've been to add them as just underlighting, like on the Acer X34A.
In between the lights is the mini joystick that's used for controlling the OSD. It's a welcome upgrade over the separate buttons used on most AOC displays, though it's far from perfect, as we'll explain over the page.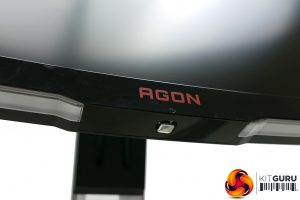 As G-Sync is currently only able to manage one DisplayPort and one HDMI input, that's all you get here for video inputs, but you do also get a USB hub and some audio connections.
There's a headphone jack that'll pipe out audio from the two video connections, plus a microphone pass-through that will allow you to connect a headset to the monitor then a further audio cable from the monitor to the microphone input of your computer.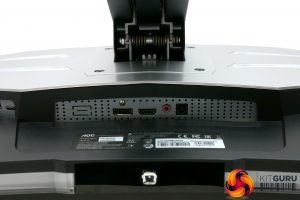 The USB hub is an odd one, for a couple of reasons. The first is that AOC has chosen to use a micro USB 3.0 input rather than the more conventional USB 3.0 B connection. It's likely to be of little real consequence, though the large connection type does seem like it would be more suited to this sort of application.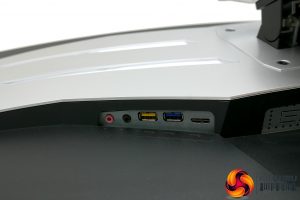 The other oddity is that we're used to seeing AOC include a couple of USB ports on the side of its displays, where they're easier to access. Here, though, you just get the two ports round the back. You do at least get AOC's signature little flip-down headphone stand, though, which is always welcome.
It's also a bit disappointing to see that this display doesn't use an internal power supply, so you'll have a hefty power brick to put somewhere.
As for this display's stand, it's very good. It offers, height, rotation and tilt adjustment and has a carry handle on the top, which makes a big difference when manhandling screens as large as this. The stand can also be removed and the same holes used to attach any standard 100x100mm VESA stand/mount.
The final physical feature of note are the 2x2W speakers. They're nothing to write home about in terms of quality but are always useful to have just in case.