Even though Oculus VR is committed to making its Rift headset as affordable as possible, at the end of the day you're still paying for an impressively compact screen, with a fancy converter board, on top of the lenses that perform a lot of the VR emulation and this is going to keep the price over £100 for some time to come. Altergaze however believes there's a cheaper (and therefore potentially better) way, by leveraging your smartphone to handle the head tracking function.
Altergaze uses a 3D printed frame, to hold your smartphone in-front of a pair of distorting lenses. When viewing a side by side 3D video or game, the effect is much the same as the Oculus Rift, though you do need to hold the Altergaze against your face at the moment. And the software behind it doesn't distort the images to counter lens curving of what you're seeing, but they're working on it.
[yframe url='http://www.youtube.com/watch?v=XPrP6YEwgKs']
When used with an iPhone 5, the Altergaze has the following specifications:
Field of view: 110 degrees (with the handheld rubber eyepiece) / 90 degrees (with the headgear rubber eyepiece)
Head tracking: 6 DoF / 9 DoF IMU
Display: resolution 1136 x 640 (1920 x 1080 on Samsung S4), contrast 800:1, brightness: 500 cd /m2
Weight: ~0.22 kilograms (without the phone)
Dimensions: 15.8cm x 8.2cm x 7.2cm (without the rubber eyepiece)
The plan after the Kickstarter has finished – if it reaches its $25,000 goal in the next nine days, is to have those with 3D printers around the world act as manufacturers and distributors, since apart from the lenses, the entire VR viewer can be made and heavily customised in 3D CAD software and printed on a 3D printer.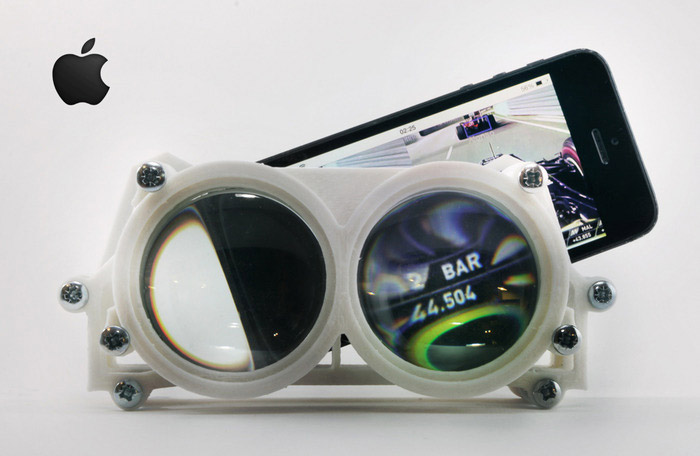 As it stands, you can get yourself an Atergaze for as little as £30, if you have your own 3D printer. If not, it'll set you back £75 for an assembly kit and £100 for the fully constructed final product.
Discuss on our Facebook page, HERE.
KitGuru Says: So what do you guys reckon? Would you drop £100 on this to get 3D VR on your phone? Or would you rather wait for the consumer Rift and use your PC instead?