AOC recently unveiled its new line of AGON gaming displays at an event in London, bringing new products to the brand's line-up that offer in-demand gaming features such as adaptive-sync technology, 4K resolution and refresh rates that go beyond 60Hz , putting them in direct competition with firms such as Asus and Acer.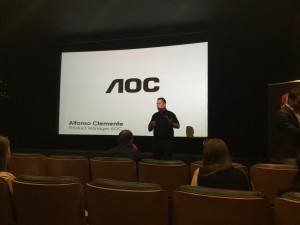 Two 27-inch 1440p IPS models will be available from July, with the 144Hz AG271QX, supporting the open-source Adaptive Sync standard (previously AMD FreeSync) and the 165Hz AG271QG, offering support for Nvidia's G-Sync.
The firm also demonstrated the C3583FQ, a 35-inch 21:9 ultra-widescreen curved IPS display with a 160Hz refresh rate. With a red and dark grey styling which follows the design and appearance of other gaming displays on the market, AOC showed a number of features that should be welcome for gamers, such a small joystick underneath the display to control the on-screen menus, a headphone holder, 100mm VESA compatibility, a cleverly arched stand that raises the display off the ground and an illuminating LED at the base of the display.
Although AOC has previously supported the FreeSync standard, this marks the first time the company has offered G-Sync displays in its lineup. The move away from AMD's FreeSync branding and the adoption of the new Adaptive Sync label adds compatibility with Intel's on-board graphics cards as well as the ability to use the technology over HDMI. It also supports a frequency range of 30Hz to 144Hz, which is superior to the maximum refresh rates achievable with most FreeSync displays.
AOC also announced the AG271UG, a 4K display with a 75Hz refresh rate, a feat that has been achieved by 'overclocking' the DisplayPort 1.2 standard, which is pencilled in for a November launch.
Additionally, AOC mentioned that its future plans include gaming displays with a whopping 240Hz refresh rate, pencilled in for next year. But unfortunately, aside from an expectation of potentially higher prices, few other details slipped out about these 240Hz products.

It's clear these refresh rates would depend on the greater bandwidth of DisplayPort 1.4 connectors, which are only found on the latest Nvidia and AMD graphics cards, which may explain the wait until 2017, as the company holds out for a greater installed base of DisplayPort 1.4-compatible cards.
During the presentation AOC Product Manager Alfonse Clemente claimed that G-Sync was now an area of strong focus for the company, since 80% of the high-end graphics card market is dominated by Nvidia.
The AOC AG271QG has an expected MSRP of £639, while the AG271QX will retail for £479