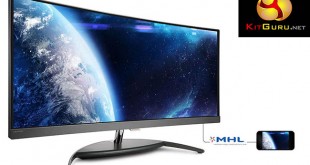 It's no surprise that ultra-wide curved screens such as the 34-inch Philips Brilliance BDM3490UC are becoming popular as they present a compelling alternative to traditional 16:9 displays. The extra width and subtle curvature gives a cinema-like experience in movies, and for desktop use, the extra pixels means more documents open on screen at any one time.
Around a year ago, Philips made a big splash in the consumer PC display market with the impressive Philips Brilliance BDM4065UC (review HERE), a massive 16:9 40-inch 4K display with an AHVA screen and a particularly low price tag.
4K is undoubtedly the future of 16:9 displays, but an alternative option is now available in the form of ultra-wide monitors. The Philips BDM3490UC is one example of this new kind of display. It has a WQHD resolution (3,440 x 1440) rather than 4K, and at 34 inches wide, it presents a screen aspect ratio of 21:9.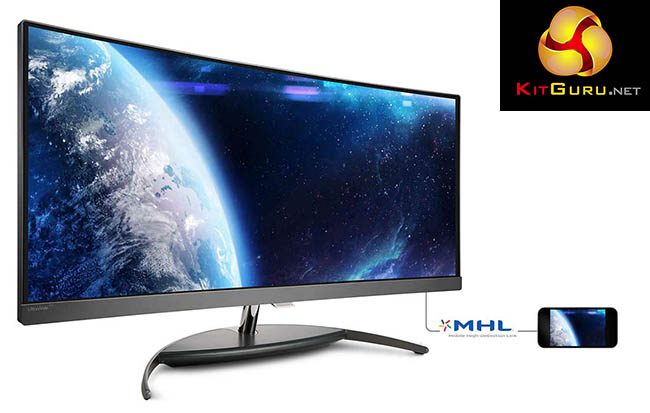 This is exactly 880 pixels wider than a standard 16:9 display with a resolution of 2,560×1,440.
It's also curved at the sides, bringing the far edges closer to your peripheral vision and enhancing the visual effect of the ultra-wide screen. The effect is subtle but definitely enhances the overall picture.
The curvature on displays is described with a figure that represents, in millimeters, the radius of the circle that would be formed if multiple display were placed next to each other.
The curvature of the Philips Brilliance BDM3490UC is rated as 3800R, so the full circle would have a radius of 3.8 metres. If the angle of the curve was greater, or the screen was less wide, a smaller circle would be formed. So higher numbers mean less curvature, and lower numbers mean a sharper angle. Most displays use a curvature that hovers around this 3800R figure, but not all.
The Philips Brilliance BDM3490UC is a premium display in every way. It has superb external design and build quality, with three HDMI inputs, DTS audio support via two 7-watt speakers and its AH-IPS display supports 1.07 billion colours, using 8-bit colour depth with FRC, or frame rate control, an algorithm to enhance colour depth. It has a quoted 5ms response time, fairly typical of IPS screens.
There's also a picture-in/by-picture mode to view multiple inputs on screen at once and a wide range of colour settings including multiple gamma and Kelvin presets.
Specification:
Screen size: 34.1-inch
Native resolution: 3,440×1,440
Refresh rate: 60Hz
Panel type: AH-IPS
Display inputs: HDMI 2.0 x1, HDMI 1.4 x2, DisplayPort 1.2 x1
USB hub: 4x USB 3
Tilt: -5/20 degrees
Raise: No
Swivel: No
Other: 3800R curvature, PIP/PBP mode, 2x 7w speakers